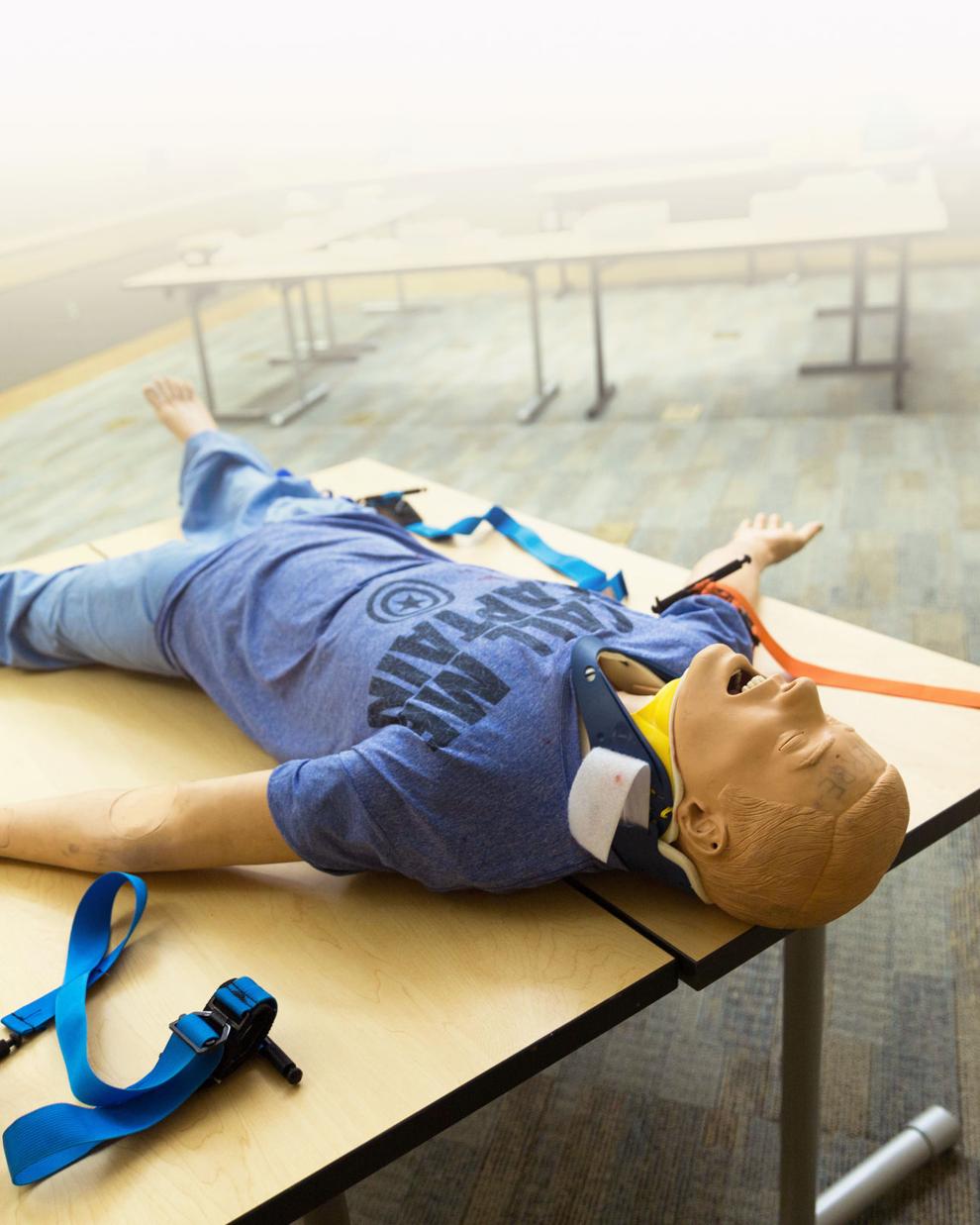 "I've been awake for approximately 28 hours now," began Dr. Bryce Robinson, UW associate professor of surgery and associate medical director for critical care at Harborview Medical Center. His lecture for the Nov. 11 Stop the Bleed class took place at the Harborview Research and Training building. 300 9th Ave was drenched in rain, and inside, the attitude quickly came to parallel the weather.
Robinson became very quiet as the projector flicked to show a slide listing the deadliest domestic mass shootings in the United States. Approximately one month after the shooting in Las Vegas, in which 59 died and 527 were injured, his voice seemed to catch on the weight of his words. 
"I haven't even had a chance to update this," Robinson said. 
The last on the list was Sandy Hook. 
"This is what keeps me up at night … that I get a phone call in the middle of the night that there's been a mass shooting in Seattle," Robinson said with a heavy voice. "We recently had a mass-shooting training at Harborview and you know how many casualties we prepared for? Eighty."
Eighty.
School nurses, a firefighter, a pharmacy technician and her two pre-teen daughters, a stay-at-home mom, a Coca-Cola mechanic, and around fifty other students looked on as a video titled "SURVIVING AN ACTIVE SHOOTER" from the Los Angeles Sheriff's Department began to play. The title screamed of a new reality. On the screen, a young man with a shotgun walked into a university library. 
If you find yourself in an active shooter situation: run. If you can't run, hide. And if you can't hide, fight with everything you have. 
When it came time to teach the class how to pack wounds and apply tourniquets, Robinson stressed that bleeding-control training isn't just meant for active-shooter situations. 
"Old men like to climb on roofs and clean gutters and they're all on blood thinners," he said.
Students were given reassurances on sterility and bleeding control: According to the doctor, it doesn't really matter what is used to pack a wound, even if it's not sterile. 
"You have to live long enough to get an infection," Robinson said. "Let me deal with that." 
And on contracting a bloodborne pathogen: "I'm a surgeon, I deal with this all the time. The odds are infinitesimal. We're talking less than 0.003 percent."
The class dispersed into smaller groups to put their skills to work. 
When packing a wound, stuff as much gauze into the wound as possible and then hold pressure. 
"You have to apply a pressure higher than the blood pressure of that person," Robinson said.
With a tourniquet, Dr. Robinson encouraged students to explain to the victim that "for a tourniquet to be effective, it's gonna hurt." 
If you have a pen, write the time the tourniquet was applied on the victim's forehead, said registered nurse Anne Newcombe, clinical director of the Harborview emergency department.
The atmosphere at the Patricia Bracelin Steele building lightened as students began to feel they were regaining control in a seemingly evermore uncertain and dangerous world. 
"The fact that [the classes are] filled until April shows you the need right now," said local stay-at-home mom and Stop the Bleed trainee Amber Fernandez. "And the world is so uncertain; just having the skills makes you feel empowered. Knowledge is power."
Robinson offered more advice as the class wound down. 
"Just don't cut your leg off, okay?" he said.
Following Sandy Hook, a nation shaken by one unfathomable tragedy after another beseeched to know how this could keep happening. 
In the months after Sandy Hook and almost exactly one year after the shooting at the U-District's own Café Racer, the American College of Surgeons (ACS) convened in a meeting with the Obama administration, military, National Security Council, FBI, and many other governmental and non-governmental groups interested in a solution. 
The response to Sandy Hook, known as the Hartford Consensuses, was a resolution to educate the public in bleeding control and to get bleeding control kits, equipped with gauze, gloves, and tourniquets everywhere they could.
"Just like you learned CPR to help somebody who has a heart attack on the street, we think that everybody should know the basic skills of bleeding control," said Dr. Eileen Bulger, UW professor of surgery, Harborview chief of trauma, and ACS chair of the committee on trauma.
So when Bulger and her colleague, registered nurse Maria Paulsen — program manager for Stop the Bleed Washington, trauma outreach education coordinator at Harborview, and former pediatric burns unit nurse — heard about the initiative, they decided Harborview would help spearhead it.
Bulger sees the need for this initiative every day at the trauma center.
"Three or four months ago, I took care of a gentleman who was stabbed in the neck … and was bleeding very vigorously," Bulger said. She eventually stabilized him, but suspected he bled so profusely because no one held pressure on his wound before the medics arrived. "A person can bleed to death in four to five minutes, so it's the person next to you who's gonna save your life in that situation."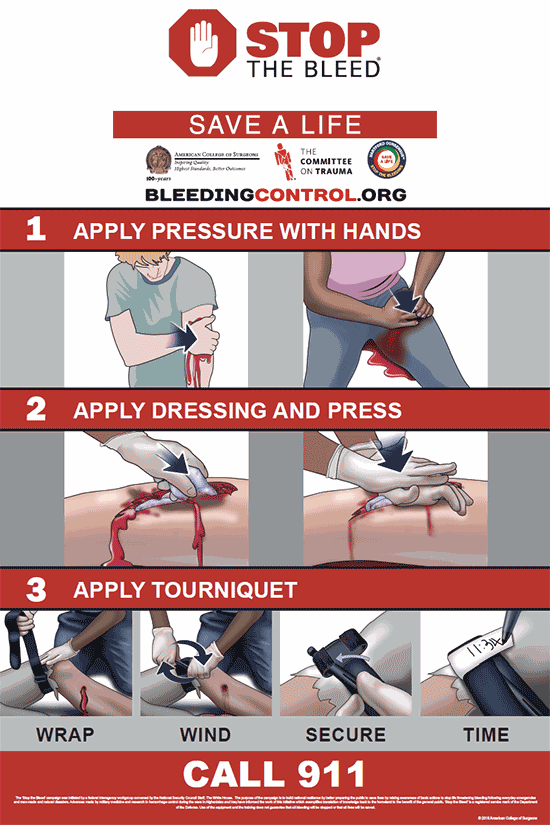 According to Nurse Paulsen, the program at Harborview alone has trained over 1,700 people. 
"We've taught at Safeco Field, we've taught at the zoo," Paulsen said.
Sound Transit has also agreed to put bleeding control kits in all of its trains and buses and is training all personnel in bleeding control.
Interest in the program doesn't seem to be waning any time soon. In the twelve hours following the shooting in Las Vegas, over 300 people signed up and filled all the classes.
"We had to close all of our classes," Paulsen said.
The next open class is May 19.
Robinson, Newcombe, Bulger, and Paulsen all have a habit of meeting people on the worst day of their lives in the trauma center. This is how they recommend you prepare to meet someone on theirs.
Sign up for a Stop the Bleed class at: stopthebleedwa.org
Find out more about the national program at: bleedingcontrol.org
For what to do in an active shooter situation: activeshooter.lasd.org
Reach contributing writer Manisha Jha development@dailyuw.com. Twitter: @manishajha_