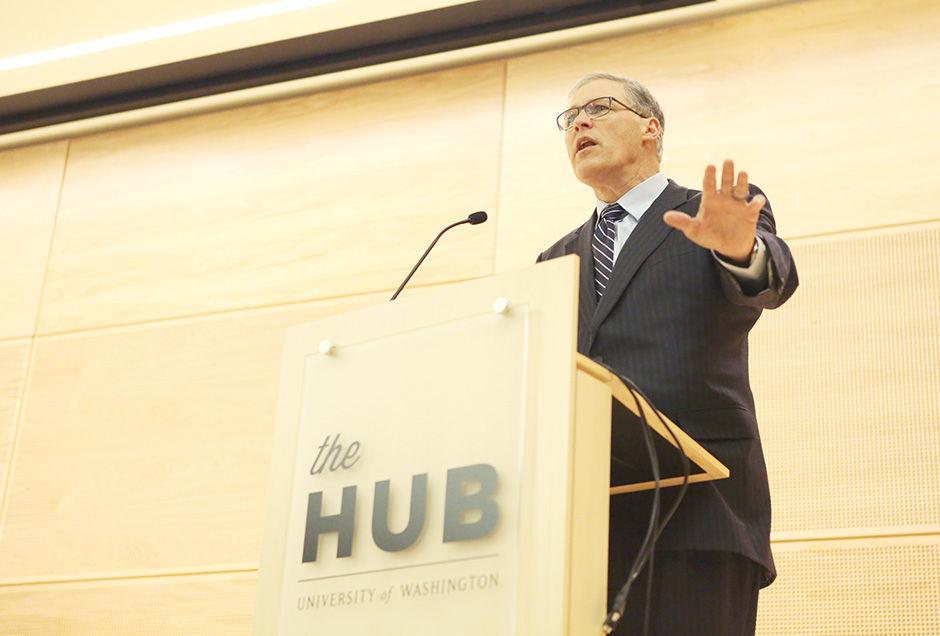 Ahead of the upcoming legislative session, Gov. Jay Inslee unveiled his $54.4 billion budget proposal for Washington state, including an $8.2 billion dollar investment into the UW, a 5.5 percent increase over the current biennium.
This proposed budget is a nearly 20 percent increase over the previous budget, funded in large part by a new tax on capital gains. The plan is Gov. Inslee's proposal to state lawmakers, who will write the final budget for the governor's approval. 
Overall, Gov. Inslee proposes a $1.1 billion increase in education investment –– early learning, K-12, and higher education –– including a $103 million investment in college financial aid.
The highlight of the governor's proposed higher education investments is to "guarantee access to the new Washington College Promise Scholarship (formerly State Need Grant)" by fiscal year 2022. Fully funding the State Need Grant is a top priority for the legislature this year. The governor's proposal would allow the legislature to fulfill their past commitment to eliminate the current waitlist of about 21,000 students by the 2021-22 academic year.
Higher education will no longer take a backseat to K-12 policy after the Washington legislature finally met its court-ordered requirements last year to fully fund basic education. Basic education funding battles had overshadowed higher education priorities for years following the 2012 McCleary decision.
The governor also proposes a $14.1 million investment to expand capacity in STEM and other high-demand fields. This fulfills an agenda priority of the UW administration and the ASUW.
"This is a strong budget for students," Joe Dacca, director for the UW Office of State Relations, said. "[T]he State Need Grant is fully funded along with funding for additional academic supports and access to high-demand degree programs for students across the state."
To address the state's mental health crisis, Gov. Inslee's budget proposes increasing investment to "build [a] behavioral health workforce," including $2 million to offer five additional positions in the UW psychiatry residency training program. Another $2 million is allocated to fund 50 scholarships across the state to students who "commit to working in high-demand behavioral health fields in state hospitals and state behavioral health community sites."
"We … look forward to partnering with the state on improving our behavioral health system, which the Governor has made a centerpiece of this budget," UW President Ana Mari Cauce said in a December 2018 statement.
Gov. Inslee also proposes $16 million dollars to "[m]aintain access to medical care for uninsured individuals and those covered by Medicaid, and promote the teaching mission and access to services at Harborview Medical Center, University of Washington Medical Center and University of Washington Dental School."
This, too, fulfills a priority of the university's legislative agenda and was praised in statements by Cauce and Dacca.
"This is a strong proposed budget for higher education and for the University of Washington," Cauce said. "I thank Gov. Inslee for addressing our most critical challenges, including increasing the state's share of funding the UW's operations, compensation, and our hospitals' needs."
Other highlighted areas include statewide investments of $64.3 million to cover central services costs that are not covered by tuition fees ($25.5 million of which is an investment into the UW according to the Office of State Relations), as well as $50 million for program enhancements and student support services ($8.8 million for the UW).
While the university praises the governor's budget proposal, it does not meet all of the university's objectives for this session.
"Like any budget proposal, there were requests from our agenda that were not included in this proposal," Dacca said. "But, we will continue working with students, faculty, and leadership from our campuses to communicate those priorities to the legislature over the coming months."
2018, a non-budget year in the legislature, was the first year session of Inslee's tenure as governor when Washington Democrats held majorities in both chambers in Olympia. Following the 2018 midterms, Democrats expanded their majorities in both chambers and ensured the chief negotiators and lawmakers that Gov. Inslee will be working with will be of his own party.
The 2019 legislative session begins Jan. 14 and will end on or before April 28 with the option of continuing longer with 30 day special sessions.
Reach legislative reporter Devon McBride at news@dailyuw.com. Twitter: @DevonM98
Like what you're reading? Support high-quality student journalism by donating here.