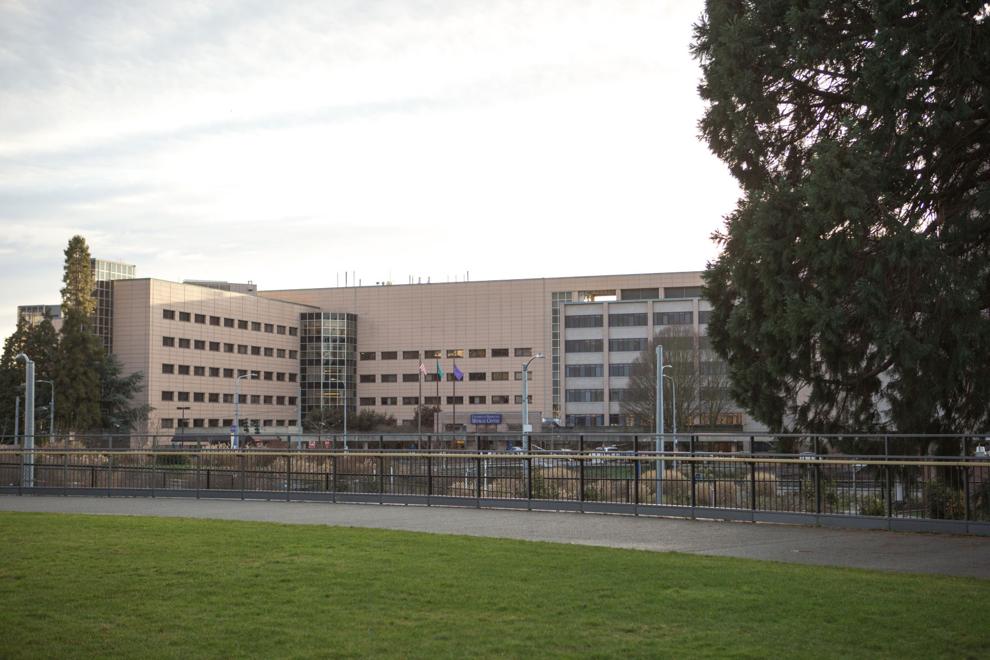 As COVID-19 cases around the United States and the world increase, many healthcare centers are scrambling to provide enough resources to support the surge of patients.
Those resources include vital pieces of equipment like ventilators, respiratory machines that physically move breathable air into and out of lungs to support patients who cannot breathe. They are most often used during surgery, as anesthesia can impair the patient's ability to breathe, and for people who are suffering from pneumonia, chronic obstructive pulmonary disease, or other conditions that affect the lungs. 
"In general, a ventilator is something we use all the time in intensive care units," Dr. Vikram Padmanabhan, a physician of pulmonary and respiratory disease care at UW Medical Center's Northwest campus, said. "The most common reasons to be on a ventilator is a new lung process that makes it harder for you to get oxygen from the air into the bloodstream, or if a patient is unable to breathe out carbon dioxide efficiently." 
While the novel coronavirus is still being studied, the virus has been proven to cause respiratory problems, with shortness of breath being a common symptom among those people who are infected. Nonetheless, the vast majority of coronavirus patients do not require a ventilator. 
"A subset of folks who develop severe pneumonia as a consequence of COVID-19 may require support of a ventilator," Padmanabhan said. "It's not that everybody will need one." 
Those patients who do eventually require a ventilator tend to be individuals who are elderly, have pre-existing conditions, or in general have weaker immune systems. For those individuals, survival rates have been shown to vary, but Padmanabhan said survival rates for incubated patients has been "quite high."
However, Padmanabhan cites a caveat, mentioning that those statistics may be due to the fact that his patients who were on the ventilator were often young and did not have pre-existing medical conditions. 
Around the world, the prospects of survival for COVID-19 patients on a ventilator have been illustrated to be more bleak. 
In London, a small study by the Intensive Care National Audit & Research Centre reported that only 33 infected patients were discharged alive out of the 98 ventilated patients in England. In Wuhan, a research paper revealed that only three out of 22 ventilated patients observed survived, which is roughly a 13.6% survival rate.
Even though a small percentage of COVID-19 patients require a ventilator, states are worried that there will be a shortage of these in the coming weeks. So far however, states like Washington have been able to support the patients who require ventilation. 
"Thankfully we, in this area, were relatively ahead of the curve due to the early outbreak in Kirkland," Padmanabhan said "We began social distancing and stay-at-home orders relatively early, which has, now, weeks into this, paid off."  
A study led by UW researchers of 18 ventilated patients found that nine were still alive when the study ended.
Around the country, many groups and organizations have begun preparing for what could be a shortage of ventilators. Companies like General Motors and Ford have agreed to produce more of these machines, while other hospitals have cited the possibility of supporting multiple patients with one ventilator.  
While all these initiatives have been praised, the best solution to a potential shortage has been clear from the beginning and voiced multiple times since the outbreak of the virus. 
"If we flatten or plateau the curve, we should have more than ample supply to meet that demand," Padmanabhan said. 
Reach reporter Sheharbano Jafry at news@dailyuw.com. Twitter: @SheharbanoJafry.
Like what you're reading? Support high-quality student journalism by donating here.