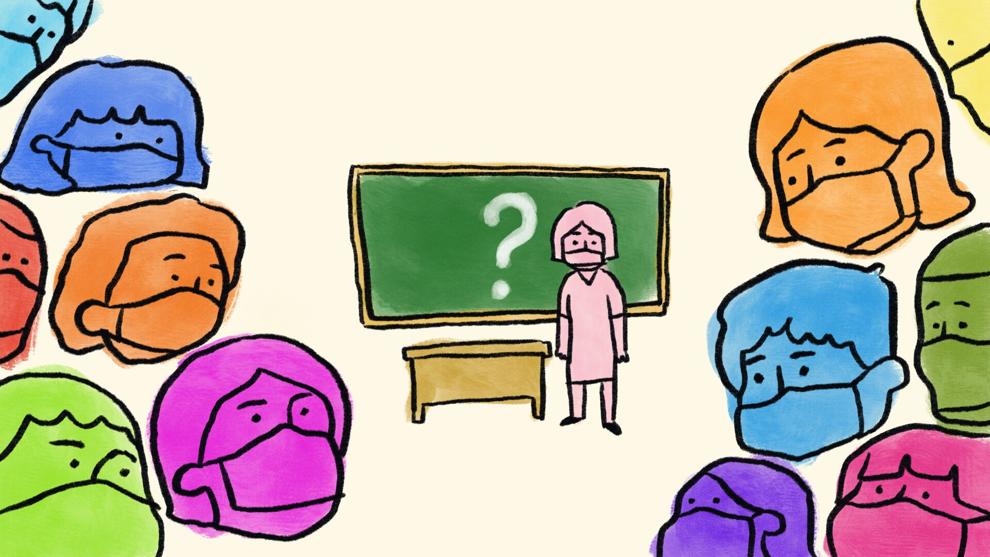 As fall quarter approaches and the days of summer break slowly dwindle, UW professors are already preparing for the upcoming academic term. After 18 months of remote instruction, university leadership recently released specific details for fall quarter health and safety measures, including removing philosophical vaccine exemptions and adding layers of verification, outlining contact tracing and testing procedures, and emphasizing the collaboration between leadership and public health experts.
However, many faculty members are not satisfied with UW's plan for an entirely in-person fall quarter. 
The return to in-person learning comes as the highly transmissible delta variant blows through both vaccinated and unvaccinated populations statewide, further encumbering an already strained hospital system with record-breaking hospitalizations. 
While vaccinated individuals are more protected from severe illness or contracting the virus in the first place, there continue to be breakthrough cases –– infections among vaccinated individuals. Regardless of vaccination status, people carrying the virus are capable of spreading it to unvaccinated or vulnerable members of their households, such as children under 12 years old or older adults.
"Going back to the classroom is sort of everything we're told that people should be cautious about," Eva Cherniavsky, American literature professor with the English department, said. "You're going to sit in an enclosed place with poor ventilation, with 30, 40, or 70 people for two hours, and your primary activity is going to be talking."
In addition to teaching, Cherniavsky serves as the UW American Association of University Professors (AAUP-UW) president, a faculty advocacy chapter dedicated to advancing academic freedom and shared governance.
The AAUP-UW executive board has communicated with university leadership throughout the summer, echoing faculty concerns and advocating for further safety measures. A petition created before UW's updated fall quarter guidelines by AAUP-UW gathered nearly 700 signatures. While some petition requests have been addressed — such as strengthening the original vaccination mandate — many proposals have gone ignored. 
Faculty left out 
AAUP-UW requested in both its correspondence and its petition that faculty representation on decision-making bodies needed to be expanded. The Back-to-School Task Force and the Back-to-the-Workplace Task Force consist primarily of administrators.
"Including faculty with public health/epidemiological expertise is highly desirable," the AAUP-UW petition stated. "But it is equally important that these task forces include faculty members who are actively navigating the challenges of teaching in the classroom under pandemic conditions."
The university has not addressed this concern.
For Dr. Amy Hagopian, professor with the department of global health, collaboration and negotiation are crucial components missing from the push to return to in-person learning. 
"A big motivator for administration is that it's hugely costly to give up on the infrastructure that the University was heavily invested in," Hagopian said. "With faculty at the table, we would share that concern and have a common cause in negotiating solutions. But we're not at the table."
Hagopian and several other faculty members have cited Western Washington University (WWU) as the ideal model. 
With the help of their union, WWU faculty has entered into a Memorandum of Understanding with the university, wherein faculty can choose their mode of instruction — whether that be in-person, online, or hybrid — for fall quarter. They will also be notified of the vaccination rates for their respective classes one week before classes start. 
Without a faculty union, much of the attempts to advocate for UW faculty have fallen short. 
"People are going to be sick, and some of them are going to die," Hagopian said. "And we're in this contentious relationship with the people making the decisions, rather than in a collaborative relationship with them."
Individual decisions, community impacts
Sasha Senderovich, assistant professor in the Slavic languages & literature department and the Jackson School of International Studies, sees himself as a potential "vector of the virus." He fears contracting COVID-19 on campus, bringing it home, and infecting his unvaccinated three-year-old child. 
There is currently no vaccine authorized, even for emergency use, for children under 12 years of age. 
"I won't know how many of my students are vaccinated," one faculty member said. "For all I know, everyone has lied as it hasn't been verified."
The faculty member asked to remain anonymous for fear of retaliation as she is not tenured. While she is vaccinated, she is fearful of contracting COVID-19 and infecting her two unvaccinated young children. One of her classes will have several hundred students; another class will have less than 50 students but will be held in a small, packed room.
She wonders if — or when — she will have to keep her kids home from their schools if she is exposed at the UW. 
Currently, the UW public health emergency accommodation states that faculty seeking teaching accommodations for fear of contracting COVID-19 would only be eligible if they are deemed high-risk due to age or an preexisting medical condition.
A faculty member who is concerned about COVID-19 but is not "high-risk" would not be considered for accommodations under the public health emergency guidance — even if they have vulnerable members in their household. Instead, faculty with other "extenuating circumstances" must request special arrangements that a dean or chancellor may approve. 
"Faculty with young, unvaccinated children or immuno-compromised family members are deeply and understandably distressed," Cherniavsky wrote in an email. "And those concerns are being dismissed out of hand."
The danger goes beyond family members, faculty say. It's about the entire community — the restaurant workers, commuters, and everyone else who comes into contact with UW faculty, staff, and students.
"I just feel that we are endangering so many people who are peripherally connected to the classrooms," Senderovich said. "Understanding that we are not isolated individuals and that the way we choose to engage with each other as a community this fall is going to make it that much better or that much worse."
Vaccine verification stretches on 
Since the UW's initial vaccine policy announcement, the university has added further verification checks for submitted attestations, eliminated philosophical exemptions, and stated it would require documentation for medical and religious exemptions. 
Still, it is unclear what documentation will be required to prove an exemption, and the fall quarter is fast approaching.
Vaccinated students have until the beginning of the quarter to submit their vaccination status. This late deadline means UW may not verify student vaccination status through the state database or request further documentation until after classes have started. 
UW eliminated physical distancing and capacity requirements in July following state guidance, though distancing remains a recommendation.
Even if nearly 100% of the campus is vaccinated, COVID-19 cases are still possible. Duke University in North Carolina recently announced that faculty have the option to teach remotely for the next few weeks as the university hit a record-breaking number of cases in one week. As of Aug. 30, 98% of Duke students and 92% of Duke employees were fully vaccinated.
UW students unable to be vaccinated before arriving on campus will have until Nov. 5 to submit their vaccination form, over a month after classes begin. If students fail to meet this deadline, a hold will be placed on their winter quarter registration.
"The timeline is such that all this belated vetting will stretch well into fall," Cherniavsky wrote in an email. "And delta is surging NOW." 
Waiting for the inevitable
When Senderovich moved to Seattle, he found a way to live close to the UW. He would walk only 20 minutes to campus in normal years, so the past two years of remote learning have not been great. He'd rather be on campus than sit at home on his computer, he said. 
Senderovich is one of many faculty who want to return to campus, reminiscing on the days before a worldwide pandemic took hold. They miss their students and the elements of teaching that remote instruction doesn't yield — but they want to do it safely.
They fear they will contribute to the spread of COVID-19 that is overwhelming hospitals and racking up death tolls. They fear that with rising cases and potential new variants, the UW will be unprepared and forced to pivot to remote instruction unexpectedly. 
They fear what they say is inevitable. 
"I went into this profession because I love teaching," Senderovich said. "I want to return to in-person, but it feels dangerous. It's like a ticking time bomb."
Reach reporter Hannah Sheil at news@dailyuw.com. Twitter: @thehannahsheil
Like what you're reading? Support high-quality student journalism by donating here.