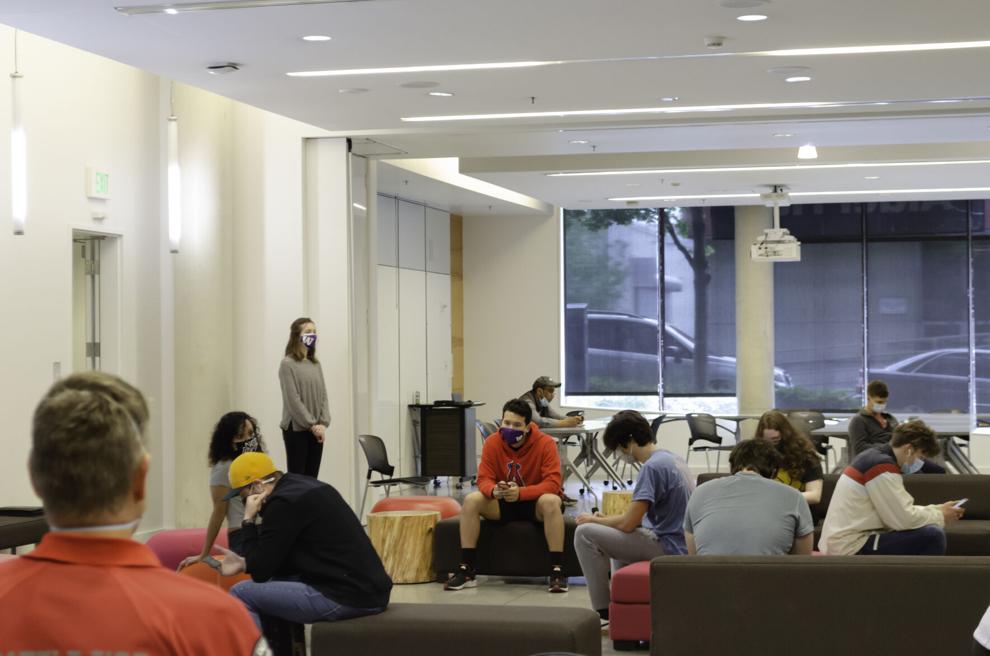 The UW will require students to be vaccinated against COVID-19 by fall quarter, according to an announcement from UW President Ana Mari Cauce. 
"Widespread vaccination is the only real way we can put the COVID-19 pandemic behind us and return to a more normal way of living, learning, and working," Cauce wrote in the university-wide message.
While students have ample time to comply with the autumn deadline, they should aim to get vaccinated as soon as they can to limit the spread of the virus and protect themselves and their communities.
The vaccination process takes several weeks. The Pfizer-BioNTech and Moderna vaccines are two-dose series with 21- and 28-day separations, respectively. Moreover, recipients of any of the three FDA-authorized vaccines — Pfizer, Moderna, and Johnson & Johnson — are not considered fully vaccinated until two weeks after their final dose.
In recent weeks, vaccination supply in and around Seattle has begun to eclipse demand and the barriers to securing a vaccine have lowered. UW Medical Center is currently accepting walk-ins; pop-up clinics are expected to be available through this spring, summer, and fall.
Dr. Lili Church, interim director of Hall Health, recommended that students living internationally get vaccinated where they are, provided that approved vaccines are available. 
"If a [COVID-19] vaccine was approved in another country, it will be approved here, for this program," Church said. "We're really encouraging everybody to get the [COVID-19] vaccine wherever they are. Better to get it now than wait."
Students living in areas where vaccines are scarce or unavailable will have access to vaccines upon their return to campus in the fall. If students are only able to secure the first dose of a vaccine approved in the United States with a two-dose series, they will be able to receive a matching second dose upon their return to campus.
A vaccine requirement, not a voluntary program, was determined to be the most effective way to reach herd immunity on campus, according to Dr. Geoffrey Gottlieb, chair of the UW Advisory Committee on Communicable Diseases (ACCD).  
"There was concern by the ACCD, as well as the president's leadership group, that without a requirement we would not achieve the levels of campus-wide uptake that are needed to protect the campus," Gottlieb said.
The requirement also allows the UW to track the levels of vaccination on campus and understand which students might be vulnerable in the case of an outbreak, Gottlieb added. 
"For highly vulnerable students or students who choose not to get the vaccine for either medical or non-medical reasons, we'll obviously have a list of those individuals, and there will likely be procedures in place to make sure they're notified," Gottlieb said. This way, students will "know how to protect themselves and whether they should exclude themselves from an area where an outbreak occurred."
Students who are curious about the vaccine exemption process should stay tuned and keep an eye on their email — more information, including the granular logistics of verification and exemption processes, should arrive early this summer. 
Sources could not offer more clarity on the logistics of non-medical exemptions  at this time.
"We hope and expect that uptake will be very high," Gottlieb said. "As we gather those [vaccination] numbers, I think we'll be able to see if we're hitting those high levels of vaccine uptake that reassure students and ourselves and the campus community that we have good coverage on campus to prevent any major outbreaks."
Dr. Judith Wasserheit, chair of the department of global health, stressed that the safety and effectiveness profiles of the vaccines are very strong.
"These vaccines are amazing," Wasserheit said. "They're very safe, they're highly effective — and that's particularly true when you're talking about severe disease, hospitalization, and death."
Church urged students to consider the risks of not getting vaccinated if they are on the fence.
"It's been out since December," Church said. "Millions and millions of people have gotten it … we know that the vaccine is very safe. There are very few cases of complications, and the risk of having [COVID-19] far outweighs the tiny risks [of vaccination]."
Although young people are less likely to suffer from severe COVID-19, their vaccination protects populations who are at higher risk of hospitalization and death, like older adults, those with underlying medical conditions, and racial and ethnic minorities. Gottlieb also warned that young people are still at risk of COVID-19 complications.
"This disease, although milder in younger folks, can be severe," Gottlieb said. "And the long-term consequences of even having mild [COVID-19] we're just learning about –– it's certainly a concern."
UW spokesperson Victor Balta encourages students to think about the requirement as a means of ensuring the well-being of the UW community.
"Large-scale vaccination is going to be the safest way to be able to return to in-person classes and activities," Balta said. "This was the need that needed to be filled for the health and safety of the community."
Any further questions regarding the COVID-19 vaccination process can be directed to Hall Health at covidvaxrequirement@uw.edu. 
Reach contributing writer Kelly Hunter-Lynch atnews@dailyuw.com. Twitter: @khunterlynch
Like what you're reading? Support high-quality student journalism by donating here.