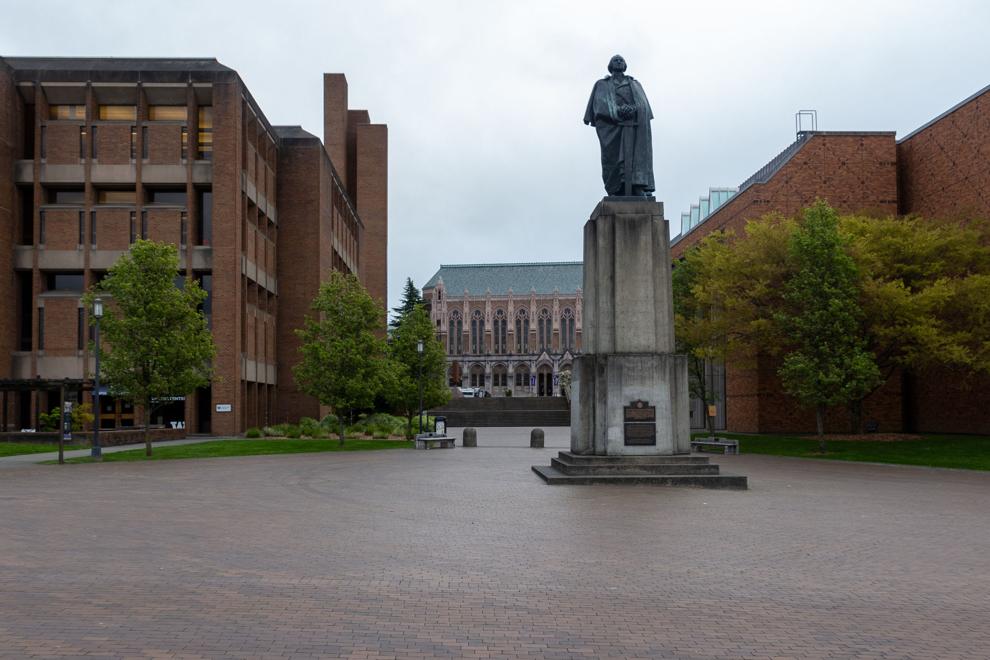 In the age of COVID-19, education, businesses, and families have to rely on technology to communicate more than ever before. Several technological innovations have expanded to fit the growing need for testing, disease tracking, and telecommuting, but experts warn this is not without tradeoffs. 
A panel of experts in technology discussed the implications on privacy, cybersecurity, and accessibility during the pandemic in a May 14 webinar hosted by the UW School of Law.
"We find ourselves in a position where we know technology and information will have a role," Ryan Calo, an associate professor at the UW School of Law, said, citing rapid testing and disease modeling. "But at the same time we should be very, very suspicious when someone claims there is a simple solution." 
Contact tracing has emerged as a solution to monitoring the spread of COVID-19, and tech companies such as Apple and Google have begun developing apps using Bluetooth to quickly identify the movements of infected people. Some states have begun to roll out their own apps, such as Care19 in North and South Dakota. 
Users have complained the app frequently failed to record their movements with accuracy, raising concerns about the ethics of technology that is rolled out before companies can do adequate performance testing. 
"What I expect is that tech will be used as an excuse to reopen the economy in a way that dramatically and disproportionately affects people of color and people with low resources," Calo said later in an interview. 
Elana Zeide, a Program on Understanding Law, Science & Evidence (PULSE) fellow in artificial intelligence, law, and policy at the UCLA School of Law, said she believes colleges may try to do their own version of contact tracing if students return to campuses in the fall, potentially combining this with facial recognition technology. This adds to the growing concern about data collection on campuses. 
"That's a lot of responsibility, and there's a lot of ways that can go very wrong," Zeide said.
Even staying in the home to telecommute or do schoolwork poses challenges and privacy risks during the pandemic. Zoom, which by March had grown to over 200 million daily users, has ramped up security measures to include stronger encryption after complaints of privacy issues. 
However, this may not be the only privacy matter students are facing. 
Zoom initially used an attention-tracking tool that could alert the meeting host when students clicked away from a meeting for more than 30 seconds. This feature has since been removed. Zeide also cited concerns with online proctoring services.
"[They] can track an extraordinary host of biometric information ranging from your eye movements to your facial gestures to whether there's another voice, to even key typing patterns," Zeide said. 
Online proctoring and Zoom can be a challenge for students who struggle with accessing a computer, finding a quiet place to take tests, or unreliable internet connection. Zeide is a proponent for asynchronous learning and less tech-intensive tools, as they take up less bandwidth and can be more accessible to students who lack consistent computer access.
Michelle Richardson, the director of the Privacy & Data Project at the Center for Democracy & Technology, commented on the challenges of closing the achievement gap with tech. 
"I think one of the things we should think about is: in our efforts to aggregate data to obscure any one person's information, are we also obscuring differences in communities?" Richardson said. 
Reach contributing writer Corinne Dietz at news@dailyuw.com. Twitter: @Corinne_Dietz
Like what you're reading? Support high-quality student journalism by donating here.