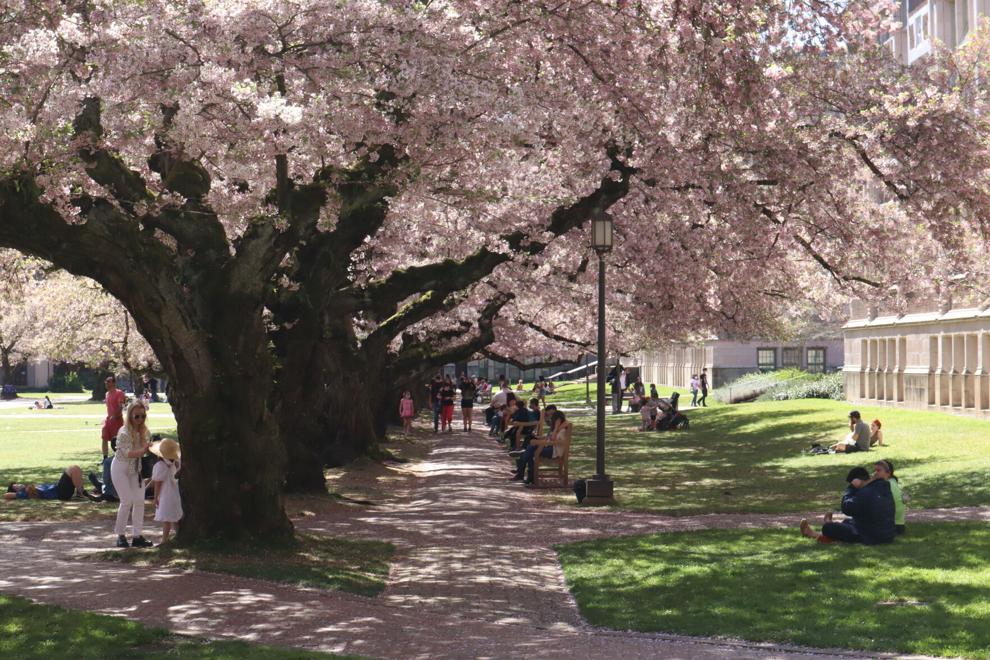 Returning to campus in the fall for largely in-person classes may be different from online learning, but it won't be a total return to pre-pandemic schooling. Changes on campus will include requiring face masks and social distancing, and possibly using more online teaching methods even when no longer necessary. 
Face coverings, maximum room occupancies, and social distancing procedures aligning with guidelines from the Centers for Disease Control and Prevention (CDC) will be required to ensure the public safety and health of students and faculty, according to vice provost and dean of undergraduate affairs Ed Taylor. 
"Safety is going to be at the forefront of this," Taylor said. 
A formal decision on whether or not the COVID-19 vaccine will be required to attend in-person classes will be announced by June 1, Dr. Geoffrey Gottlieb, medical director for the UW environmental health & safety department, said. 
Gottlieb said resources like the Husky Coronavirus Testing Program and COVID-19 vaccinations will be available for students. 
"We expect our students, staff and faculty to be vaccinated by then, and so we hope that will help with both keeping case counts on campus and on our surrounding community to a minimum," he said. 
Along with these changes, students can expect to see familiar online teaching methods used once in-person classes come back. Nationwide, schools made drastic changes during the pandemic to keep students learning, like online Zoom lecture instruction and accessible online reading materials. 
Taylor said the UW will continue to support the needs of students and faculty the same way it did during the pandemic. 
"The teaching techniques that I learned that are applicable online can be added back to the in-person classes," Terry Swanson, professor of earth and space sciences, said. 
Swanson hopes to hybridize his classes to accommodate student needs by offering live lectures as well as recording them on Zoom. 
"I'm a big proponent of experiential learning and classroom learning," Swanson said. "But I think I really learned the value of this online teaching methodology."   
Swanson, who has taught at the UW for 29 years, was pushed by the pandemic to look for other ways to create a community with his students, like live streaming his ESS 101 course on Twitch. 
History professor Margaret O'Mara shared the same goal of catering to student needs while creating community in a time of isolation. 
"We're going to be dealing with the aftereffects of this year for a long time," O'Mara said. "But what we have learned is how to foster and sustain community and empathy, and meeting students where they're at."   
O'Mara said online instruction helped her connect to students in more ways than she had with in-person classes. She allowed students to address her on a first-name basis, something she had not implemented prior to online learning. 
"You can have all the software you want, but that doesn't replace this human interaction and conversation," O'Mara said. 
Like Swanson, O'Mara is also looking to incorporate pandemic teaching techniques into her in-person curriculum, like changing the size of her classrooms. The pandemic pushed O'Mara from large, lecture hall–style classes to favoring mid-size lectures with small group discussions.
O'Mara added that she also learned the importance of accessible and equitable study materials for students from remote learning and the UW Center for Teaching and Learning. 
"I think more broadly, having online elements is an issue of equity and accessibility — whether it's a physical disability or it's someone who needs to be home in Spokane for a long weekend and can't make it back to campus for class," O'Mara said. 
Taylor, Swanson, and O'Mara said while the pandemic disrupted in-person learning, it did not disrupt the sense of community created by UW students and faculty. 
"I think we're going to need to look at teaching and learning and look at how to make knowledge accessible to students in a way that maintains our quality of excellence," Taylor said. "We will need to look at new ways of meeting student needs." 
Reach reporter Jadenne Radoc Cabahug at news@dailyuw.com. Twitter: @jadennecabahug
Like what you're reading? Support high-quality student journalism by donating here.