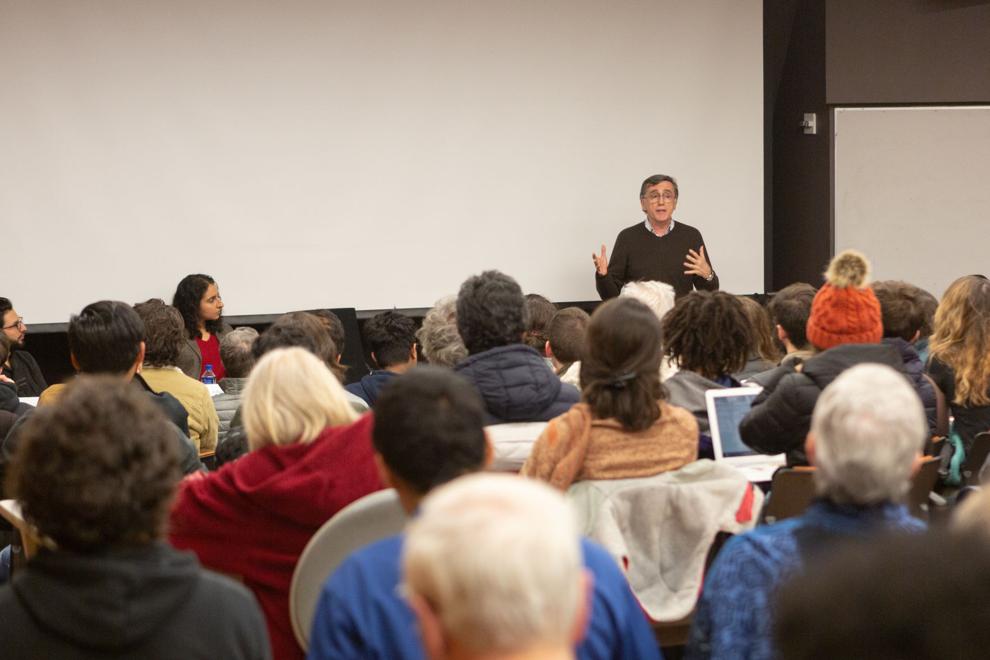 Earlier this month, President Donald Trump ordered an airstrike on Baghdad International Airport that killed the Iranian general Qasem Soleimani. Five days later, Jan. 8, Iran retaliated by firing ballistic missiles at Iraqi military bases housing U.S. troops (with a warning in advance so no one was harmed) and declared its justice as complete. The same day, Iran mistook a Ukrainian passenger plane as a threat and shot it down, killing all 176 people on board. 
These events have started the decade with an air of panic and frenzied speculation about a potential "World War III." In response to the confusion, four professors hosted a public panel in Thomson Hall Monday evening to explain the recent events with more context.
The event started off with a moment of silence for the victims of the plane crash as a grave reminder of the human cost of war, setting the tone for the rest of the event.
Reşat Kasaba, director of the Jackson School of International Studies, gave a brief history of the United States' extensive involvement in Iran, dating back to the 1953 coup d'etat of former Prime Minister Mohammed Mossadegh. Because this involvement has in no way decreased, Kasaba believes that Iran's declaration of having finished its response doesn't mean that the crisis is over.
"The [United States] has failed over this long time period to be an effective, productive partner that [benefits] Iranian society at large," Kasaba said. "What has happened instead, especially in the last several years … is backfiring of policies and wrongly conceived policies and results that have really been exactly the opposite [of their intentions]."
Aria Fani, an assistant professor of Persian and Iranian studies, detailed how the Trump administration's actions have greatly weakened foreign relations. In Trump's first eight months as president, the number of foreign affairs employees in the State Department decreased by 12% as an intentional result of policies by former Secretary of State Rex Tillerson. 
Meanwhile, the military budget increased last year for the fifth consecutive year, nearing levels seen during the Iraq War.
"The message of this administration could not be more clear: We are closed for diplomacy," Fani said. "From now on, we're only open to war."
Arbella Bet-Shlimon, an associate professor on the Middle East for the history department, emphasized that the U.S.-Iran conflict has taken place on Iraqi soil and that many Americans seem to be ignoring the life-threatening implications this has for Iraqi civilians.
"The idea that there are bad people in Iraq who need to be bombed into submission indefinitely by the United States is deeply ingrained in American thought to the point that it's not a question of whether we should bomb Iraq … but how we should do so," Bet-Shlimon said. "It's just the default way of doing things and most Americans can't get past it."
An example of this casual dehumanization was in an initial report that the Iranian missile attack had resulted in casualties among Iraqis "only." Although we now know that this was false and no deaths were intended or caused, "the word 'only' is doing a lot of work in that sentence," Bet-Shlimon said.
Iraq has been afflicted with war after war for 40 years; many Iraqi people have never seen peace in their lifetime. This is the unsettling backdrop to protest movements that started in October 2019 against American and Iranian influence in the Iraqi government. Bet-Shlimon believes the recent attacks have only set back whatever progress was made by these movements.
"The question I'm left with looking at politics is, how much more of Iraq's blood, and its potential, and its sovereignty — how much more would Iraqis have to sacrifice before it's finally enough?" Bet-Shlimon said.
Fani urged that Americans need to use their power to keep the government in check and prevent such needless deaths.
"If you're concerned about the direction of our country, then stop worrying about which way the guys in the red hats will go," Fani said. "Help build a coalition of marginalized groups and vote for anti-war candidates locally and nationally … We owe it to Iranians and Iraqis who don't possess the same democratic methods and to create a government that works through constitutional checks and accountability."
Reach reporter Natalie Rand at news@dailyuw.com. Twitter: @airbudfan
Like what you're reading? Support high-quality student journalism by donating here.