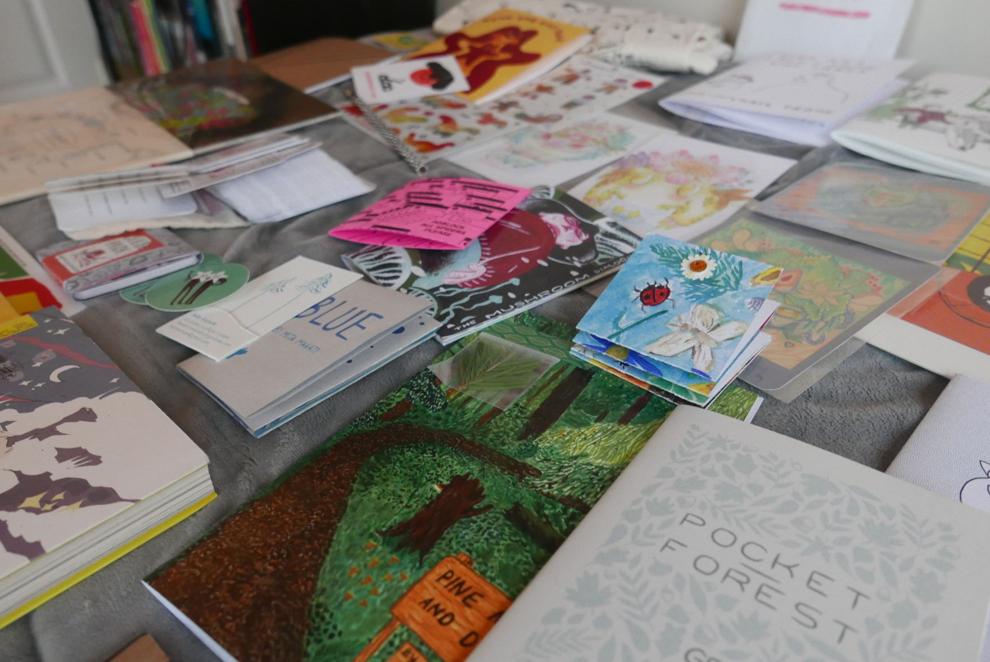 When asked how zines are different from other forms of media, Alwyn Mouton, a senior double majoring in comparative history of ideas (CHID) and gender, women, and sexuality studies (GWSS), explained how they radically reject the capitalist barriers of publication, therefore making room for marginalized voices. 
This quarter, a group of UW students are harnessing creativity, collaboration, and a whole lot of punk through the focus group "Zines and Zinemaking: The Radical History and Creative Future of Self-Published Work" taught by Mouton. 
Despite being a cultural fixture in the United States since the 1930s, the self-published magazines — known simply as zines — have commonly found themselves outside of the spotlight enjoyed by their more mainstream relatives. 
Part of what makes zines interesting, Mouton says, is their "slippery nature." Mouton first felt drawn to zines as a teenager. 
"I didn't see a lot of art in museums that I really responded to, but the art I was finding in zines moved me in a way nothing else did," Mouton said.  
Part of what drew Mouton to the art form is that they commonly talk about issues and communities that are underrepresented in mainstream media. While some of the most popular zines are those that came out of feminism movements in the '90s, zines also have a rich history in queer communities and communities of color. 
The autonomy offered by self-publication means that zines have been at the forefront of anti-establishment speech since their conception.   
"Being able to publish your own work is inherently anti-authoritarian because it's about putting your voice out into the world before you've been given permission to," Mouton said. 
Mouton explained, after their birth in the '30s, zines developed into fanfiction in the '60s. It was in the 1970s that the medium took on a punk, anti-establishment dynamic that lent itself nicely to the third wave feminism movement of the 1990s.
Mouton focuses on all of that and more in the focus group, which has been a passion project of theirs for the past two years and is offered this quarter by the CHID department. 
Mouton's class centers around their own personal zine collection and covers both the history and contemporary forms of zines. The group involves weekly exercises where the class makes everything from monster zines to political zines together.
"What I wanted from my education was to have the opportunity to take classes that combined thinking and making ... where thinking was making," Mouton said. "We are doing things together and creating collective work in an academic setting because I think that's so valuable." 
Mouton says that they're interested to see how the politics of zines will play out in their students' final projects, where they each create their own zine. 
"The quality of work that they've been producing every week, it's been totally astonishing and so exciting," Mouton said. "What I'm hoping from the class is for each of them to find something that they've been wanting to say and feel like this is the time they can say it."
With anyone being able to self-publish on the internet, it is worth asking why physical zines continue to be produced. Caroline Chung Simpson, a professor in the CHID department and Mouton's supervisor, says that it is because the impersonality of the internet can be exhausting. 
"It's imperfection, you know, and there's something very human about that," Simpson said. "They want to see the hand that made it be a little imperfect, and that's where the character comes in, I think."
Mouton says they hope the class can be offered again another quarter by another student with a passion for zines and the know-how to teach it. Simpson seconded this, noting that CHID is the perfect department for a class like this in that the class centers so heavily on creation and novel ideas. 
Reach contributing writer Sarah May at development@dailyuw.com. Twitter: @SarahM3204
Like what you're reading? Support high-quality student journalism by donating here.