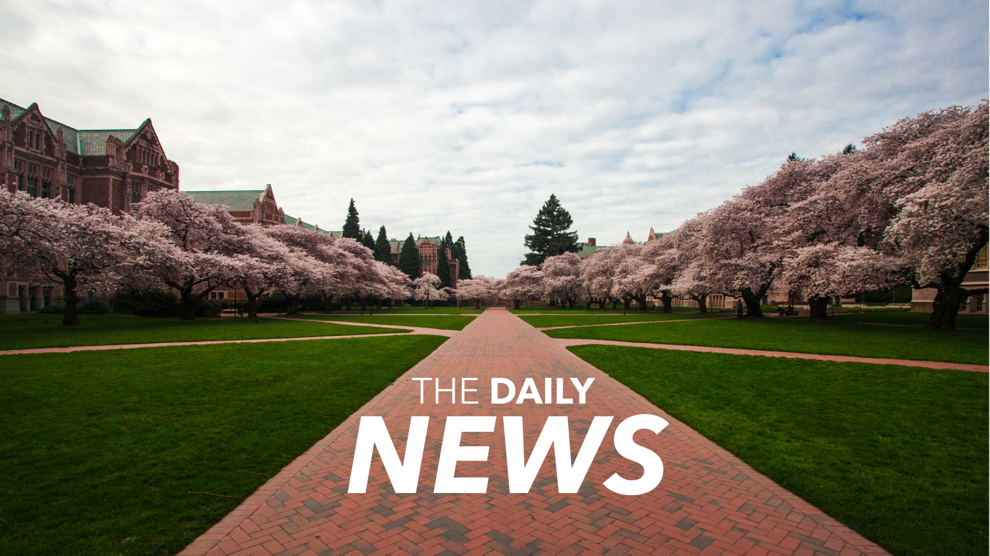 In spring quarter 2017, Jevin West, an associate professor in the Information School (iSchool), began co-teaching the class "Calling Bullshit: Data Reasoning in a Digital World." The course, which introduced students to the concept of misinformation, strives to "help students navigate the bullshit-rich modern environment by identifying bullshit, seeing through it, and combating it with effective analysis and argument," according to the course website.
Now, West is working on a long-term cure for misinformation: the UW's Center for an Informed Public. The center is set to launch Dec. 3 and is the first of its kind in Washington state.
"I think everyone knows that so much of what we're seeing is kind of BS," West said. "We live in a really fast-paced information environment, and … with any system, the more information that passes, the more misinformation passes as well."
Hanson Hosein, the co-director of the communication leadership master's program and an affiliate at the Center for an Informed Public, described the misinformation plague in an even more animated fashion.
"If this were a Hollywood script, it would be 'a massive epidemic has hit planet Earth and a crack team of researchers is trying to figure out how to cure it before it's too late,'" Hosein said. "But the only way to do this — [because] it's such a pressing issue — [is] they've got to take their trial vaccinations into the community."
The research-based center aims to understand what misinformation is and where it comes from. Once identified, they plan to work toward solutions to deter it, which they hope will ultimately improve democratic discourse.  
"We can't really talk as a collective, as a population, if we can't trust anything we're saying," West said.
The co-founders and principal investigators for the center include West, iSchool assistant professor Emma Spiro, iSchool researcher Chris Coward, human centered design & engineering associate professor Kate Starbird, and law associate professor Ryan Calo. The center also has affiliates and students from the departments of biology, communication, computer science and engineering, human centered design & engineering, and the College of Education. 
"We thought at the university that it was too big of a problem for one person, so we built a group of collaborators," West said. "It involves many different colleges. Just within the initial grant, it will likely include more."
Working with different groups also means the center can focus on misinformation from an interdisciplinary perspective, including technology, policy, law, and communication to the public.
Hosein explained that the center brought him on because of his experience as an overseas correspondent and NBC News journalist. 
"I have the most traditional focus on actually healthy information, but I've also covered stories where misinformation has been rampant," Hosein said. "So I understand what it means when the ecosystem gets polluted with people's agendas, and how they try to toy around it."
While West and other researchers will look at misinformation in a more technical way, trying to identify how it is spread and brainstorming solutions to combat it, Hosein will focus more on community involvement, acting as a bridge between researchers and the public. 
Engagement with the world beyond academia, in Hosein's eyes, is the most important characteristic of a center dedicated to the public. He further stressed this, saying that "trust in America and reliance on traditional news organizations has been on the decline for over 20 years."
Hosein attributes the use of social media to an acceleration in the spread of misinformation, which to West, has begun to degrade the quality of regular information being put out. 
"Democracy depends on our ability to collectively … get along and be able to discuss things and try to come to decisions collectively," West said. "And right now that's at risk if no one believes anything they're saying and [there] doesn't seem to be any truth out there, or fact, and everything is false and fake news."  
The idea for the center was pitched out last spring by the John S. and James L. Knight Foundation, an organization that works "to foster informed and engaged communities." The foundation called on universities across the nation interested in establishing a misinformation center to send proposals, and five institutions were chosen to receive a center, including the UW. The other universities selected include New York University, University of North Carolina at Chapel Hill, the George Washington University, and Carnegie Mellon University.
UW's center received $5 million from the Knight Foundation for the project and received an additional $600,000 from the William and Flora Hewlett Foundation. 
"This is just seed money," West said. "I know it sounds funny, like 'How could it be just seed money, this should be enough,' [but] we need a lot more money to make it a more permanent fixture, and we're looking for other funders as well."    
The center is currently housed in the iSchool, but West says they plan to move to a more permanent location. Representatives at the center also hope to collaborate with other universities and officials across the state. 
Reach reporter Madison Morgan at news@dailyuw.com. Twitter: @madiannemorgan
Like what you're reading? Support high-quality student journalism by donating here.