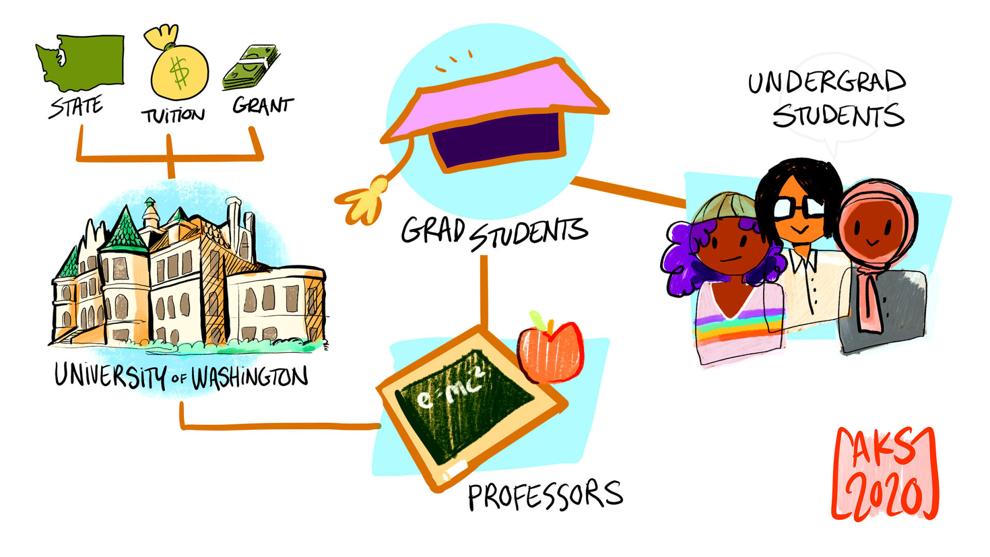 For Paul Atkins, the chair of the department of Asian Languages and Literature, graduating from Stanford in the late '90s with a Ph.D. in Japanese, surrounded by the tech boom, was not a point of anxiety. 
"At the time I went to college, people didn't think, you know, [that] your major defines you," Atkins said.
More often than not, as Atkins tells it, students at the time were told by adults and their peers that it was reasonable to change jobs, which took the pressure off immediately deciding one's life path. This mentality is generally representative of both students and educational institutions at the time, which emphasized college as a time for fact-finding and self-discovery.
Today, that relationship is not so simple. Most graduates today who leave college with a humanities B.A., let alone a Ph.D., are often worried about job prospects. But, as the Atlantic points out, there hasn't been any meaningful decline in what humanities majors are earning, rather there is something more subtle going on.
According to Benjamin Schmidt, an assistant professor of history at Northwestern University, students have shifted their perspective to what they ought to be studying in the wake of a tech-dominated economy. The humanities is therefore relabeled as a study that puts students at a deficit, rather than one that is adaptable and provides skills for a changing future. 
Nationally, there has been a decline in humanities degree earners. According to data from the National Center for Education Statistics (NCES), English degrees, for example, have declined to around 40,000 from their high of nearly 70,000 in the early '70s.
Further, the gender breakdown shows women earning 29,000 English bachelor's degrees compared to around 12,000 for men in the 2016-17 academic year. 
In 2015, Georgetown University released a study showing entry level job earnings by graduates 21 to 24 years old was $29,000 for humanities majors and $43,000 for STEM majors. Though this may seem like a sharp difference, statistically, the data is not. Looking to the next bracket, which records data for majors aged 25 to 59, the averages for humanities jump to $51,000, representing a 76% increase from entry level earners.
When looking at the data, a dissonance between reality and mentality emerges. Humanities have been labeled as generalist degrees, according to Brian Reed, the divisional dean of humanities in the College of the Arts and Sciences, which leads students and the greater public to question their viability in a market dominated by skills-based degrees. 
Though the job data is quite stable, and humanities unemployment is 4.3% compared to the national unemployment of 5.2%, students are still leaving the majors.
"Whatever environment you are going to find yourself in, the kinds of communication skills, the kinds of research skills, the kind of project management and planning skills that are involved in any kinds of humanities experience will be transferable and will be valuable," Reed said.
At the UW, one of the biggest conversations for students in the humanities has been adviser layoffs and consolidation to a centralized team of six advisers.
And the UW has seen a nearly 50% decline in humanities degrees, according to Kathleen Woodward, the director of the Simpson Center for the Humanities.
This trend of students leaving humanities disciplines for STEM degrees is based primarily on what they think the earnings are compared to, Schmidt explained.
'Connect their passions to their futures'
When looking at the difficulties facing the humanities, the question often emerges: How did we get here? 
While there is no simple answer, the UW faces a unique dilemma. The amount of funding has stayed constant at the UW since 1990, even though there are 10,000 more students studying at the university. 
The UW 2018 fiscal budget received 36% in state funding, with the remaining 64% being made up of tuition and fees, government grants and contracts, and notably, grants and gifts. 
Though, as most scholars agree, the idea of the humanities in crisis is a misnomer. For the last 50 years the humanities have been in crisis in some way or another.
According to Reed, the history of American higher education has been underpinned by a lack of state support in general. Majors with the highest profitability post-graduation, even if by a small margin, are now dominating the funding allocation. 
When he was serving primarily as a professor in the English department, Reed spent time in China giving lectures about his area of study: poetry. Though their economy is tech-focused like the United States, there is still a reverence for the arts, so much so that Chinese is referred to as the language of poetry. 
While professors at the UW argue that there is value in generalist degrees, and the data agree, the College of Arts and Sciences still recognizes that there needs to be a growing emphasis on professionalization in the humanities.
An over reliance on the older model of liberal arts education which encouraged students to spend four years in college developing critical thinking skills has become out of touch with the job market. 
According to Reed, one of the main setbacks that humanities graduates face is not having a clear equivalent in the job market, compared to programs like computer science.
The College of Arts and Sciences is currently developing more expanded courses for students in humanities fields to learn how to represent themselves in the job market. One course, ENGL 490, teaches upcoming graduates how to present their skills in English as transferable, for example, helping students produce portfolios for their work and articulating how their coursework is relevant for jobs.
Atkins believes that one of the best things these disciplines can do is shift the focus of how they are perceived in a few ways. One is changing the conversation around the humanities and showing the public what application and impact these fields can have. 
One of the main problems in engaging the public is research, in both humanities and STEM, is that some topics are too microscopic, focused on a single text, or overly theoretical and focused on the big picture, Atkins explained. It can be hard to see how this matters to broader society outside of the academy.
"We need to broaden out a little bit," Atkins said. "There's humanistic research which needs to be done, but it is not necessarily what we need to have in our undergraduate classes or our public lectures."
Though this research is valuable, Atkins and other administrators in the humanities are looking forward to promoting engagement and overseeing a concerted effort to provide meaningful resources to graduates. 
"What we need to be able to do is talk to students about how to connect their passions to their futures," Reed said. "There can be many routes to that, and we don't want to discount the importance of nuts and bolts issues, but we also want to be able to talk about what is it to have a plan for the future that allows for a variety of different possibilities."
All statistical and data analysis by Thelonious Goerz. 
Reach reporter Thelonious Goerz at news@dailyuw.com. Twitter: @TheloniousGoerz
Like what you're reading? Support high-quality student journalism by donating here.