The Greater Seattle General Defense Committee (GDC) organized a protest today at the UW to strengthen the community's resolve to resist intimidation, violence, and harassment by far-right groups, while also alleging that university administration and police are not doing enough to protect students.
The protest was also joined by GDC Olympia, Seattle Solidarity Network, and Food Not Bombs.
The GDC was founded by the Industrial Workers of the World (IWW) in 1917 to ensure the safety of the community and its workers, offering protection from violence and support in the form of food, shelter, medicine and education.
One GDC protester was also a graduate student at the UW, identifying herself simply as Biz. Like many others, she came dressed in black, her face partially concealed with a bandana.
"We are actually here for the general defense of the community," Biz said. "We aren't just doing anti-fascist work that we're commonly known for, because that's when people see us."
Biz identifies as anti-fascist, though she rejects the notion that AntiFa is an organization, arguing it is actually an ideology.
"Fascism can be seen as a political ideology, but it can also be seen as a cultural response to economic hardship under capitalism of the right," Biz said. "And when that has happened historically and people on the far-right have made it unsafe for minority and marginalized community members, that's when you get people who call themselves anti-fascists who ... [come] together to fight against what we perceive to be a threat to our community."
On Jan. 20, former Breitbart editor and alt-right provocateur Milo Yiannopoulos held a speaking engagement in Kane Hall at the invite of the UW College Republicans. Outside in Red Square, clashes took place between Yiannopoulos' supporters, protesters, police, and AntiFa.
In what is still an ongoing investigation, one protester belonging to IWW suffered a near fatal gunshot wound after he was shot by Elizabeth Hokoana, according to Hokoana's lawyer. Hokoana is the wife of former UW student Marc Hokoana, and both were on UW campus to attend Yiannopoulos' talk. Elizabeth and Marc Hokoana were the two individuals that turned themselves in to UWPD, as reported by The Seattle Times.
Sarah Lippek, the attorney for the shot protester, stated that Mr. Hokoana was pepper spraying people before the shooting occurred, inciting her client to intervene, a statement supported by witnesses. The Hokoanas insist that the shooting was in self-defense.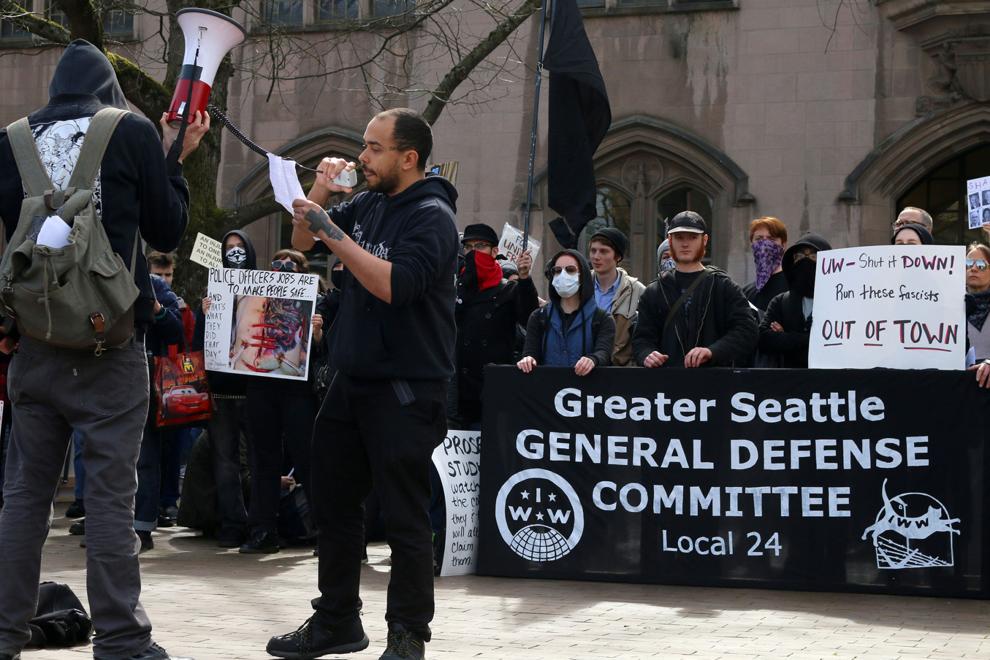 Firearms are prohibited on campus under the Washington Administrative Code (WAC). However, bringing a gun to a Washington college campus is not a criminal act, though administrative actions may be taken against students.
Today's protest began in Red Square and made a circuit through campus as marchers chanted slogans such as, "Say it loud, say it clear, refugees are welcome here!" and "UW shut it down, run the fascists out of town!"
The marchers paused in front of the HUB, and while onlookers and police on bicycles watched, a protester with a megaphone gave a strongly worded rebuke of the UW Police for what they believed was the mishandling of the Jan. 20 shooting.
Shortly thereafter, a scuffle between a protester and an onlooker took place, inciting the police to intervene on behalf of the observer. This invited the ire of the protesters, who cornered the police by the entrance of the HUB, demanding they release the detained individual. Eventually, the police acquiesced and the march resumed.
The protest concluded in Red Square, where multiple individuals gave speeches, one of which included a condemnation of UW president Ana Mari Cauce for allowing Yiannopoulos to speak at the UW.
"They need to do a lot more than they're doing now," Biz said of the UWPD and UW administration. "At the last demonstration that we had in Red Square, about two months ago, I asked as the university president stood in front of about a hundred people, 'How many of you feel unsafe on this campus because of what's been happening?' and everyone raised their hand."
Reach reporter Alexander Tufel at news@dailyuw.com. Twitter: @alexUWDAILY