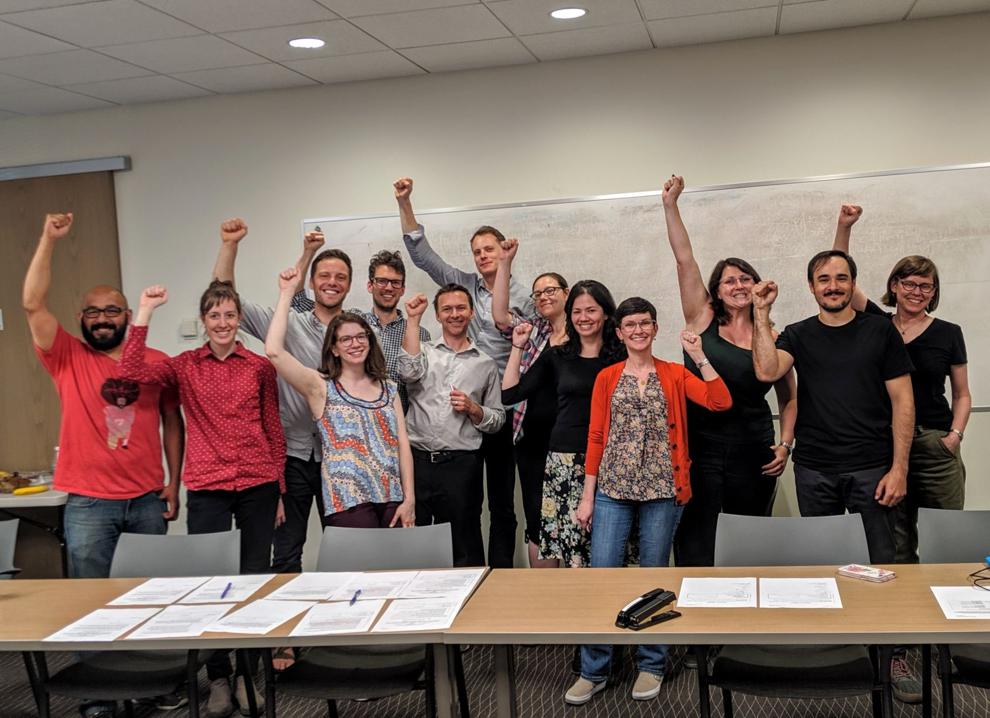 The approximately 900 postdoctoral scholars at the University of Washington overwhelmingly ratified their first-ever union contract earlier this month after a year of negotiations and nearly 30 meetings with university administrators.
This contract delivers on many demands of the postdocs including fully subsidized transit passes — down from the $50 being spent on them previously — and protections from discrimination or harassment. For example, the sexual harassment training currently available to academic student employees, who make up the UAW Local 4121 union, will also be available to the postdocs.
In the case of harassment, interim measures will be implemented that allow postdocs to remain in their positions free of discrimination while their claims are investigated, according to the contract. These elements of the contract  were based on recommendations from a report from The National Academies of Sciences, Engineering, and Medicine, which included a strong grievance procedure and access to secondary mentorship.
"We hope all of this will help to change the culture at this university," Tina Angerer, a UW postdoc in the department of bioengineering, said. "It's a plague almost."
The postdocs won an election to have a union in the first place in May 2018 and then submitted demands to bargain that same month, according to Max Friedfeld, a UW postdoc in the department of chemistry. They have been negotiating with administrators ever since in some 28 meetings. 
In the eventual vote, 97% of voting postdocs — with only 68% of all postdocs voting — supported the contract.
"We are very pleased that we were able to come to an agreement on a first contract with UAW 4121, representing postdoctoral scholars at the UW," UW spokesman Victor Balta said in an email. "This is a good contract for both the University and the postdoctoral scholars, which is reflected in the overwhelming 587-17 vote for ratification by union members."
Under the new contract, the university will create a fund to assist in childcare expenses, which will make available $30,000 per year. The first distribution of this money by the university will come in December 2020.
The UW's postdocs also have a new sliding pay scale based on experience. New scholars will have a minimum annual full-time salary equivalent of just over $50,000, which could reach over $55,000 if they stay for five years. This change will go into effect August 1. On average, postdocs tend to spend 2-4 years at the university, but it varies by discipline, according to Friedfeld.
Postdocs will also have guaranteed one-year appointment lengths that can serve as added security for international researchers working on visas under the new contract, which was agreed upon May 29.
This is not the first postdoc union in the country. University of California researchers, for instance, make up one of the largest groups in the country. In the past decade, postdocs at Rutgers University, University of Massachusetts Amherst, and Columbia University have also unionized.
"We are on the forefront of things, we're not the first ones, but it's definitely up-and-coming," Angerer said.
The UW's agreement will remain in effect through January 31, 2021.
Reach reporter Jake Goldstein-Street at news@dailyuw.com. Twitter: @GoldsteinStreet
Like what you're reading? Support high-quality student journalism by donating here.