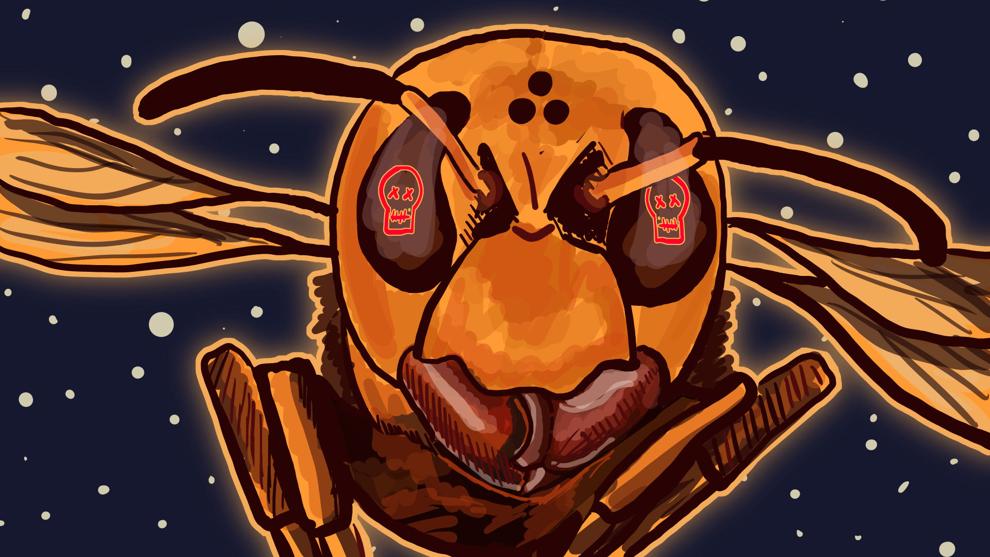 When it comes to panic-inducing omens, Washington is on a roll for being first. In December 2019, weeks before the first U.S. COVID-19 case surfaced in Snohomish county, two giant hornets appeared in Blaine, Washington. 
Around 2 inches long — nearly double the size of any native species — Vespa mandarinia, native to east and southeast Asia, is the largest species of hornet in the world. Although ecologists do not know exactly how the hornet traveled to Washington state, they think it was most likely transferred through cargo ships or other international transportation.
The hornet's sting lasts longer and is more toxic than a honeybee and they can also sting repeatedly. Although an infestation is the last thing Washingtonians need during this pandemic, expecting a murder hornet apocalypse might be a bit of a stretch.
Lila Westreich, a UW Ph.D. candidate studying native bee ecology, said the chance of actually encountering these hornets is quite low.
"Hornets have a much, much more difficult time establishing in a new environment than solitary insect species," she said in an email.
If an Asian giant hornet population were to establish itself as a threat to Washington residents, it would detrimentally affect local honeybees, one of the hornet's food sources. The United States especially relies on imported European honeybees for pollination. According to the federal Department of Agriculture, the total income from bee pollination in 2019 was $310 million.
European honeybees, according to Westreich, have no shared evolution with the Asian giant hornet and have no known defense against them. Although the honeybees might attempt to sting their predators, they are a futile match for the hornets' strong exoskeletons. 
Japanese honeybees, on the other hand, which do share evolutionary history with the hornet, have developed a spectacular defense method that involves surrounding the hornet and vibrating at a high frequency, generating heat. The bees can withstand temperatures up to 122 degrees Fahrenheit, while hornets can only withstand up to 115 degrees, effectively allowing the bees to suffocate and "bake" the hornets to death.
Despite sensationalized reports, the Asian giant hornet hasn't invaded the state yet. To explain this, Westreich broke down a species invasion into three stages: arrival, establishment, and spread. 
During the arrival stage, invasive species travel to a non-native environment, either unintentionally through cargo transfers, or through intentional release. During establishment, the founder population reproduces and increases its numbers until extinction is unlikely. Finally, an established invasive species will continue to spread across the environment until a full blown invasion occurs.
With only two confirmed sightings in Washington state, the Asian giant hornet is still in the arrival stage. Similarly, there have been concerns over Gov. Jay Inslee's proclamation last week about another invasive species, the Asian gypsy moth. Out of 20,000-30,000 traps set across Washington state, only 14 moths have been caught this year, according to Westreich.
Despite these species' low numbers, it is crucial that ecologists eradicate them now before they reach the later stages of infestation, Westreich said.
Ecologists and entomologists are working to stop the infestation by continuously searching for individual insects and nests. The Washington State Department of Agriculture has guidelines for setting up bottle traps to catch the hornets. To avoid harming the local bee population, however, residents should wait until July to start placing traps, when native bees are less vulnerable.
While Asian giant hornets can pose a significant threat if not contained, Westreich stressed that they shouldn't be sensationalized by referring to them as "murder hornets."
"All hornets are carnivores, as are a majority of wasps," Westreich said. "I think the best thing the public can do to get involved is simply educating themselves. "
More information about the Asian giant hornet is available on the Washington State Department of Agriculture's website. 
Reach reporter Nicole Pasia at news@dailyuw.com. Twitter: @nicoleapasia
Like what you're reading? Support high-quality student journalism by donating here.