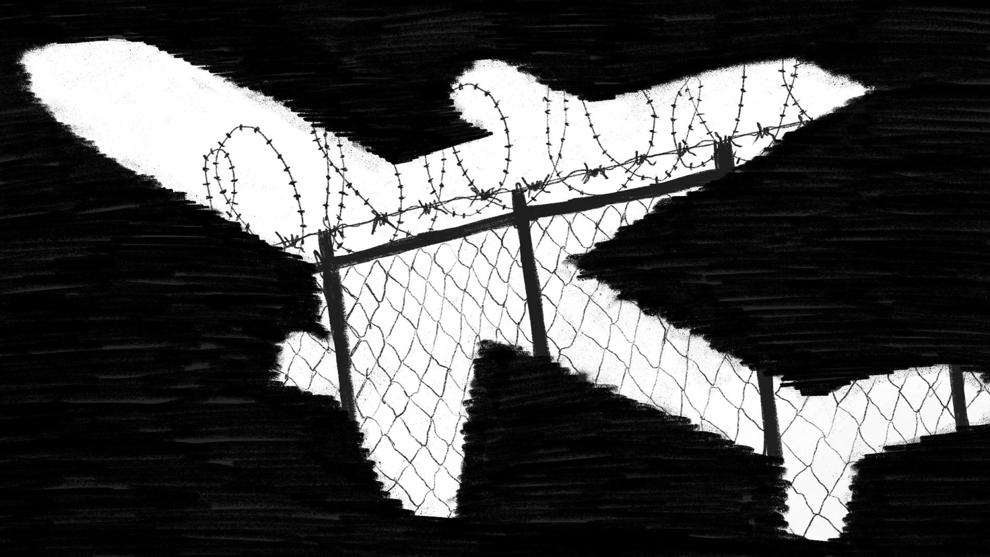 Three reports published by the UW Center for Human Rights (CHR) in August suggest a breakdown in immigration enforcement in the state of Washington and around the country. The reports used newly released documents from the Department of Homeland Security (DHS) as well as reporting from local immigrant advocacy groups.
One report discusses egregious allegations of abuse of people detained by Immigration and Customs Enforcement (ICE) officers during detention and deportation proceedings. 
Among the complaints were allegations of sexual abuse against minors by ICE agents, miscarriages, and several deaths during the deportation process.
Another report found abuses in detention and deportation in Yakima, a growing hub for ICE in Washington state after King County effectively banned ICE Air flights. ICE's own data showed that over the course of seven years, over 8,000 people were deported despite having pending appeals before U.S. courts.
The report mentions one case from March in which a wrongly-identified man was arrested in Pasco, Washington, and taken to the Benton County Jail. When Benton County authorities realized that he was not the man on their warrant, instead of releasing the man, they "handed him over to ICE, who brought him to Yakima, where he entered the detention-deportation pipeline."
A third report used data from 2017 to assert that Customs and Border Patrol (CBP) officers may be failing to refer apprehended individuals to asylum officers, even if they make credible claims of fear about returning to their home country.
While asylum laws are rapidly changing and the subject of popular national news, the center has stressed that these practices of abuse began many years before Attorney General Jeff Sessions narrowed the standard for asylum, with some reports dating back to 2007.
Initial reporting on ICE Air
Last winter, the CHR conducted research on human rights abuses on board ICE Air flights entering and departing Boeing Field, also known as King County International Airport (KCIA), in Seattle. 
The center had found that ICE Air deported more than 34,400 immigrants through Boeing Field on 466 deportation flights in the last nine years.
The report, "Hidden in Plain Sight: ICE Air and the Machinery of Mass Deportation," detailed extreme physical violence against deportees and stressed a lack of accountability and liability for ICE. 
The same day the report was released, April 23, King County Executive Dow Constantine issued an executive order which effectively banned all ICE Air flights from the county. 
The executive order garnered national attention, including that of the U.S. Department of Transportation, which claimed that the county was violating federal guidelines by refusing to service these flights. They noted that this violation could result in lost funding from the Federal Aviation Administration.
Still, there have been no tangible repercussions from this move, according to Phil Neff, project coordinator for the CHR. 
"It was a voluntary agreement by Modern Aviation and other fixed-based operators at the airport which actually stopped the flights," Neff said. "As far as we know, there have been no repercussions for that decision, though ICE has expressed that it would like to 'normalize relations' with King County and resume flights." 
Yakima County Jail's role
Flights have since been moved to Yakima Air Terminal-McAllister Field, which is owned and operated by the City of Yakima. The airport and Yakima County Jail are the center of the most recent work from the CHR.
According to their report, "ICE Air Expands Yakima's Role in the Detention and Deportation Pipeline," published in late August, both Yakima Air Terminal and Yakima County Jail facilitate this pipeline. 
"Each week some 90 people now flow through Yakima in ICE custody to be held at the Northwest Detention Center; and each week an average of 70 people are picked up by ICE Air at Yakima Air Terminal-McAllister Field for deportation," the report said. It emphasized the link between the machinery of mass detention and mass deportation. 
The report underscored how Yakima financially benefits from this pipeline. 
Currently, "Yakima County Jail receives payment of $84.51 per 'federal detainee day' for each individual held at the jail for ICE," according to the report. Since 2015, Yakima has received well over 1 million dollars from ICE for cooperating with its operations. 
In 2017, Yakima County was sued for holding immigrants in custody for ICE even after they were eligible for release on local charges. The 2017 lawsuit laid the groundwork for the state to curb local law enforcement's cooperation with federal ICE agents. 
"Yakima County Jail was arresting people locally and then, if they had an ICE detainer, just transferring them into ICE custody on paper when they really should have been released at the end of their jail term," Neff said. 
Despite the lawsuit, "the jail is still holding people regionally picked up by ICE and brought into the jail from across the northwest, and then the majority of folks there are then transferred to the detention center in Tacoma within like 48 hours," Neff said.
Recent legislation passed after the CHR's reporting on ICE Air in the spring of 2019 effectively prohibits local law enforcement from cooperating with ICE. This means Yakima County Jail's agreement with ICE must expire in December 2021. 
However, the law does not impact the operations of private detention centers like the Northwest Detention Center, meaning ICE may seek the construction of another private detention facility in eastern Washington, according to the report.
ICE Air in Yakima
According to Neff, people are in the process of being transferred from Yakima to the Northwest Detention Center in Tacoma on any given day; this is a longstanding policy. 
However, because ICE Air stopped operating out of Boeing Field in May, ICE Air has since shifted much of its operations to Yakima, resulting in regular weekly ICE Air flights for either deportation, relocation within the country, or transfer to the Northwest Detention Center, Neff said. 
"Those people, according to ICE, are majority asylum seekers from the southern border, or they were over the last few months," Neff said. 
The report states that the recent expansion of expedited removal under Trump raises "core due process concerns," making it probable that "a majority of those passing through Yakima Air Terminal-McAllister Field will have never had an opportunity to plead their case before a judge." 
It also raises concerns of refoulement, also known as the deportation of people to places where they are likely to be persecuted.
One man, José Velarde Quiñónez, was deported through Yakima Air Terminal-McAllister Field in July after doctors advised against his deportation while he was still healing from surgery during his cancer treatment, according to the report.
Photos from the Yakima Immigrant Response Network show him shackled on the tarmac of Yakima Air Terminal, being led to his plane by ICE authorities with visible scars from his still-unhealed surgery. 
Human rights abuses on board ICE Air
ICE Air flights have an extensive history of abuse allegations. These allegations were subject of another CHR report published in August, "DHS Document Reveals Allegations of Abuse on ICE Air Deportation Flights." 
The 99 partially-redacted records of allegations of neglect by ICE are harrowing. Several contain alleged mistreatment of children by ICE officers, like being locked in a hot van with no air; mocked on issues relating to deportation; physically assaulted; and even sexually abused.
One record from 2012 details the story of a woman detained in Orange County, California. Though ICE officials were warned of her high-risk pregnancy, she was deported via plane, the documents allege. She began to bleed during the flight and miscarried all three her triplets when the plane landed in El Salvador.
Another record showed a letter from an attorney on behalf of his dead client, who had previously been held at the Houston Contract Detention Facility for 20 days. During this time, the woman was reportedly unable to eat or sleep and exhibited signs of depression and emotional trauma. 
ICE deported the woman on May 22, 2012, and the record states that she died on the flight to Honduras. 
In 2018, the records state that the DHS was notified by ICE of the death of a 34-year-old man who was being deported to Eritrea with a layover in Cairo, Egypt. 

The man had been deported from Cleveland Hopkins International Airport on June 5, 2018 and arrived at the Cairo International Airport in Egypt on June 6. At about 5 p.m. local time, the man was found by Egyptian airport authorities having hanged himself from a shower rod in an airport restroom with his shoelaces. 
Allegations in the data date back to 2007, but even more troubling is the possibility that ICE does not investigate these complaints of abuse.
"We've asked for documentation from ICE of investigation of those abuses and been told that no documentation exists," Neff said. "So, that suggests that there has been a lack of oversight on those cases."
Though the center has not received accounts of physical violence on Yakima deportation flights, "there is no reason to believe such abuses are isolated to other airports or flight paths," according to the CHR. "And even if they were, Yakima would remain responsible for its role in shipping detainees to be abused in other sites." 
Reach Senior Investigations Reporter Manisha Jha at investigations@dailyuw.com. Twitter: @manishajha_
Like what you're reading? Support high-quality student journalism by donating here.