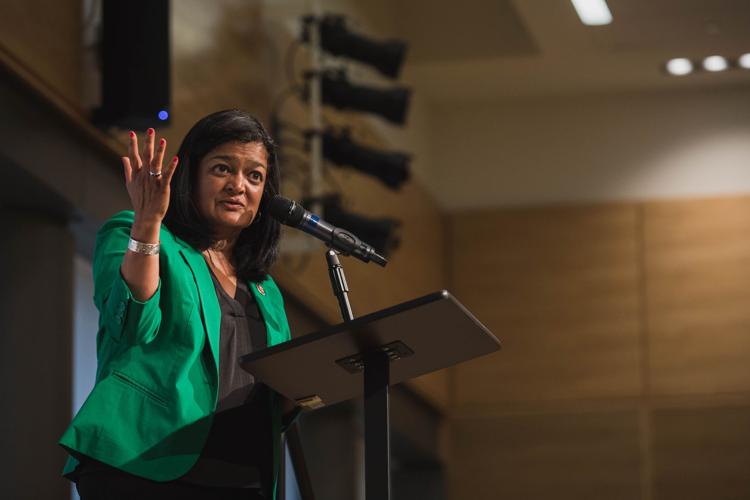 Following what she called a "a very difficult day for our country," as a mob supporting President Donald Trump overwhelmed Capitol Police and spilled into the Capitol building, Rep. Pramila Jayapal, whose district contains the UW's Seattle campus, confirmed she was OK and sheltering in a safe and undisclosed location. Jayapal first tweeted she was safe shortly before 1 p.m. Wednesday.
Jayapal briefed local reporters in a private phone call shortly before 2 p.m., saying that she was one of about a dozen lawmakers, including Reps. Lisa Blunt Rochester, D-DE, and Val Demings, D-FL, "stuck" in the upper gallery of the House chamber before being led to a safer location. Jayapal said she could at one point hear what "appeared to be, potentially, people shooting towards the chamber," and saw law enforcement with guns drawn on the House floor.
"We realized there was a threat when Capitol Police came in and removed Speaker Pelosi, Majority Leader Steny Hoyer, and others," Jayapal said. Continually updated by news reports and Twitter posts, when rioters reached the statuary hall, she was asked to remain in place and was told to ready gas masks as Capitol Police prepared to use tear gas. 
Jayapal said that she and her colleagues had to wait until it was safe to exit before making their way to a safe location. During that time, she said, Rep. Blunt Rochester led the group in "a very loud prayer."
Jayapal said the plan was to come back to the House floor Wednesday evening to finish certifying the Electoral College vote, to which some Republicans have objected. Republican Rep. Cathy McMorris Rodgers — who represents Washington's 5th District, which includes Spokane — was among those raising objections to the electoral college certification, but chose to uphold the certification following the violence. 
"We're ready to go back and finish this work," she said. "They've made their little protest. We should get on with our business." Although she described herself as "terrified for our democracy," she also said that "our democracy is strong; it is resilient," and promised to uphold the Constitution.
Many officials from both parties, including Jayapal, squarely blamed Wednesday evening's violence on President Trump. 
"It has been incredibly difficult and deeply dangerous to see what is happening and the violence that was incited and fueled by Donald Trump and the Republicans," Jayapal said. "I'm grateful to those who did not participate."
Jayapal expressed support for movements to remove Trump from office, shortly after Rep. Ilhan Omar, D-MN, announced she was drafting articles of impeachment against the president. Although Jayapal conceded that such an impeachment was unlikely with less than two weeks left in Trump's term, if passed by the House, Trump would become the first president to be impeached twice. 
In Washington, a pro-Trump mob descended upon the governor's mansion in Olympia, where they chanted "stop the steal" at officers blocking entry.
News Editor Jake Goldstein-Street contributed to this report.
Reach Assistant News Editor Matthew Hipolito at news@dailyuw.com. Twitter: @hipolmat
Like what you're reading? Support high-quality student journalism by donating here.