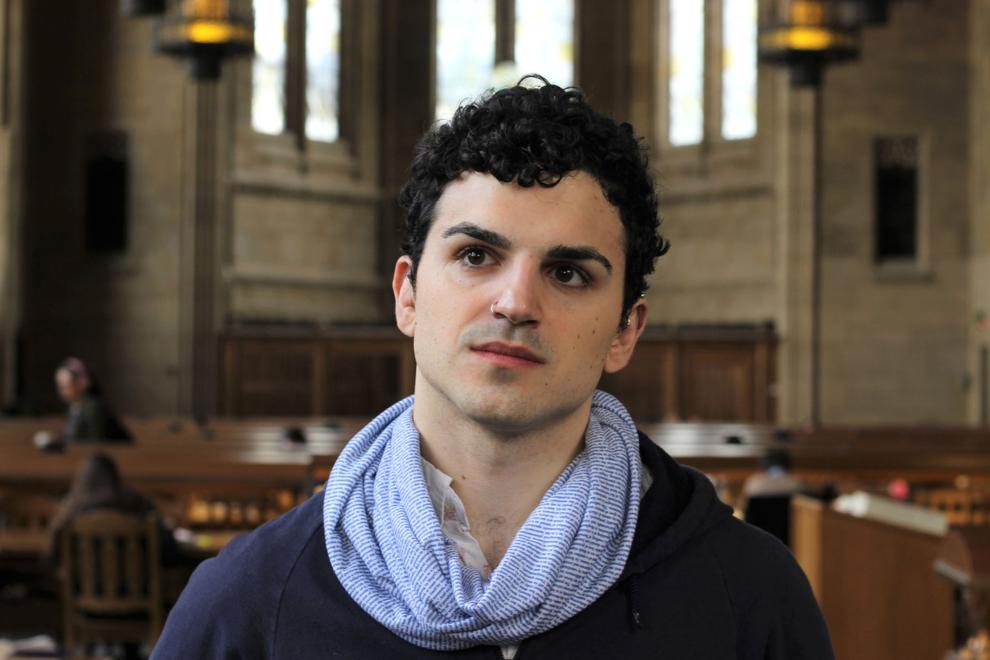 In the last month or so, most UW students have probably received an email with something like "Sexual Compliance Survey" in the subject line, or seen a colorful flyer like the one pictured here somewhere around campus. 
Sexual compliance is the subject of UW graduate Tomás Narvaja's research, which he's collaborating on with associate professor of gender, women, and sexuality studies, Dr. Nancy Kenney.
"A lot of people, when they hear unwanted sex, they immediately think nonconsensual sex, they think rape," Narvaja said. "I actually don't use the word consent at all in my survey, and I very explicitly avoided using that word." 
Education about consent has been the central focus of countless campaigns on college campuses to reduce incidents of sexual assault, popularizing the slogans "no means no," or "only yes means yes."
"My argument is that consent's a problem and we need to move beyond that," Narvaja said. "That — in my opinion — needs to stop being the focus. And I'm pretty firm and confident that consent is not helping. If I'm feeling really edgy, I'll full-on say consent is actually making things worse." 
In Narvaja's survey on sexual compliance, unwanted sex is defined as "including instances in which you may have not wanted or desired sex in and of itself, but wanted sex for reasons such as in order to satisfy your partner's needs, to gain sexual experience, to promote intimacy, to avoid an argument, because you wanted to gain self-confidence, or because you felt guilty." 
Narvaja points out how contradictory the idea of consent is to the intimacy and passion of sex. 
"Where did consent as a concept even come from?" Narvaja asked. "Consent is a legal and business term, how did that come into our discussions around sex, as opposed to desire and wantedness?" 
Referring to a survey on sexual assault conducted by the Health and Wellness Division of Student Life at the UW in spring 2016, Narvaja said, "They [UW] found the rates of sexual assault were the same, but 96 to 98 percent of students understood consent. So, okay, your whole goal was to make sure people understand consent. People understand consent. Nothing has changed."
The UW's survey on sexual assault received 4,384 undergraduate responses. Narvaja's survey has received more than 3,000 responses since it went live Jan. 1. 
Narvaja believes this assumption that all consensual sex is equal or that there are only two kinds of sex, consensual and non-consensual, is perpetuating a harmful narrative and preventing progress toward a wider, more accurate spectrum against which to measure sexual experiences.
"There are literally apps where the point of the app is to film the person consenting to sex," Narvaja said. 
A few examples of these apps, for the sceptics out there, are WE-CONSENT, YES to SEX, and Consent Amour.  
"[If] consensual sex is what we're going for, why would we scrutinize that?" Narvaja said.
Narvaja insists this mindset is part of the reason why there are a devastating lack of studies concerning the different kinds of consent, the way that consent is gained, or why it's given. 
This is the gap in research that Narvaja hopes to fill with the results of his survey. 
"Say you have an experience of social coercion," Narvaja said. "Sometimes, women are like 'honestly, it feels like I've been raped', and frankly, research shows that it does feel exactly like that. But then they're told that it was actually consensual and their two options are 'I either go full out and I try to expel this person who I likely actually know, and suddenly everything is shattered' or 'I don't say anything and I feel completely awful and isolated and I feel extremely uncomfortable where I am.'" 
 "And there's really no in-between option to address this issue." Narvaja said.
Narvaja hopes his survey can give a name to the mostly undiscussed phenomenon of "sexual compliance," and force those with the power to create change to acknowledge that there are problems with the current consent-based approach to preventing sexual assault. 
"One of my main goals is to have the UW now and in the future include this in any survey they use, and ideally other universities as well," Navarja said. "Having this become the standard surveying practice for trying to address the issue of rape culture on college campuses." 
By conducting the survey at the UW, he hopes it'll push the university to change its sexual assault prevention strategies to incorporate this knowledge and acknowledge that this is an issue that is happening at the UW, and affects UW students directly.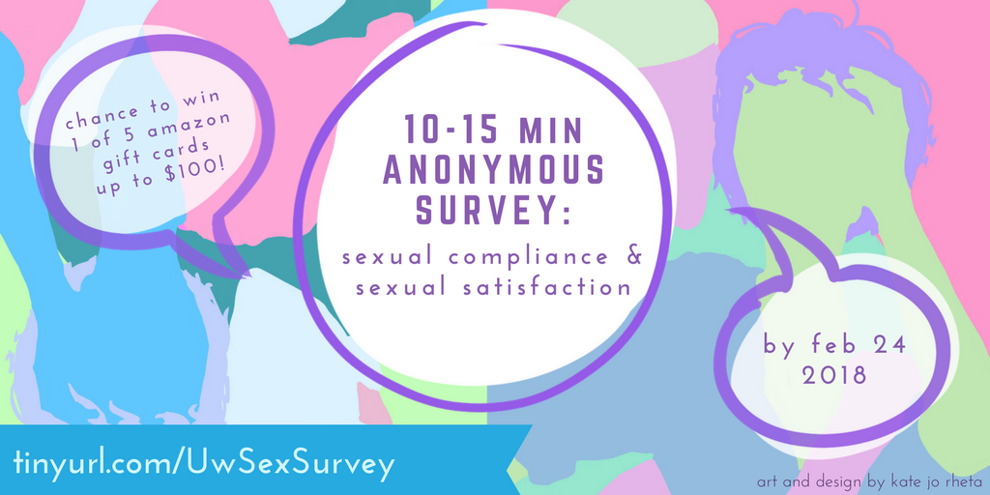 Narvaja has created and promoted the survey himself in his free time, putting up posters, emailing professors asking them to forward it out to their students, and getting Rainy Dawg Radio to make an announcement about it. 
"This is just something I do on my own," Narvaja said. "I work full-time. I'm also volunteering at this other psych lab doing research." 
Narvaja says the work has been as difficult as it is rewarding. 
"What's been really heart-touching is actually having a lot of people at the end explicitly say, 'Thank you so much for doing this survey, I'm so glad I found out about this because this is what I have been struggling with for the longest time but I've never had a word for it," Narvaja said. "I've never had anyone talk about this.' They understand what it is. But there's no discussion about it." 
Narvaja believes the way forward involves destigmatizing sex and having frank and open conversations about sexual experiences and desires.
"Why do people want to have sex? It's honestly as simple as that, in my opinion," Narvaja said. 
The survey closes Feb. 24. By then, Narvaja hopes to match the number of survey responses to the UW's spring 2016 survey on sexual assault.
Reach Arts & Leisure Editor Cameron Eldridge at news@dailyuw.com Twitter: @cam_eldridge