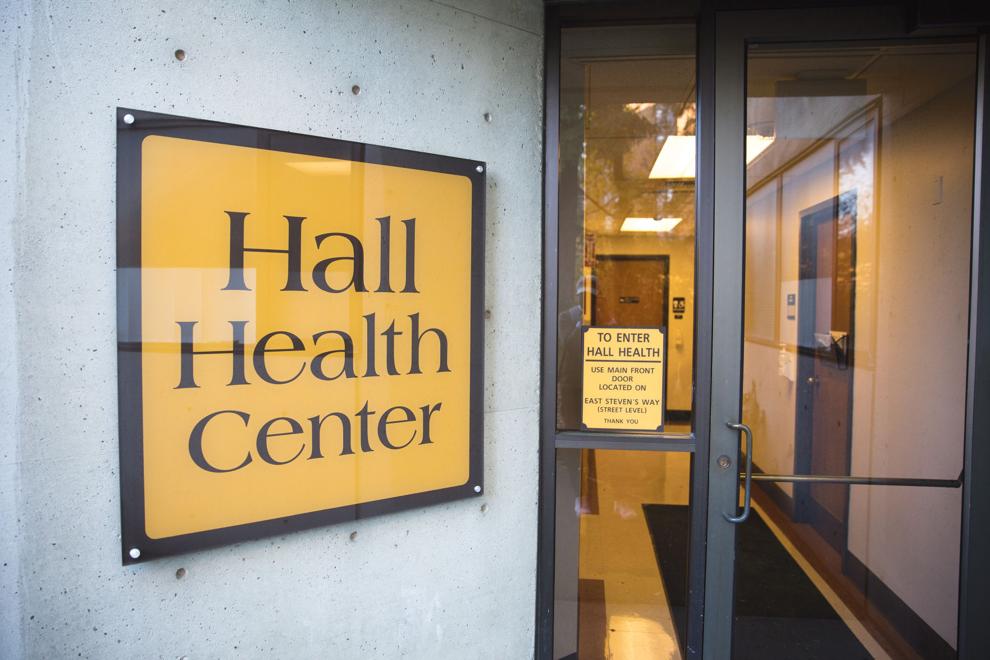 Earlier this year, ASUW passed a bill calling on Hall Health Center to hire a registered dietitian. Now, Hall Health is in discussion with other UW health-focused organizations, such as LiveWell and the IMA, to determine the best way to assist students with eating disorders and other dietary needs.
Among the bill's sponsors were Andrea Scallon and Jacob Yehling, previous interns for the ASUW Student Health Consortium (SHC). Scallon was the first of the two to discover the lack of free nutrition counseling services on campus.
"Looking at the Hall Health website, there weren't a lot of dietitian services, or honestly anything for disordered eating," Scallon said. "I was like, 'Let's look into this.'"
Scallon and the other sponsors noticed most other regional universities provide at least one registered dietitian, most offering the services for free. 
"It's kind of a basic service," Scallon said.
The bill mentioned Hall Health's common response to students seeking nutrition counseling, which is to refer them to the IMA's single registered dietitian, or to off-campus services.
Several of these outside sources do not take Medicaid or Medicare. They may also create transportation issues, as many students are unable to travel across Seattle on a regular basis.
"There's a clear void for it, in terms of lack of support for eating disorders, which is such a prevalent issue in college-aged students," Yehling said.
The bill estimated that between 8% and 17% of UW's student population suffers from an eating disorder, based on nationwide data of college undergraduates. 
The SHC's main goal is to support students' health and wellness. The organization hosts annual events such as the Everybody Every Body Fashion Show, which is intended to promote body positivity through the celebration of different body types. The event is aimed to bring awareness to eating disorders and disordered eating habits amongst young adults.
The IMA's recently-hired registered dietitian nutritionist offers a peer nutrition program to UW faculty and students. Although the services are not free, clients work alongside the dietitian to create and follow a nutrition plan framed by a "Health at Every Size" approach — a balanced, non-restricted lifestyle and diet.
Dr. Lili Church, interim executive director and primary physician at Hall Health, recognized the demand for expanded nutrition and dietary services.
"The dietitian at [the] rec center filled up within weeks," Church said. "If the need is there, why don't we already have a dietitian? That has been a monetary thing."
Hall Health's main concern today, Church said, is maintaining its staff, and the center's services are paid for by insurance revenue. However, Hall Health does not contract certain insurance plans, especially for out-of-state students. In those cases, they may be referred to other services off campus, which creates difficulties for students trying to utilize the center's services to begin with.
"We don't have a [student] health insurance plan here," Scallon said. "[Other] universities have their dietitian services intertwined with that."
The UW does not provide insurance plans for domestic students. Students can use health services subsidized by the Services & Activities Fee (SAF) Committee, but these facilities include general mental health assistance and telehealth or over-the-phone appointments. Special concerns or in-person meetings have to be covered by insurance or paid out of pocket.
"The accessibility wasn't there for Hall Health," Yehling said. "This creates an even bigger barrier for people to find help."
Nearly four million students are uninsured in the United States, according to the U.S. Census Bureau's 2018 American Community Survey, showing the health disparities faced by many students.
The ASUW can't hire a dietitian on its own without the help of the university. 
"After the bill has passed, it's the responsibility of the University of Washington to deal with that," Scallon said.
Church is currently in discussion with other health-based services on campus — LiveWell and IMA leadership.
"We're really excited to partner with the other units, and part of that endeavor is going to be figuring out, what is a sustainable financial plan to support a dietitian?" Church said.
The IMA's dietitian currently works half-time, which makes it difficult to meet all of the student's dietary needs, Church said. UW Recreation hopes to receive funding from the SAF Committee to expand their dietitian's services to full-time for the following year.
Reach contributing writer Kytlan Morgan at news@dailyuw.com. Twitter: @k_morgan013
Like what you're reading? Support high-quality student journalism by donating here.