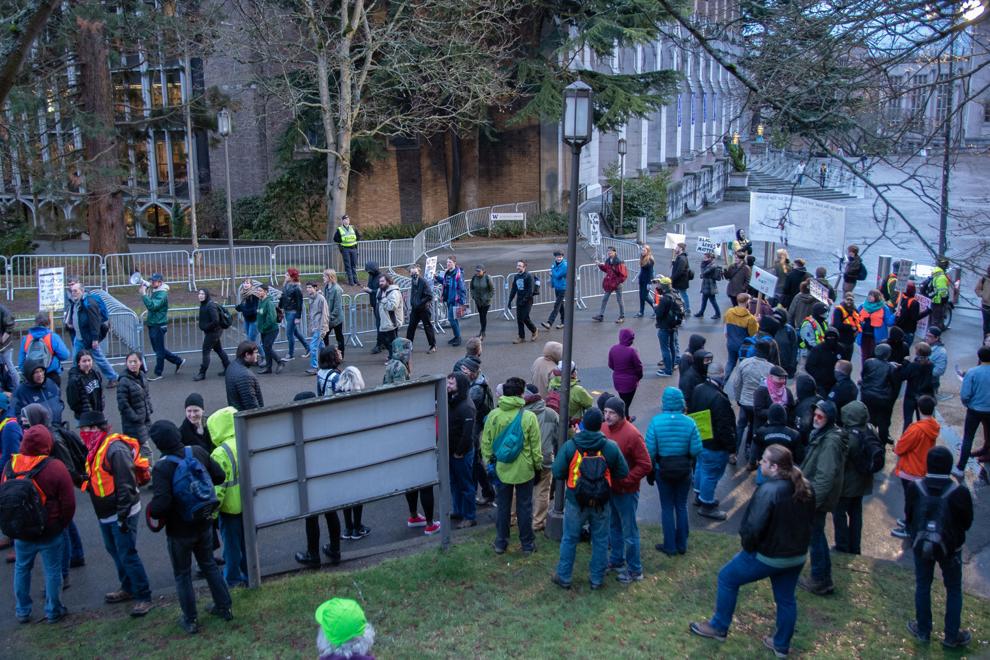 Several local activist groups showed up to protest a UW College Republicans (UWCR) event featuring Joey Gibson, the founder of far-right group Patriot Prayer, Saturday, Feb. 23, in Gowen Hall.
Protesting groups included the Freedom Socialist Party, the Party for Socialism and Liberation, and Radical Women, all of which have local Seattle chapters but no direct representation at the UW.
Inside, the event was calmer compared to past years' UWCR events with a significantly smaller turnout at the event compared to the protesters outside. Considering the physical separation from the protest, Gibson did not expect any severe outbursts that would interrupt the event, asserting that any protester would be removed by the UWPD officers in the room.
Gowen Hall was almost entirely barricaded and police officers from both UWPD and the Seattle Police Department surrounded the area outside.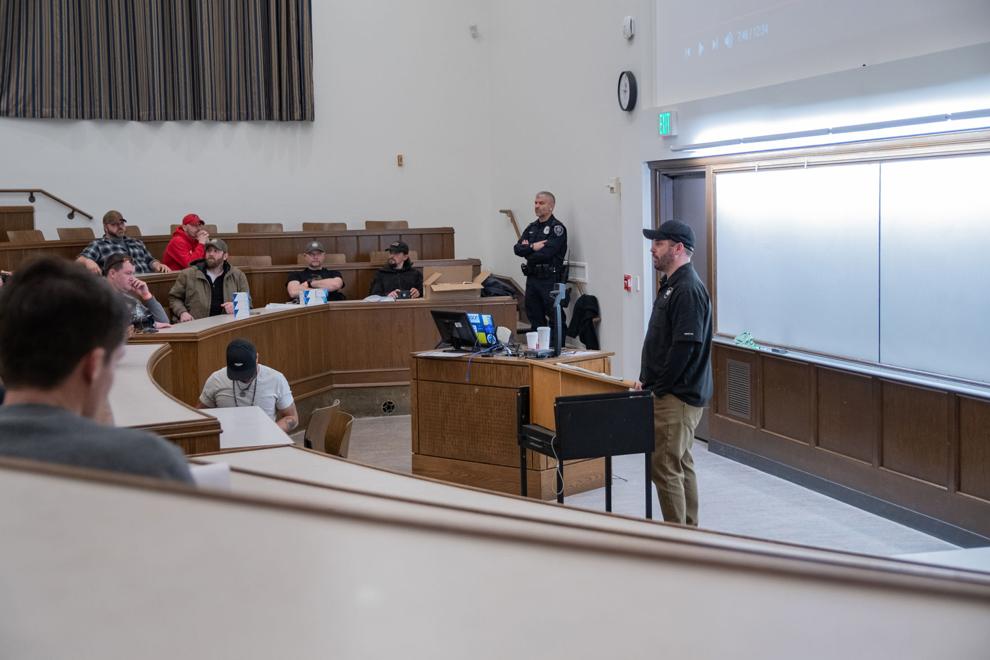 The Washington Three Percenters –– a fringe, far-right activist group that focuses on constitutional rights –– co-sponsored the event, and claimed that they would "protect" Patriot Prayer if they were faced with threats. The group primarily functions as a defensive body for far-right activists and were invited in response to the violence that transpired at last year's Patriot Prayer event.
While the overall purpose of the event was unclear, Gibson's perception of anti-conservative discrimination in previous protest encounters was a recurring theme throughout his presentation and the following question and answer segment.
Audience members shared this sentiment as they expressed their reactions to Gibson's anecdotes; one such reaction included audible hissing at the mention of U.S. Speaker of the House of Representative Nancy Pelosi who referred to Patriot Prayer as a group of Nazis and white nationalists following a 2017 rally in San Francisco.
"Right after Charlottesville, they were calling every single activist who's fighting for freedom a white supremacist," Gibson said following his claim that he no longer associates with the Proud Boys, attempting to separate himself from self-proclaimed white supremacist far-right groups as he has frequently done in his rally speeches.
Outside, Jane Cutter, who helped organize the protesters, led the group in several chants such as "racist, sexist, anti-gay, right-wing bigots, go away!" and "cops and Klan go hand-in-hand!"
According to Cutter, the protest was a way to discourage bigots from spreading hate, and to show solidarity against far-right groups.
"Just ignoring fascism doesn't work," Cutter said, pointing to those who remained silent during the rise of Nazis in the 1930s.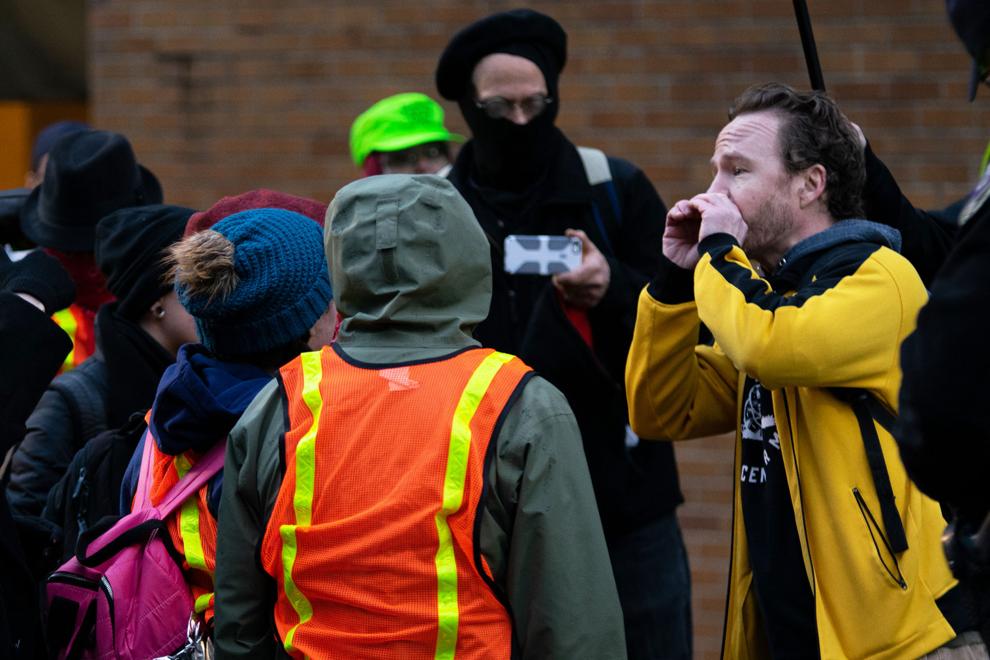 When asked if the university should have prevented Patriot Prayer from speaking on campus, Cutter said that banning any student group's speech would be a slippery slope and that students and protesters should oppose Patriot Prayer "in the streets."
"I don't expect a capitalist university or the police force to administratively stop them," Cutter said.
One protester and UW student, Trent, who refrained from giving his full name, explained that while Gibson may not himself be a neo-Nazi, his association with other hate groups, such as the white nationalist group the Proud Boys, is just as egregious.
"I like to quote the German way of thinking after World War II," Trent said. "If you're at a table with six Nazis, you're a Nazi."
In a further attempt to denounce claims to his association with white supremacy, Gibson explained that while the Proud Boys and Patriot Prayer do have a long history, the Proud Boys have not attended any of the last 20 rallies that Gibson has held.
"What happens normally is that when people in groups grow and they get big, they have differences of opinion," Gibson said.
When asked to specify which of Patriot Prayer's beliefs differ from the Proud Boys, Gibson remained vague, focusing instead on the organizational differences between the two groups, and how those might lead to different ideological makeups.
"Patriot Prayer isn't really a group … You can do whatever you want, I don't care if you're a liberal, I don't care if you're a Bernie supporter, I don't care if you're an atheist," Gibson said. "Proud Boys have more of a hierarchy, they have to make decisions based off of a vote … Whoever's in a leadership position has more authority in terms of where it's gonna go."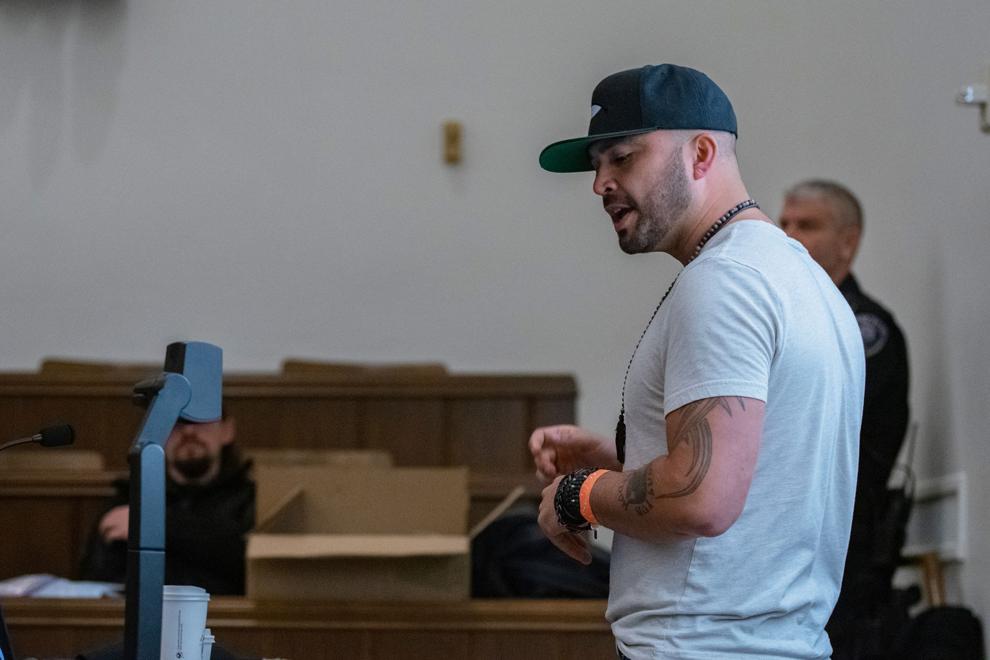 Trent, along with other anonymous protesters, disapproved not only of Gibson, but of the university for allowing the event to happen.
"All I'm asking of this institution is that it lives by the policies that it claims to promote," Trent said.
A similar sentiment was held by UAW 4121, a student employee union, who filed a grievance against the university last Friday in response to the event. The union claims that Patriot Prayer partners with violent extremist groups and that students "deserve a space to work and study where they do not have to fear physical violence or intimidation."
The grievance also includes a petition in support of the union's stance, to which nearly 200 people have provided their signatures.
The protests outside lasted just under two hours, and remained peaceful. The SPD assisted the UWPD in securing the event and corresponding protests.
Some protesters remained wary of the UWPD and brought up the ongoing investigation of the Portland Police Bureau after overly-friendly text messages between Gibson and a police lieutenant were made public.
"I'm skeptical given what's come out with how Portland PD has been in cahoots with Joey Gibson," said one anonymous protester. "That said, I can only say I'm skeptical of their intentions."
The UWPD has had direct contact with UWCR as well as Gibson himself, although UWPD Chief John Vinson says this communication is standard when student groups bring speakers on campus.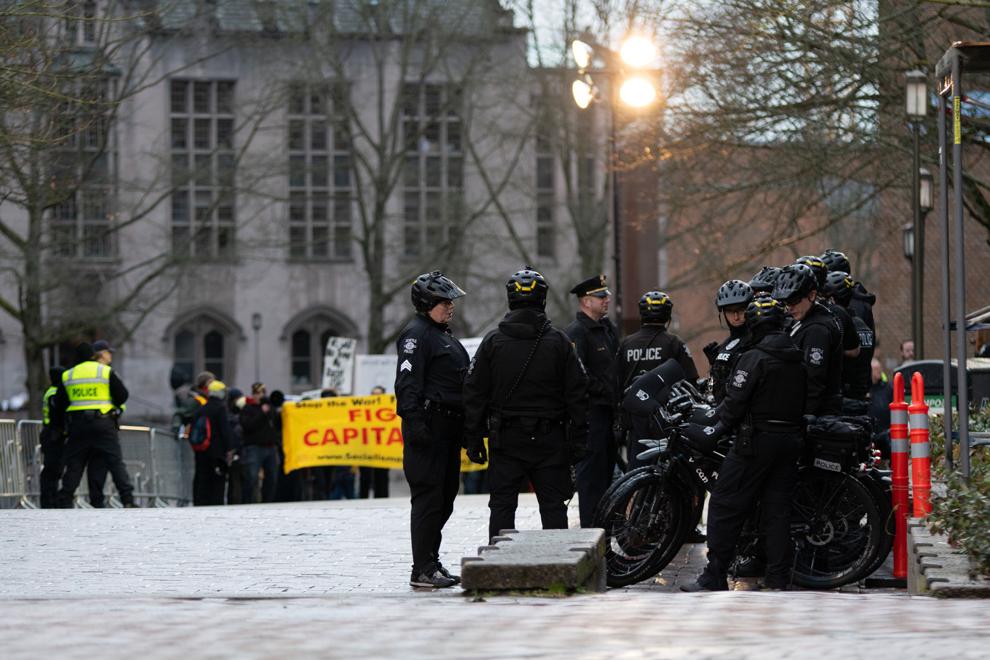 What's not standard, Vinson said, is the intense amount of coordination required to secure Joey Gibson's on-campus events. According to Vinson, this coordination has made him comfortable working with the Patriot Prayer leader.
"There are not that many speakers that require as large of a security footprint," Vinson said. "I'm very thankful that we're able to partner with the College Republicans and Joey Gibson."
Following the event, Gibson reflected on the importance of ensuring safety to allow for effective discourse, and implied that Patriot Prayer will be focusing more on private indoor events in the future.
"There's so much rhetoric about me … [I saw] a poster of me, and who I am, and how I'm a white supremacist," Gibson said. "The more events that we have that are safe, the more people can show up and start listening to my message."
News Editor Niva Ashkenazi and Health & Wellness Editor Manisha Jha contributed reporting.
Reach reporter Claudia Yaw at news@dailyuw.com. Twitter: @yawclaudia
Like what you're reading? Support high-quality student journalism by donating here.