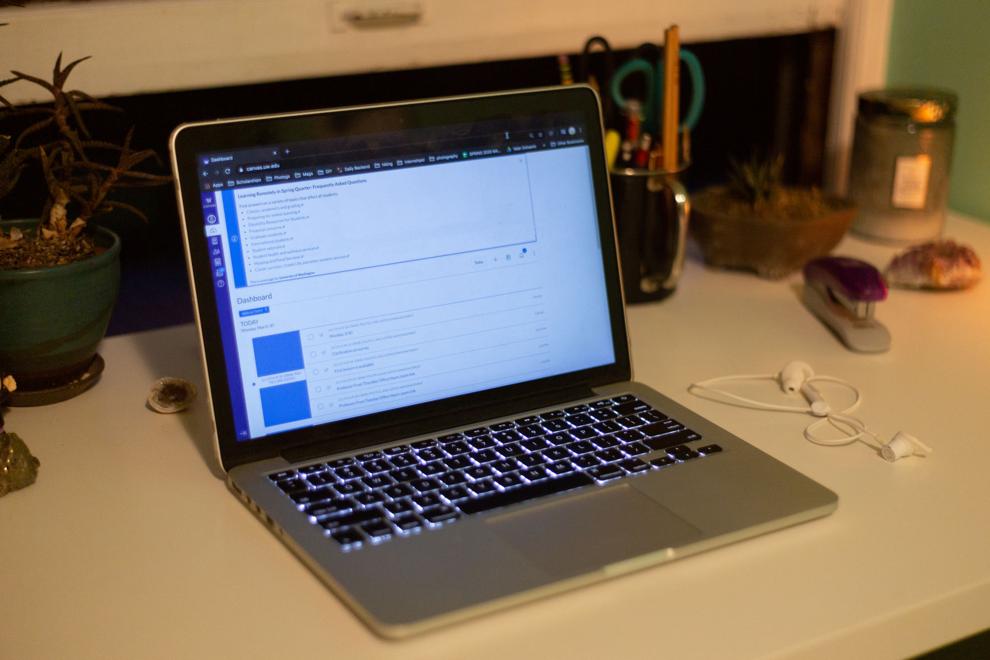 The materials needed to take an exam have changed recently. Put aside those No. 2 pencils and extra erasers; fire up your favorite browser and turn on your webcam so we can scan your room and track your eyes.
Wait, what?
It's no secret that the pandemic has dramatically altered the academic landscape. Many classes have canceled exams or made them open-note, acknowledging the difficulties of ensuring academic honesty in online courses. 
But now that students are working from home — a decidedly less controlled environment than Kane Hall — some professors have turned to tech companies to help ensure their students remain honest.  
The computer programs that these companies put out — some familiar names might include ProctorU and Proctorio — have raised some eyebrows amongst students who are wary of the permissions that these programs require. Thousands of students nationwide have signed petitions calling for their universities to ban the use of the programs, including a few hundred at UW Tacoma as of Oct. 27.
Here at the UW, many of these students have taken to Reddit and other forms of media to voice these concerns, including a student who goes by the username LightningPaladin. The comments on these posts are seldom positive. 
A commenter claiming to be from Proctorio said in response to an op-ed published in The Daily that Proctorio "does not use biometric monitoring" and stores data securely, and that only university administrators can determine and access the data collected by the program.
"Things like ProctorU, when you install them, they're already going to go through your things," one student, who spoke with The Daily on the condition of anonymity fearing retaliation from professors, said. "But if you give them these privileges that they ask for, after that, the point is moot. They don't even have to ask you anymore." 
The permissions these programs demand also bring up serious safety concerns, particularly for undocumented students whose personal data might be recorded and stored — a sentiment expressed by the ASUW Board of Directors in a discussion during its meeting two weeks ago. Due to the web-based nature of the program, it may also disadvantage students who cannot afford webcams or do not have internet connections strong enough to support stable video and monitoring.  
Redditors have implored students to protect their privacy, citing a letter from the University of California, Santa Barbara's faculty association expressing "serious concern" about the program's use. 
The letter, written in March, cites two versions of ProctorU's privacy policy, saying that the program "regularly collects and discloses" information, ranging from the data on the photo ID that test-takers must provide to "genetic, physiological, behavioral, gender identity, and biological characteristics," and even medical information about the test-taker. 
ProctorU's privacy policy has been updated since the letter's publication. There is a large bolded disclaimer stating that ProctorU does not sell the data of its test-takers, and the list of information that the program says it collects has been trimmed down.
ProctorU's website also outlines its use of artificial intelligence, using the technology to track eye movements, scan and analyze the testers' rooms, record and transcribe speech, and detect patterns associated with cheating, among other things. 
"Privacy has been a big part of my career," pre-nursing student Jennifer Johnson said. "As I understand, most schools typically respect their students' privacy, but I am recently experiencing that maybe that's not the case with UW, currently." 
Johnson said she was cautious about remote proctoring when she first heard of it. Another student's friends at other universities had used similar programs for a test that was supposed to be open-note, the student said, "but then when they tab out to their notes, it automatically closed them out of the exam and basically accused them of cheating."
Johnson had first heard of Proctorio a few days before she was asked to install it for herself. 
"I kind of freaked out at first," Johnson said. "They're forcing me to install what seems like spyware onto my computer? I was thinking, 'I don't really want to give them access to everything.'"
Johnson has an anxiety disorder — she describes it as "pretty minimal" — and receives some accommodations from UW's Disability Resources for Students (DRS) office, including being allowed to "move away from the test and refocus myself." However, under Proctorio's gaze, these activities might be flagged as cheating.
"I would start getting recorded and become suspicious just because I need to leave for disability reasons," Johnson said. 
Johnson reached out to DRS, who contacted the professor and suggested alternatives to Proctorio, including being proctored over Zoom by a TA, not requiring Proctorio, or removing testing altogether. The professor chose Zoom proctoring. 
"I don't feel as nervous or uncomfortable because I'm not being recorded and my eye movements aren't being recorded," Johnson said. "There's a lot more peace of mind." 
Students say they understand the need for academic integrity, but that it needn't come at the expense of a student's privacy — or dignity. 
"It's really cruel to have students come to class and expect to learn, and then treat them, essentially, like criminals and make them install programs that look for all their information and force them to give tours of their home," the student speaking on the condition of anonymity said. 
Johnson agrees. 
"I feel like they think that I'm going to cheat, and that doesn't feel good because I've never cheated in my life," Johnson said. "I've worked very hard and honestly to get where I am, and it's kind of demeaning to be monitored that way." 
Reach reporter Matthew Hipolito at news@dailyuw.com. Twitter: @hipolmat
Like what you're reading? Support high-quality student journalism by donating here.