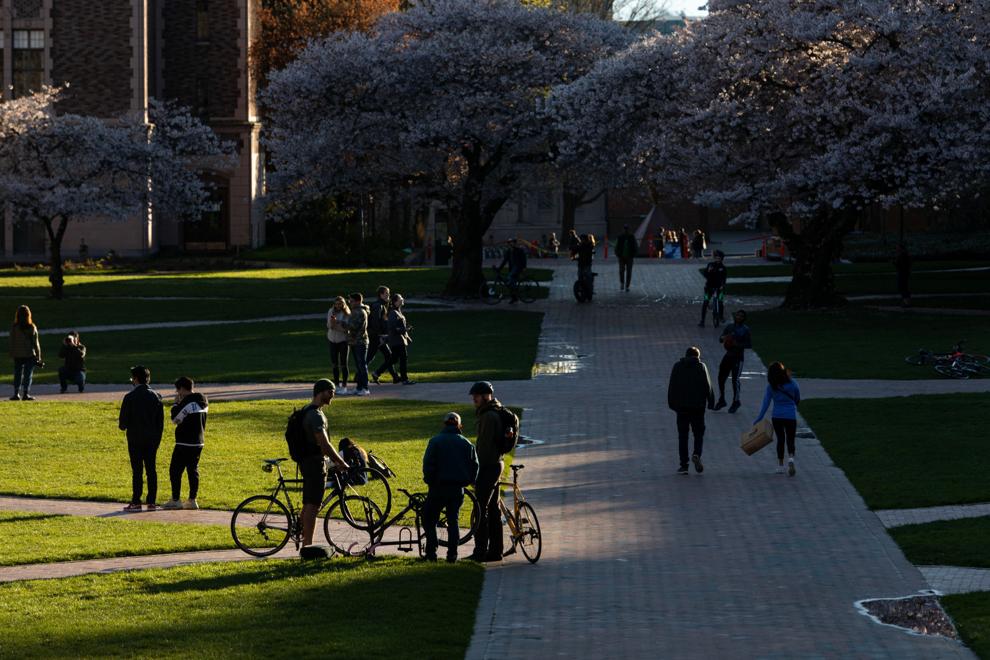 Social distancing has been crucial to combating COVID-19, but is it really so bad to see a friend? A website created by a team of UW researchers answers that question, showing that visiting even one friend without following social distancing guidelines could spread COVID-19 across an entire community.
The project was conducted under the leadership of Steven Goodreau, professor of anthropology, and Martina Morris, professor emerita of sociology and statistics. Goodreau said he was inspired when one of his college roommates told him that his son wanted to visit a friend and couldn't see why it was such a big deal. 
With their expertise in network epidemiology, Goodreau and Morris launched a collaborative effort that produced "Can't I please just visit one friend?," a website that uses simulations of a hypothetical community to illustrate the negative impacts of easing social distancing rules.
Goodreau said they found in their model that  when an average of two people per household each visit just one friend, that connectivity becomes more than 14 times higher than current, baseline connectivity created by essential workers, demonstrating the power of networks.
In order to make the information easy to understand, Goodreau said they took into consideration that people usually visualize their direct relationships rather than an entire social network.
The diagrams they created used green dots to represent individual households and grey lines between the dots to represent social connections. Goodreau said this brings it down to a level where people can imagine where they might fit into the picture, which can be difficult to do for visuals about flattening the curve.
Morris said the diagrams also allow people to think about COVID-19 from a different perspective.
"What we see from our individual vantage point is very different from the virus-eye view," Morris said. "So what we wanted to do here was help people see what the virus sees: the connected network available for it to easily spread."
Although it was important to keep the overall design simple, Morris said it was challenging to balance that and make it scientifically complete and accurate. 
The solution to this was splitting the content into two tabs for each section of the website, where the "What's going on?" tab discussed the mathematical details behind the diagrams in "The network" tab. Morris said they also posted the code used to make the website on GitHub to make it interactive for students who are interested in coding.
While social distancing measures remain in place, Goodreau said it's important to recognize that it's harder to prove a cause for the lack of disease than the presence of it.
"You won't know how many lives you've saved, and you won't know whose," Goodreau said. "It could be your mom's, or it could be your friend's sister's doctor's husband's grocery clerk, but that doesn't make it any less real."
As the website continues to gain traction, Goodreau said he hopes visitors will get the message that it's worth it to hold off on seeing their friends until COVID-19 is under control.
"Life lasts a long time, and a few months is just a blip," Goodreau said. "We're all in this together, and the more careful we each are, the more lives will be saved."
Reach reporter Shannon Hong at news@dailyuw.com. Twitter: @shannonjhhong
Like what you're reading? Support high-quality student journalism by donating here.