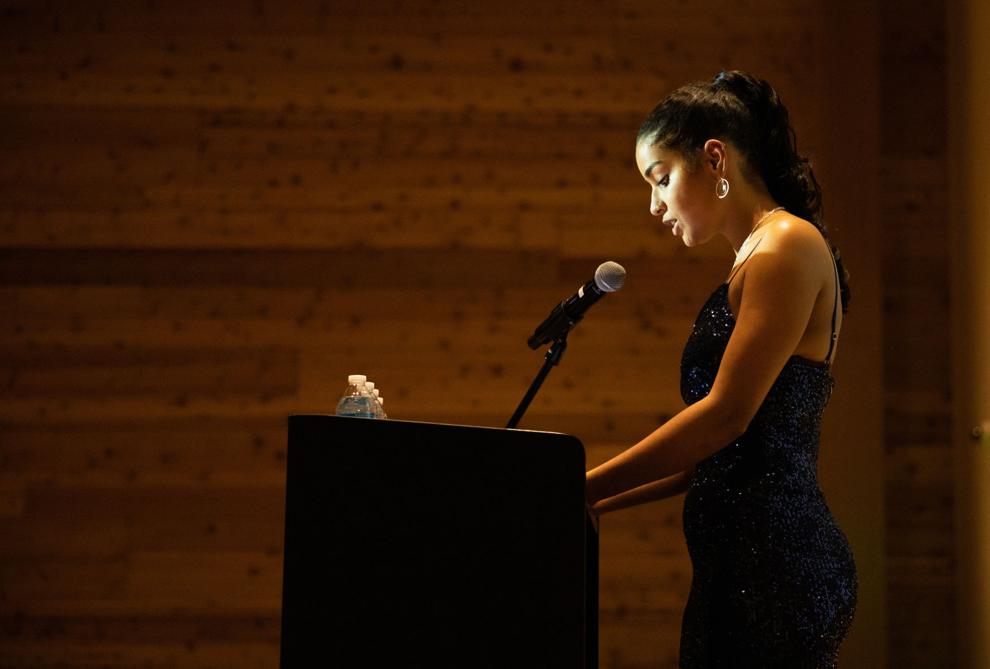 The Black Student Union (BSU) hosted its eighth annual legacy soiree on the first day of Black History Month, Feb. 1, at the Intellectual House.
As guests arrived, they were greeted by live music from the Garfield High School jazz band. The night's theme, "new Harlem renaissance," came to life with the event's decor. Guests could pose with decorative masks in the photo booth and each table featured feathers, lights, and pictures of historically- significant Black artists like Elizabeth Catlett.
Originally proposed by then-president Jonothan Winn in 2013, the event raises money for the BSU Legacy Endowed Fund. Last year was the first in which the BSU was able to award a scholarship. This year, they were able to award two $1,000 scholarships. 
The event celebrates Black excellence within the UW and greater Seattle community, honoring students, faculty, and community members for activism and service.
"I will speak for the silent, for the quiet, and weak," poet and storyteller Hanan Diriye said in a spoken word about celebrating blackness during the event. "For the lives without historians when their time is most bleak."
Nikkita Oliver, a Seattle-based activist and educator, was the keynote speaker of the night. After delivering an empowering poem, she discussed the history of Tulsa's Black Wall Street. Though the history of Black Wall Street often focuses on racial violence, she emphasized the importance of intentionally and purposefully supporting the black community.
"Scholarship is the deeper knowledge of self which allows us to better know and serve both ourselves and others," Oliver said. "Black Wall Street was not built for an individual, it was built for a whole community."
Between the various speeches and performances, awards and honors were distributed. First, 10 Seattle high school students, or the "Talented Ten Scholars," were recognized for their activism, service, and academics. The scholars participated in workshops discussing blackness in higher education Saturday morning and were honored that night with a certificate and a kente stole, a traditional cloth of Ghana, often worn by black students as a graduation tradition.
Next, awards were given to an undergraduate and graduate student. Sahra Ibrahim, honored with the undergraduate award, was selected for her work as director of diversity efforts on the ASUW Board of Directors and as a liaison to diversity centers on campus on the Student Advisory Board.
Sharayah Lane, honored with the graduate award, recently graduated from the UW with a masters in public administration. Lane, who is black and Native American, works to build wealth and economic inclusion for tribal and other underserved communities. 
"The work that I do and I've done from the beginning has come from this knowing that I need to take what I've experienced, and what I've learned, and what I've known, and bring it to the world and make a difference," Lane said. 
The BSU also honored a faculty and community member for their service. Joe Lott II is an associate professor in the College of Education. Lott discussed entering a profession where not many colleagues looked like him. 
Although he initially taught statistical analysis, once he became tenured, Lott wanted to do something more meaningful and became the founding director of the UW's Brotherhood Initiative for undergraduate men of color.
K. Wyking Garrett received the community award. As a social entrepreneur, he mobilizes communities for sustainable social impact and is the current president and CEO of Africatown Community Land Trust.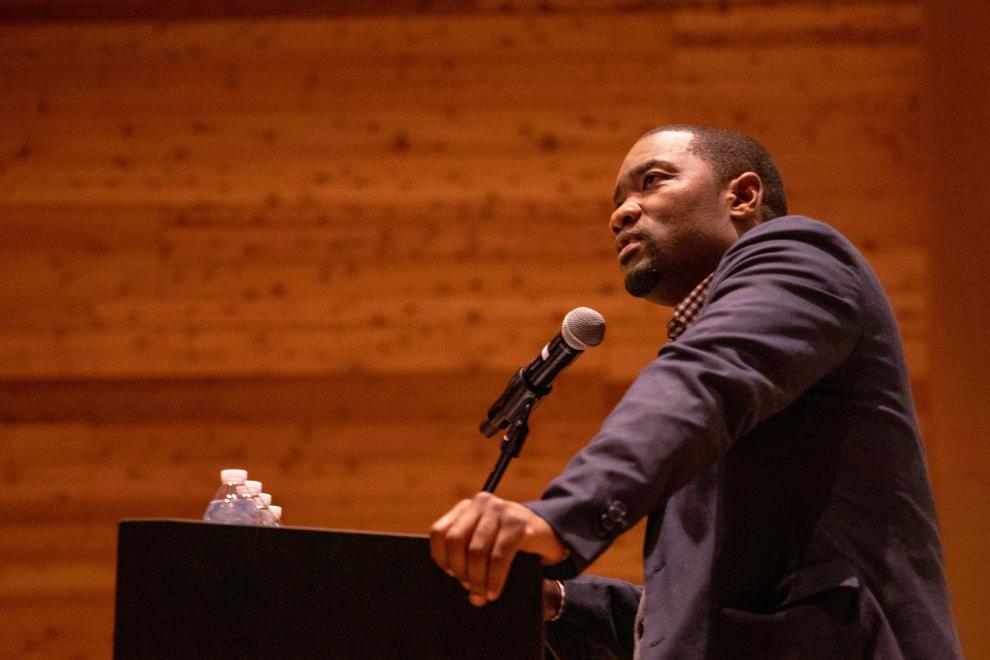 Upon accepting the award, Garret spoke on the importance of student leaders like those in the BSU to support the Black community.
"Somehow along the way, the powers that be recognized how powerful our young, brilliant, fearless leaders were and the impact they were having," Garrett said. "The greatest way we can honor [Black history], is to really make our history count."
Finally, the recipients of the scholarship were Samia Ali and Walid Mouss. As a child of refugees, Ali hopes to earn a medical degree in emergency medicine and to work in refugee camps in Somalia and Kenya. Mouss is a junior studying materials science & engineering and is interested in renewable energy and the use of hydrogen fuel cells to help communities worldwide.
"Through [the founder's] courage and bravery, we are able to stand here and celebrate," BSU president Safiya Bansfield said to close the night. "I come as one, and stand as 10,000. I stand here on behalf of all of our founders and members."
Reach reporter Kaya Bramble at news@dailyuw.com. Twitter: @KayaBramble
Like what you're reading? Support high-quality student journalism by donating here.