Sophorn Yang, a former Nike garment worker and president of the Cambodian Alliance of Trade Unions (CATU), spoke in Smith Hall on Tuesday as the last stop of her nationwide United Students Against Sweatshops (USAS) tour. 
Through her interpreter, Chanpanhavuth Heng, Yang described memories of workers being piled into trucks as part of their commute and having to leave their children with childcare providers whom they were not sure they could trust. She went on to discuss the circumstances of her coworkers, many of whom had to travel long distances out of provinces filled with poverty in order to make wages for their families.
According to Yang, the average worker must provide for two and a half people on their meager factory salary, which is constantly under threat of being withheld if the workers violate any of the factory's rules. Employees can be reprimanded or fired for sitting down, going to the restroom, or even simply yawning. Despite the temperatures in some factories often exceeding 90 degrees, drinking water is discouraged to lessen the frequency of bathroom breaks.
The workers are unable to register with their desired unions due to intimidation and threats of wage reductions or unemployment. Without the support of a union, the workers are left entirely to the mercy of their employers, meaning that a group of workers may suddenly find their daily quota increasing from 200 to 500 items within the span of days with complete disregard for their health or limitations.
Workers lived in shared small spaces and worked 10-14 hours a day, seven days a week. However, their monthly salary was only around $153.
"What is so crazy and saddening and shocking to me is to go into stores like Nike and see that [the] price tag of one sneaker is almost equal to one month's salary a woman worker where they, in fact, must produce hundreds and thousands [of sneakers] a month," Yang said. "And when they ask for higher wages — say $10, or a chair, or just better working conditions in general — they face abuse, threats, [and] restriction."
With $153 split between two and a half people every month, the average worker can only spend 50 cents per meal. Yang asked the audience whether they thought these women ever wanted to have some chicken in the meals or take a break from their work. But all of those simple things were impossible, she said, because of the extreme hours that they had to work.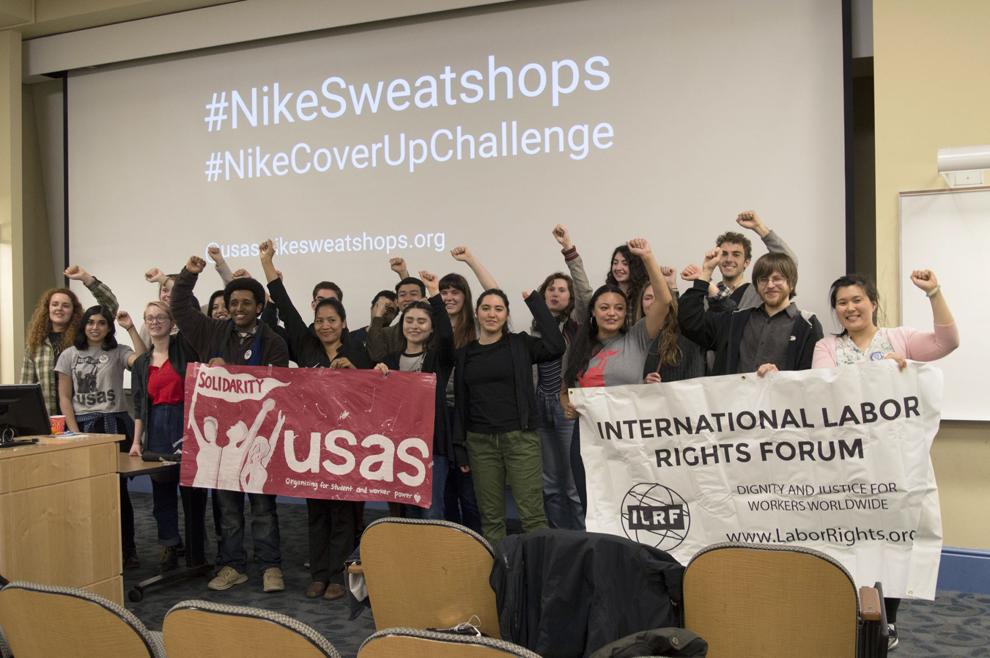 "This is something that I feel so sad whenever I think about," Yang continued. "And I feel like as a leader, somebody needs to stand up for them, and I need to do it. Because if not me, who?"
UW United Students Against Sweatshops has been in the fight to end the UW's agreement with Nike for nearly a year and a half. 
The club's battle is just one of many in a series of student protests organized throughout the country after the athletic apparel giant refused to allow its factories to be inspected by an independent labor rights monitoring organization, the Worker Rights Consortium (WRC), which is affiliated with more than 180 colleges and universities. 
By denying access to the WRC, Nike has violated its contract with the university, and the students of UW USAS have no intentions of letting the misconduct slip past.
"We've actually heard back from independent monitors like the WRC about what those conditions are," said Corina Yballa, a current co-chair of the UW USAS. "Those include fainting in factories, workers being fired for yawning, being fired for getting pregnant — and we wouldn't have reports like that if we didn't have the WRC. So Nike blocking them from all of their factories really endangers a lot of workers because students who aren't able to hear about those human rights violations aren't able to respond to them."
As part of its campaign, UW USAS has been tabling and passing out fliers to spread awareness of the issue. Members have also been participating in the #NikeCoverUpChallenge, which encourages people to cover up their Nike logos just as the corporation has been attempting to cover up the mistreatment of its workers.
"We know what the goal is," said Isaiah Bach-Gaal, who joined UW USAS last quarter. "The goal is to get Nike off campus."
Yang was optimistic about what they would be able to achieve.
"In my opinion, students [have] so much power," she said "They pay the school tuition. They have to pay money to be here, so they can hold the school accountable because they have the leverage over the school. The only thing is whether students understand their power."
Reach contributing writer Aly Chu at development@dailyuw.com. Twitter: @achu_uw