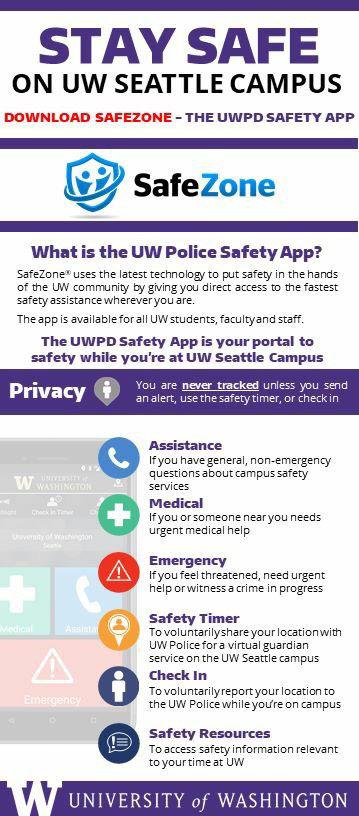 The UW police department announced the launch of a new campus safety app Sep. 27. The app, SafeZone, makes emergency contacts readily accessible on mobile devices. It also allows users to "check-in," voluntarily sharing their campus location with police dispatch.
When SafeZone is open, call buttons for emergency, first aid (medical), and help (non-emergency questions) are immediately available. These connect to the UWPD dispatch, showing an alert on their SafeZone map and prompting them to call the user, if not already contacted by phone. The UWPD dispatch can also use a chat function if a caller is unable to speak.
According to Dahmar Smiles, the UWPD community engagement officer, cases of the caller saying they are OK and do not actually need assistance still result in an officer verifying in-person that the situation is alright. This is, however, standard UWPD procedure not limited to use of SafeZone.
A negligible portion of the SafeZone calls so far have been false, indicating user responsibility, according to UWPD community engagement and talent development manager Samantha Thomson-Daly. The UWPD reports more than 2,200 people have downloaded SafeZone and there have been 261 check-ins as of Sep. 25.
Another SafeZone feature sends relevant alerts to checked-in users. Smiles said check-ins give a more accurate portrayal of everyone who is on campus. Rather than alerting anyone who has ever signed up for campus notifications, on campus or not, the department could notify people in the affected area.
This more immediate notification — even before responders arrive — allows users to be proactive in getting themselves and others to safety.
SafeZone connects to a specific map region, in this case the UW main campus. In this first phase, the region includes part of The Ave, University Village, and the waterfront. Thomson-Daly says future phases will see the region broken down into smaller zones, aligning with official University property lines.
However, this does not mean SafeZone only works on campus. It uses a GPS system and background infrastructure from the creator-company CriticalArc that automatically connects users to local emergency resources, be it Seattle or Paris.
Smiles calls SafeZone a "one-stop shop" for anything safety related. When on campus SafeZone shows a bar near the top of the screen for more information. Here, it hosts buttons for as many safety-related contacts as the UWPD chooses to add. Right now, the website with information on NightWalk is accessible here. Users can even register their bikes and electronics by choosing the Love Your Stuff option.
Thomson-Daly said SafeZone is not a police safety app but a campus one. SafeZone's informational side will be expanded in future phases to include what campus partners want to see. Smiles said any student groups wanting to contribute would be welcome to submit information to be reviewed holistically. 
According to Chief John Vinson, the idea of a safety app originated several years ago within the Student Safety Advisory Board, a cooperation between the UWPD and the Associated Students of the University of Washington (ASUW). He also mentioned the involvement of GPSS, the Graduate and Professional Student Senate, as well as a consensus among other student groups.
The department explored ideas ranging from preexisting apps, to having students design an app, to hiring an external designer. Vinson said that after looking at a lot of different vendors, SafeZone best met their needs.
One aspect of SafeZone that Vinson says made it a good fit was the amount of testing it had already undergone. SafeZone is already used nation and worldwide and stood up to even more confidence testing and Q&A testing before its launch at the UW.
"Being able to evaluate what's working was really important in the decision process," Vinson said. "The UW is really wanting to be a leader in innovative safety practices. It's an elevating role the UWPD and the university have in ensuring that the campus community is safe. This has been a long time coming."
Reach reporter Olivia Madewell at news@dailyuw.edu. Twitter: @OliviaGMadewell