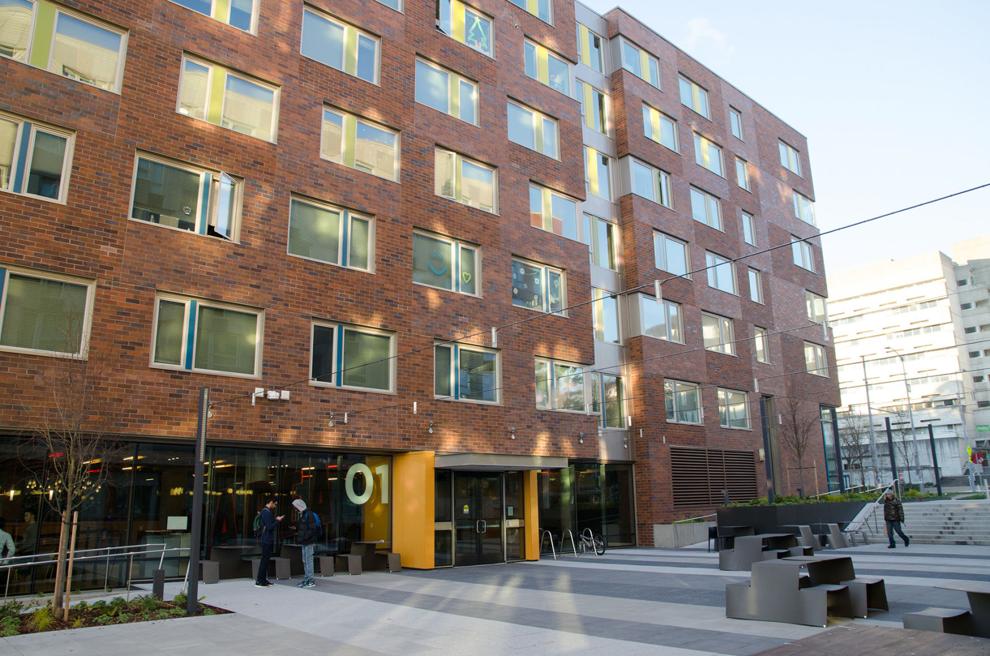 With more than 90% of classes online, total campus occupancy is down by more than 50% from last year. About 13,000 students lived either in on-campus or Greek Community housing last year.
This autumn quarter, that number is about 6,000.
Total Seattle campus enrollment during summer quarter was 17,061, up from 15,022 last summer quarter. Autumn enrollment numbers have yet to be released, but based on the data from summer, enrollment numbers are steady despite the online format. However, a much higher percentage of enrolled students are opting to live at home or off campus this year.
More than 3,500 people will be living in 9-month housing, 482 in 12-month housing, and 182 in family housing, according to Housing & Food Services (HFS) Assistant Director JoAnna Olson. A total of 4,200 students will be living in HFS on-campus housing. 
This is under half of HFS's approved capacity of 8,831 for autumn quarter and occupancy of 9,950 from last year. All HFS rooms are at a density of two or fewer students per room. 
Similarly, student occupancy in Greek Community housing has dropped from about 3,400 to under 2,000.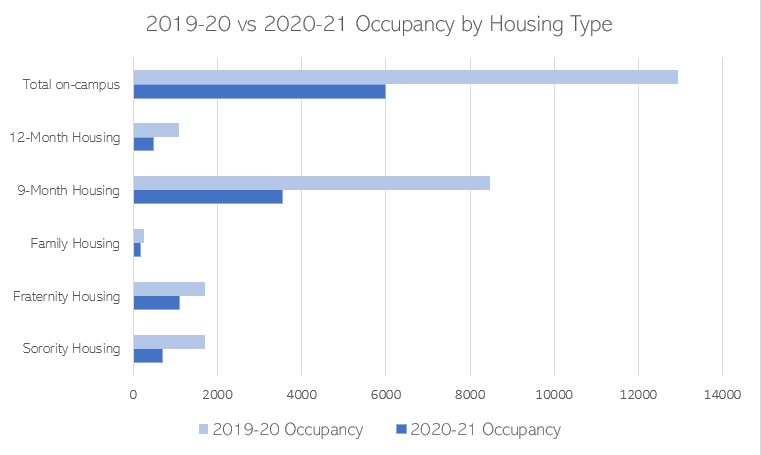 "Info from fraternity presidents to [Interfraternity Council] indicates 1,000-1,200 [residents in fraternity housing]," director of Fraternity & Sorority Life David Hotz said in an email. "Extrapolating the sorority numbers that we have thus far would show less than 700 [residents] in sorority houses. Normal occupancy runs 3,200-3,500 depending on how many groups are operating. So this year is considerably lower."  
Additionally, some students living at home may be commuting to campus for in-person classes. According to a representative from UW Transportation Services, 482 students have purchased some type of parking permit. Around the same time last year, 2,303 students purchased parking permits.
Due to decreased occupancy and COVID-19 guidelines, some buildings will not house residents, including Mercer Court buildings B and C, Hansee Hall, McMahon Hall, Oak Hall, Poplar Hall, Terry Hall, and areas of Madrona Hall with community bathrooms. Haggett Hall will be closed and demolished, as planned in the HFS Housing Master Plan.
For students living on campus in HFS housing, a number of safety plans are in place, including setting aside buildings as quarantine spaces. Poplar Hall and Oak Hall are designated isolation spaces for those who have tested positive for COVID-19. McMahon Hall is currently being used for COVID-19 testing.
According to HFS coronavirus guidelines, other precautions are being taken to ensure minimal contact and proper physical distancing on campus. These policies include requiring facemasks in all indoor spaces and outside whenever appropriate physical distance cannot be ensured.
Safety measures were also in place during the move-in process, where limits were also placed on the number of family members and vehicles. Volunteers and staff helping with move-in were given safety guidelines involving personal protective equipment and distancing.
"We've certainly had to make adjustments," Olson said. "Even though it's very different from previous years, we're still excited to get back on campus and continue to support students however we can during these strange times."
Though coronavirus pandemic conditions are still developing, HFS staff are hopeful that more students will be able to live on campus following autumn quarter. 
"We want to be prepared to house more winter quarter, and we hope to have more information as the housing application deadline approaches," Olson said.
Reach reporter Annie Denton at news@dailyuw.com. Twitter: @anniesdenton
Like what you're reading? Support high-quality student journalism by donating here.