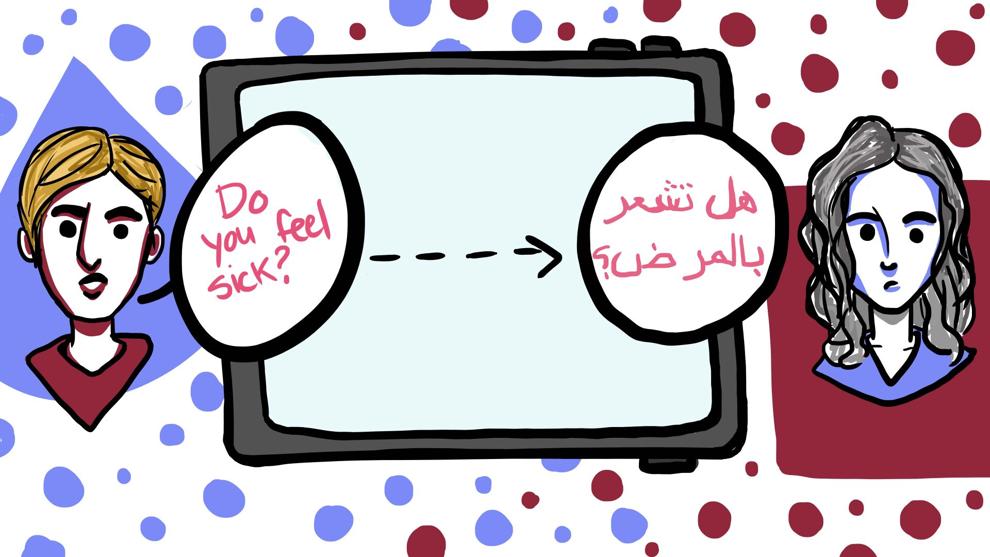 As part of their capstone project, four Information School master's students launched an app to make services at Harborview Medical Center more accessible to non-English speakers. The app supports seven languages, including some that are not as frequently accommodated in the medical field, like Vietnamese and Somali, to increase access among underserved communities. 
The team — composed of Rohan Khurana, Varun Kandukuri, Aniruddh Nathani, and Nandini Mazumdar — was inspired by an aligned vision to make a direct impact on their community through the Master of Science in Information Management (MSIM) capstone project.  
"If we work in the private sector, there are a lot of different problems and maybe a lot more resources, but you don't get to see the change very soon, or you don't get to see the impact that you have made," Khurana said. 
The app utilizes icons and an overall user-friendly interface in several languages to ease communication between Harborview medical staff and non-English speaking patients undergoing COVID-19 screenings. The vast majority of languages incorporated into the app, however, were not among those spoken by the students. 
"Dealing with different languages — Spanish, Somali, Oromo — was new for us," Nathani said. "Managing all of that was challenging."
Beyond language expertise, the team had to communicate their technical skills with their sponsor outside of the tech industry. 
"You had to align your skills with what the business was asking," Mazumdar said. "Beyond that ... it was about managing the expectation and the scope of the work."    
Demonstrations of their project, such as conducting viral swab tests where doctors and patients communicated by using the app as an interpreter, illustrated the team's ability to translate their technical expertise into a product that can be readily used by medical staff and patients alike. 
"We were looking for projects that would really have a huge impact," Kandukuri said. "There are a number of projects which will test our skills … and then there are projects which will actually create an impact." 
The impact, when translated into figures, can already be seen in the 20 minutes medical staff are saving each day through this app, according to nurses interviewed, in addition to the 10,000 patients served through the MSIM team's efforts.  
"Even as English speakers, it's quite stressful to be visiting a health care setting," Mazumdar said. "So whatever we can do to ease that process and get you to see a doctor, and getting you to a medical professional, that was our goal." 
Reach contributing writer Julie Emory at news@dailyuw.com. Twitter: @JulieEmory2
Like what you're reading? Support high-quality student journalism by donating here.