The idea for the student-organized nonviolent protest at the Immigration and Customs Enforcement (ICE) office in downtown Seattle on Aug. 1 was conceived in a car on the way to buy a couch from Goodwill.
Nikita Minkin, a fifth-year sociology and honors political science double-major at the UW, was mulling over an assignment from his supervisors at Northwest Passage (NWP) Consulting, a political consulting firm that has represented prominent Washington politicians like Gov. Jay Inslee and U.S. Sen. Maria Cantwell. 
When NWP asked their current group of interns to work on a summer project of their choosing, Minkin — while on a treasure hunt for household furniture — decided to use the assignment as an opportunity to take action on an issue that had been bothering him for a while: the mistreatment of detainees on the southern border.
"My parents were refugees and undocumented immigrants at one point," Minkin said. "They got papers but they had to apply for asylum ... Asylum-seekers are who are being criminalized at the border. I decided the biggest thing in my power to do would be to plan a rally or protest outside the ICE office to get it shut down, at least for the day."
But what began as a collective effort quickly turned into a passion project for Minkin and fellow NWP intern and honors political science student, Ava Sharifi. Sharifi's parents immigrated to the United States after the Iranian revolution, and the treatment of detainees both on the southern border and in Tacoma's Northwest Detention Center (NWDC) was something that she also felt passionate about. 
The two took clear initiative on what was supposed to be an intern-wide project, spending dozens of hours organizing and planning.
"Both of our parents have understood the trials and tribulations of what it means to be an immigrant," Sharifi said. 
Free those kids
Though both were new to organizing, they were able to coordinate with more than 20 sponsors and line up a dynamic group of speakers ranging from preachers to Seattle City Council candidates. 
While Sharifi focused on her relationships with individual activists on campus, Minkin used his prior connections with organizations in the greater Seattle area for their endorsements and promotion of the event. Sharifi also did what Minkin called "ego management" with sponsors to keep various approaches and interests focused on a single, cohesive message. 
"When you're working with 30 different groups it can get kind of contentious, so she did a lot of handling people's wants and needs," Minkin said. "Everybody wants something different and it's hard sometimes to keep people on message."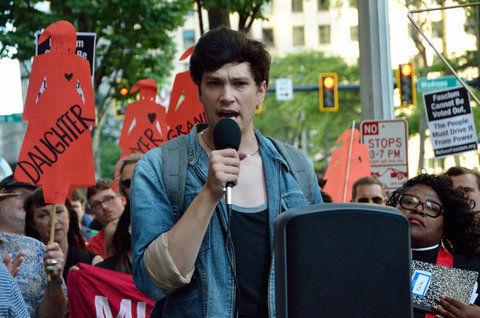 The event was primarily planned and publicized via Facebook, and although almost 1,000 had expressed a virtual interest in attending, the duo was aware that Facebook numbers rarely are indicative of the actual amount of people who attend. Clicking that you're "interested" requires much less effort than trekking downtown and physically showing up for the rally. 
"We were worried that people weren't going to feel passionate enough to show up to our event," Sharifi said. "Not that because they aren't passionate about the issue but because people are really burnt out nowadays."
A significant amount of effort was dedicated to personally reaching out to friends and acquaintances one by one and asking for their support in attending. They went as far as creating excel sheets of their Facebook friends, categorizing them based on their likelihood to attend.  
The rally gained enough steam for NWP to eventually ask that the pair to keep it disaffiliated from their internships at the political consulting firm. 
"The rest of it was just like calling each other for like 20-second conversations once every hour and sometimes physically crying about stress or something and then being like, 'Okay, love you bye,' and then hanging up the phone," Sharifi said. "If we weren't on the phone, he was over at my house and if we weren't at my house, we were at work together."
But the hours of work paid off Aug. 1. A headcount estimated that 400 people crowded the Second Avenue sidewalks in front of the building containing the U.S. Immigration Review Court, and both Sharifi and Minkin delivered passionatespeeches that gained significant circulation on social media, pleading with the government to "free those kids."
The event maintained nonviolence despite the presence of armed counter-protestors from the far-right organization the Proud Boys. But one of the biggest tangible consequences of the rally was that normal operations of the downtown ICE office were suspended for the day, which organizers viewed as a victory. 
"All you can really ask of university students is to shut down operations of a federal agency in the city for a day given the type of work that we do," Minkin said. "I think that's important."
A means to an end 
The rally didn't achieve everything they intended. Its primary demand was of the Washington State Legislature to ban private immigration detention centers like the Northwest Detention Center in Tacoma, which has since received criticism for human rights abuses after a report conducted by the UW Human Rights Center. 
But after the protest, their demands went unanswered, leaving many wondering what would happen next.
"I always ask myself why are people so cynical when it comes to protests," Minkin said. "Protests have become an end rather than a means to an end … going forward rather than saying I'm just going to hold a rally, I'm going to say that I'm going to try and build a social movement to get change done, and as an aspect of that, we're going to hold rallies."
Drawing on momentum from Illinois, the first state to ban private immigration detention centers, Sharifi reached out to progressive state congressmen and senators asking them to sponsor a proposition calling for the ban of NWDC. She said that though some were willing to co-sponsor a bill, none were willing to introduce it on the floor as a prime sponsor. 
"The fight isn't just at the border, but it's even in our own state," Sharifi said. "I was having this conversation two years ago and I'm not gonna give it up."
Sharifi still plans to remain active in this issue, hoping to get the initiative on the legislative agenda for the Legislature's 2021 session, and in the meantime, the two have continued organization efforts in various issues. 
Minkin planned a sit-in to draw attention to the immigration issue at the office of Sen. Cantwell where he was ultimately arrested for failing to comply with orders to leave the office after it closed at 5 p.m.
Radical Women, an activist organization for women who self-define as female, approached the duo after their protest against ICE. Both Minkin and Sharifi attended organizational meetings, and Sharifi designed graphics from nine time zones away while studying European immigration law on a political science and law, societies, and justice program in Rome, Italy.
Just last week, Sharifi delivered another gripping speech at a reproductive health rights rally in downtown Seattle, on the anniversary of the death of Rosie Jimenez, the first woman known to have died due to an illegal abortion after the Hyde Amendment was passed in 1976. 
"I thought it was so impressive how her and Nikita thought to take action," Helen Gilbert, national organizer for Radical Women, said. "It was just the right thing at the right moment, it was perfect, so when we started planning they were fresh in our mind."
Both Minkin and Sharifi plan to graduate this spring and continue working around the political sphere. Minkin has been offered an internship at a wealth management firm but is still tossing around the idea of law school. Sharifi ultimately hopes to run for public office and is considering working on a presidential campaign until the election next November. 
Reach reporter Emma Scher at news@dailyuw.com. Twitter: @emma_scherr
Like what you're reading? Support high-quality student journalism by donating here.