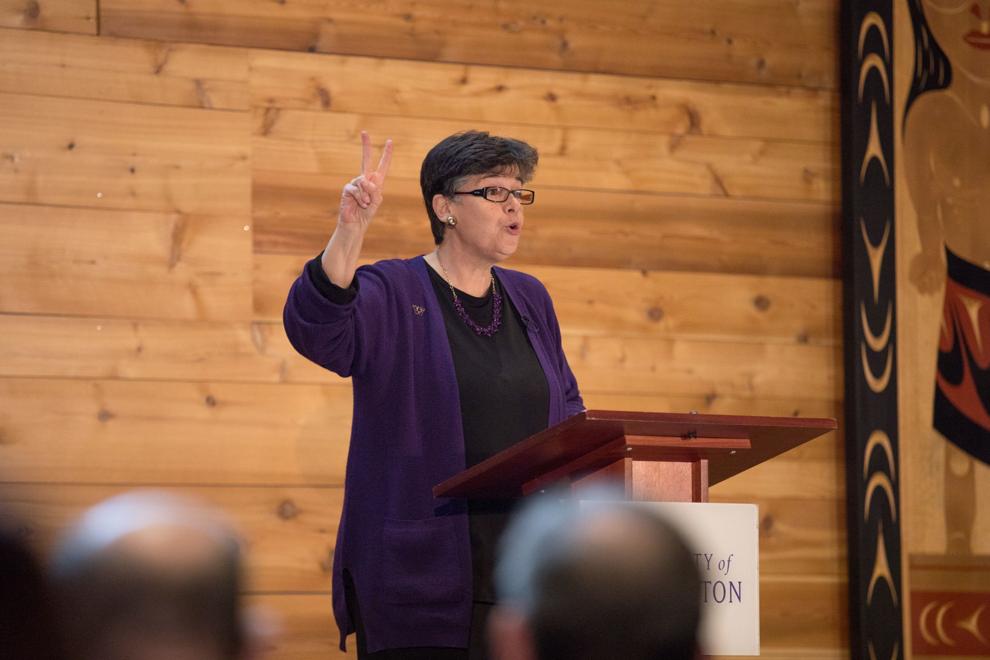 Students from all campuses in the UW will return to campus in the fall, UW President Ana Mari Cauce noted during a town hall Wednesday morning. 
Students will be required to get the COVID-19 vaccine in order to return to campus. An announcement of whether faculty and staff will be required to be vaccinated before returning to campus is coming soon, according to Cauce.
International students will be accepted if they were vaccinated with a vaccine that is not authorized in the United States, Hilary Godwin, dean of the UW School of Public Health, noted. If they have not been vaccinated, they will have that opportunity when they arrive on campus.
"We are going to create a new normal," Cauce said. "Safety is our first and most important consideration. It always has been and it will continue to be. We have a good understanding of [COVID-19] now, we know how it spreads and what works to prevent the spread. We have safe and effective vaccines in plentiful supply and we're aiming for our community to be as fully vaccinated as possible."
Religious and philosophical exemptions will be allowed and it is legal for the UW to require students to be vaccinated before returning to campus, Cauce said.
COVID-19 testing will remain available in the fall, Godwin said. The school will look to work together with public health experts, city officials, and UW Medicine to ensure safety, vaccine accessibility, and adapt to changes.
Faculty will be encouraged to enable some aspect of asynchronous learning going forward and it will be up to faculty how and if they will incorporate hybrid learning, however in-person learning will be the norm in fall, Provost Mark Richards said. 
"We have every reason to believe that in-person learning will be safe come September of 2021," Richards said. "We do not at all discount the incredible advances that our faculty and staff have made in learning the tools of technologies to support remote learning and modalities of teaching … there will be a lot of innovation."
There has been a downturn from deaths and hospitalization of COVID-19 in the Puget Sound area, according to Godwin. About 70% of residents ages 16 and older have received at least one dose of the vaccine. 
"Based on all that and projections that we're gonna have even more people vaccinated in the coming months, projections suggest that COVID-19 cases, both locally and in the United States, are going to continue to drop throughout spring and summer and by the summer will have dropped substantially," Godwin said Wednesday.
This projection assumes the UW will be able to operate safely in-person alongside social distancing and limited room capacities if they are not lifted by Gov. Jay Inslee's updated guidelines that will be released in the late summer, according to Godwin.
The UW operates under statewide higher education guidance set by Inslee's office. UW administration said Wednesday they believe the governor's office will lift certain restrictions and will allow libraries and other buildings to expand capacities.
Husky football games might be coming back with these restriction lifts as well, Godwin said. 
Watch the full town hall here. For future COVID-19 plans for fall quarter, visit here.
Reach contributing writer Kat Rios at news@dailyuw.com. Twitter: @gatoespacia
Like what you're reading? Support high-quality student journalism by donating here.