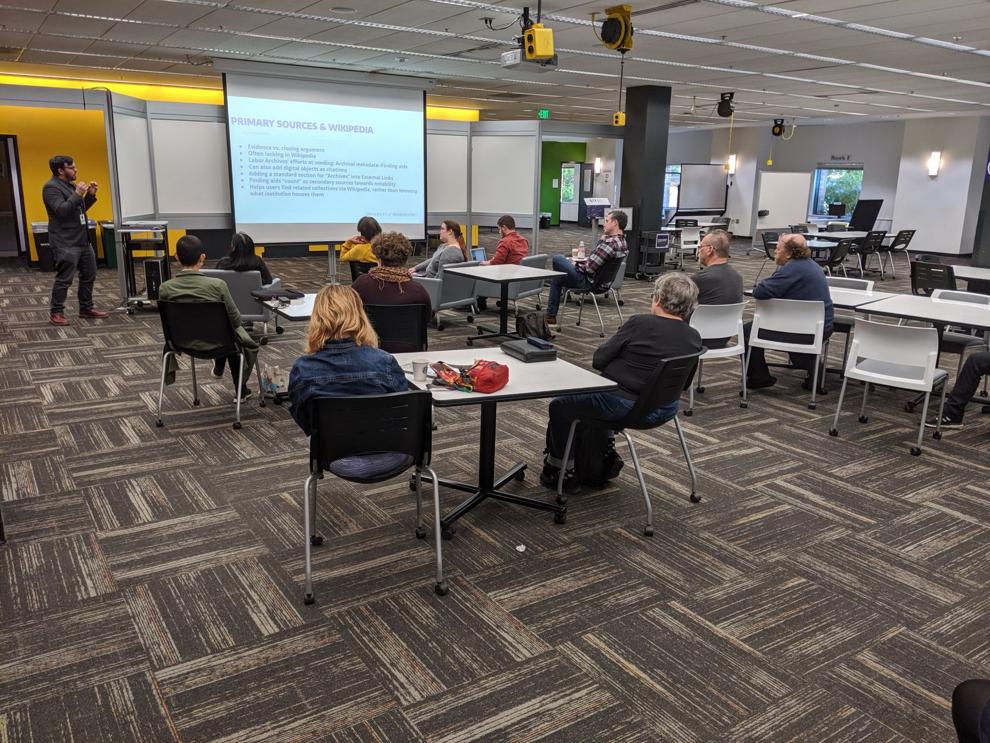 In the Seattle General Strike of 1919, more than 65,000 workers, representing 110 local unions, took part in an effort to increase wages. The strike lasted five days and effectively shut down the city of Seattle.
Anna Louise Strong, a leader in the strike, wrote a multitude of pro-labor articles in "The Union Record," a popular labor newspaper in Seattle. Two days before the strike, she published her famous article "No one knows where," which expressed uncertainty of the strike due to a lack of clear direction. The article inspired Seattle workers to better define the goals of the strike and is prominently associated with the strike as a whole.
Armstrong is one of many women in history who were instrumental in labor movements, and whose work is largely neglected in coverage. Even on sites like Wikipedia, it is difficult to find information on these individuals.
On Saturday, Nov. 2, participants of "Editing is Activism: Edit-a-Thon" at the UW Libraries' Research Commons attempted to rectify this. 
The event was hosted by the UW Special Collection Labor Archives of Washington and Cascadia Wikimedians User Group. They hope to "address the systematic biases in Wikipedia related to gender, race, and social class that lead to underrepresentation of topics, people, and organizations," focusing specifically on improving coverage of historically marginalized communities throughout the Pacific Northwest's labor movement history.
The average Wikipedia user is a white, middle-class male. He is an English speaker between the ages of 15 and 49. He lives in the northern hemisphere in a developed nation with a Christian majority. This person is technically inclined, formally educated, and employed as a white-collar individual. This narrow user type has created systemic bias in Wikipedia articles and content.
Because of this bias, many communities and historical events lack representation in Wikipedia. The most prominent communities affected include women, people of color, and blue-collar workers.
"We have these issues in society in regards to the information we have available as it traces back to systems of inequity, such as racism and homophobia," Madeline Mundt, head of the Research Commons, said. "However, I think there's been less pushback against that in Wikipedia because of the demographics of the people who are writing it." 
Edit-a-thons are a way to address and correct this bias. They are events with the purpose of editing and creating improved Wikipedia content.
"We realized how many of our collections didn't have Wikipedia pages or historic coverage in general," Conor Casey, head and curator of the Labor Archives of Washington at the UW, said. "These [collections] contain pioneers of women-lead unions and workers of color, who made important efforts in getting social and economic justice in our region."  
The Edit-A-Thon focused on linking the library's archives, books, and articles to individual Wikipedia pages to make it easier for people to find and utilize primary sources.
"I hope it becomes a standard thing for primary source repositories to add to Wikipedia," Casey said. "If people are using Wikipedia to find books that have been written using those primary sources, and those books themselves cite these collections as their sources, why not give the collection links right there in the article so people have access to them?"
The Edit-A-Thon is as much about correcting information as it is about showing individuals they have the power to create and edit stories from the perspective of their communities.
"The whole point is to get people involved and demystify it," Casey said. "Particularly folks in the labor community who may not be the most tech-savvy, it is empowering when they realize they can contribute to this resource." 
The individuals who showed up all had different motives for attending. Some were beginners, who hadn't even created a Wikipedia account. Others were experienced editors and labor movement experts, with clear objectives for improving content.
"Today so many people think there is no way to get accurate facts and information anymore and it is impossible to know the truth," one attendee remarked. "I disagree with that. One thing I can do is help provide people with information that are looking for facts."
The Edit-A-Thon proved a success. Four articles were created, 18 were edited, and 44 references were added.
"I hope the Edit-A-Thon gets people thinking more critically about Wikipedia and about encyclopedia sources in general," Mundt said. "They all have biases and we can do things to address those biases, especially with Wikipedia." 
Reach contributing writer Sarah Shapiro at development@dailyuw.com. Twitter: @sarahshapiro94
Like what you're reading? Support high-quality student journalism by donating here.