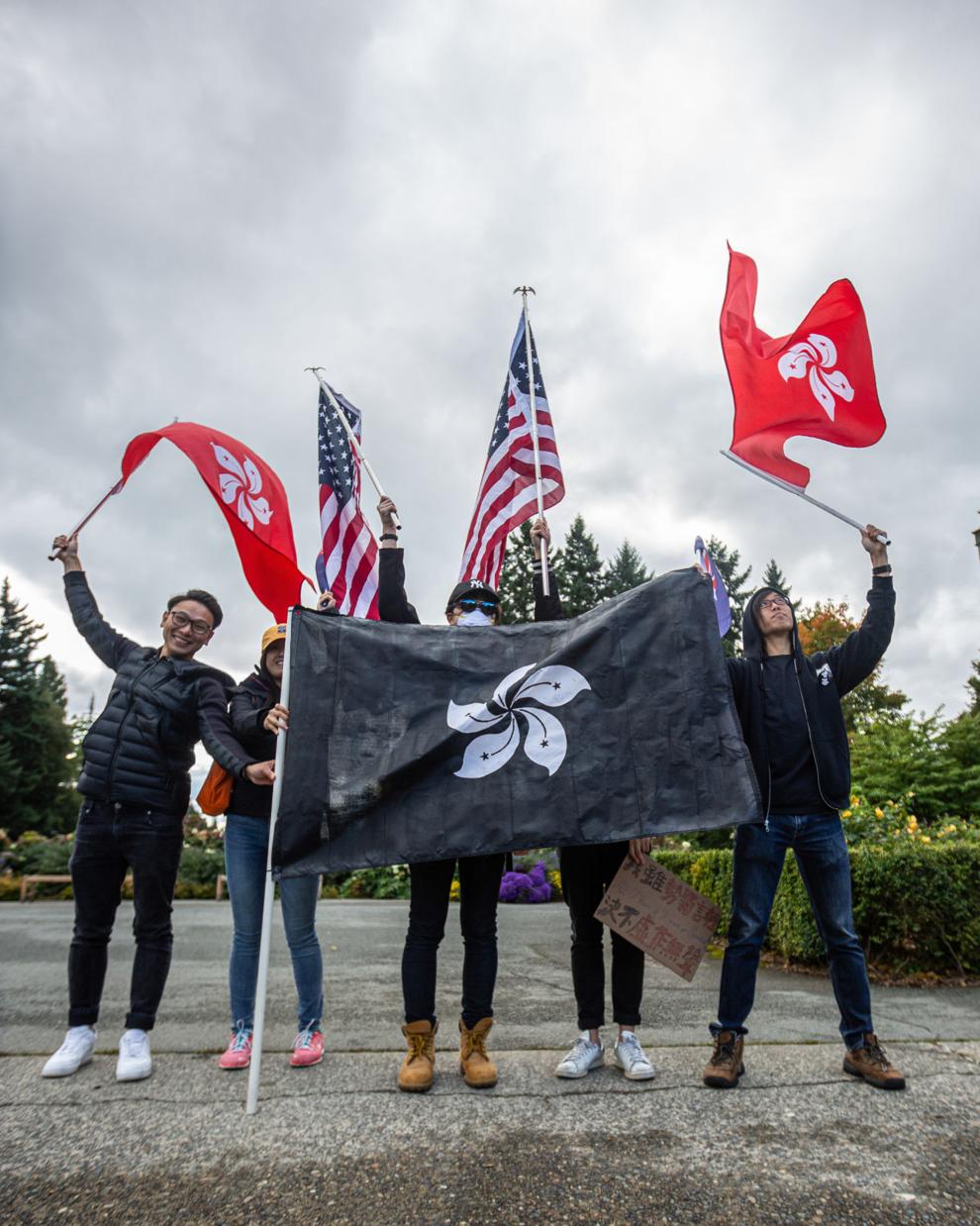 Huddled together outside of Husky Stadium, a crowd in black stood together in silence amid the yelling scalpers and football fans queuing to get to the football game. Spanning the bridge connecting Rainier Vista and the stadium, large colorful letters spelled out "STAND WITH HONG KONG." 
Despite this glaring juxtaposition of silent protesters and football fanatics, many passing tailgaters offered verbal support, some passing by with a fist raised in solidarity. Pamphlets detailing the situation in Hong Kong were picked up by students and parents alike. 
The silent march and following protest was put on by SEArious For HKG, a Facebook group consisting of those in the Seattle area who support the recent demonstrations in Hong Kong. This demonstration coincided with huge demonstrations in Hong Kong which took place on the five-year anniversary of the Umbrella movement.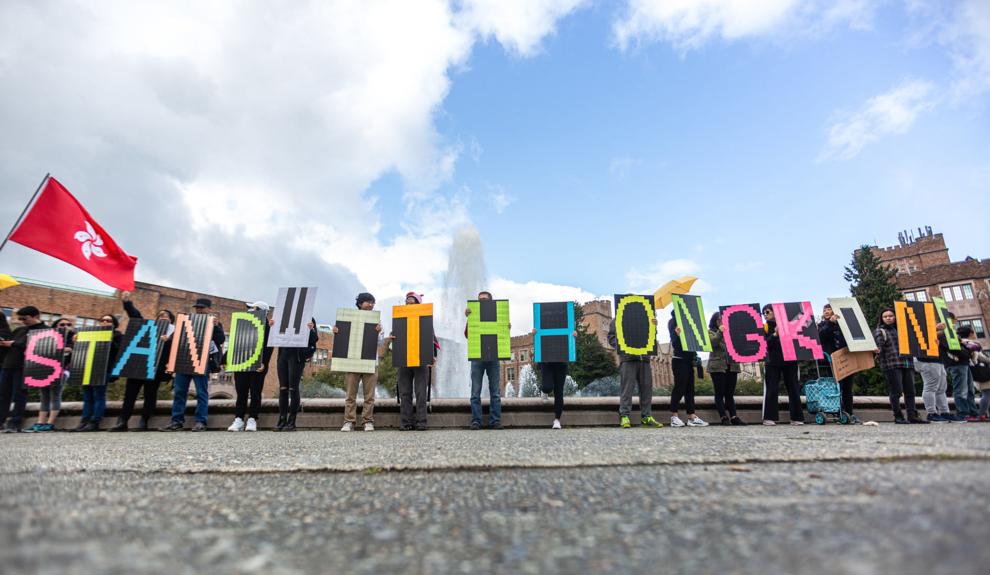 "In 2014, in Hong Kong, we started a movement called Occupy Central with Peace and Love," UW graduate student Sallie Lau, who was in attendance at the march, said. "It was to advocate for universal suffrage for Hong Kongers and democracy. Demonstrators occupied different places in Hong Kong for 79 days."
The call for universal suffrage refers to the people of Hong Kong's criticism of the Chinese government's control over Hong Kong's democratic process despite them supposedly being separate entities. 
"The whole Umbrella movement was in response to a promise made by China that the Hong Kong people would have a path to universal suffrage," UW alumni and protest organizer Bryan Lee said. "China decided that we can get to vote for the chief executive of Hong Kong, but all of the candidates are vetted or chosen by China. That was what the movement was responding to. It is for real universal suffrage, not a fake one."
Now five years later, universal suffrage is one of five demands the people of Hong Kong have for their government. Other demands include the release of those arrested for protesting, the withdrawal of the Hong Kong extradition bill, the dissolving of the Legislative Council by administrative order, and inquiry into police brutality. 
Some protesters Saturday were also present in Hong Kong this summer during larger demonstrations. Lau described her personal experience with protests in her hometown.
"The police would arrest people and start beating them up for no reason," Lau said. "In detention facilities there are also a lot of human rights violations. At rallies police throw tear gas all the time … the lack of police justification for their actions is troubling."
One protester who wanted to be referred to as A. Nigel Leigh explained that many of the demonstrators were wearing hard hats similar to the ones Hong Kong protesters use to lessen the damage dealt by police beatings.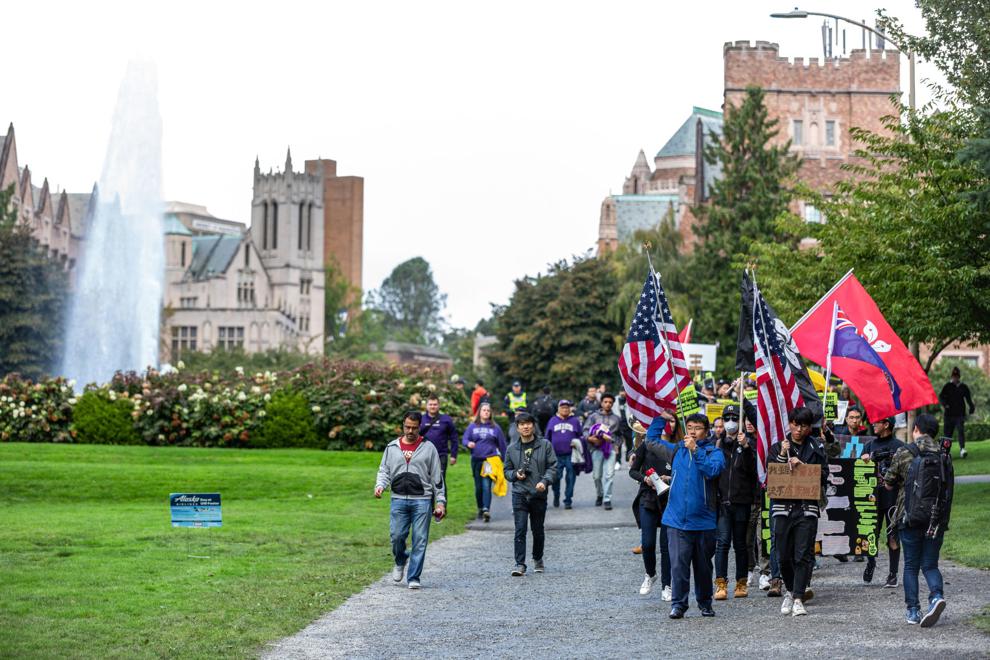 Being passed out at the beginning of the protest were signs advocating for the passage of both Senate bill 1838 and House of Representatives bill 3289, which constitute the Hong Kong Human Rights and Democracy Act of 2019. This act would direct the U.S. Department of State to report annually whether Hong Kong is sufficiently autonomous from China, which would determine whether Hong Kong remains viable for its unique treatment in regard to the United States. 
"A group of different Washington constituents have been meeting up with U.S. representatives and senators in our state to push for support and co-sponsor the H.R. 3289 bill," Lee explained. "We are not just asking for support for the Hong Kong people, but also action from them as well." 
The act is an incentive for the Hong Kong government to remain autonomous from China as well as to respect the human rights of its citizens if it wishes to continue benefitting from separate US agreements that do not include China. Despite having been introduced by Republican lawmakers in the House and Senate, the bill has largely been a bipartisan effort.
"The bill finally cleared the Foreign Affairs Committee," Lee continued. "Speaker Pelosi said that the Democratic Party is in full support of this bill."
The protest was not entirely devoted to one issue or another, but rather a visual demonstration of support by those overseas.
"First of all we want to let the people in Hong Kong who have been in this fight for months or years know that Hong Kongers overseas, whether they are studying abroad or even immigrants, support the democratic movement," Lee said. "Hopefully this march can show that people even overseas care."
Reach reporter Charlie Kappes at news@dailyuw.com Twitter: @cjkapp
Like what you're reading? Support high-quality student journalism by donating here.