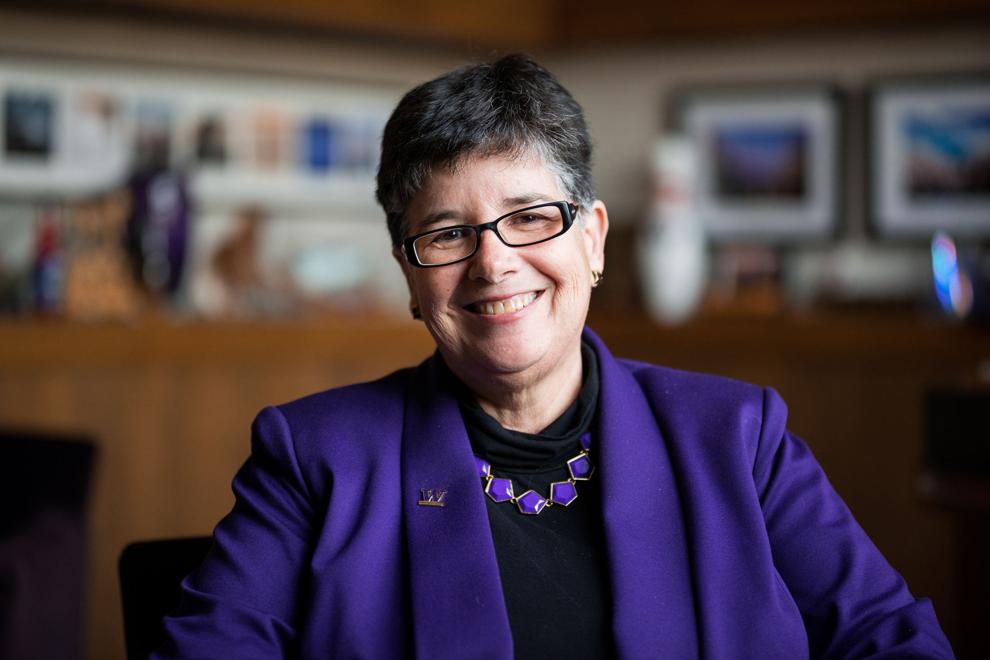 As the UW approaches a critical legislative session in Olympia, UW President Ana Mari Cauce spoke with The Daily on why the university needs greater investment and why it's needed now.
The university feels it has been underfunded by the state for years, and hopes to make this the year that changes.
Cauce has been making that case. At every opportunity, she said, she has been using her public appearances to speak on these issues, raising awareness and trying to turn public opinion on the needs of the UW.
"We never look like the hungriest, and so part of what we're trying to do is reposition ourselves," Cauce said. "[We're] trying to get the state and the citizens to better understand that we're not just another hungry mouth to feed, that we are a partner in solutions."
The university understands that the state has been in a difficult position following the 2012 McCleary decision by the Washington Supreme Court that ruled the legislature was not fulfilling its obligation to fund K-12 public school education. It was only in June 2018 that the Court found the state had satisfied the conditions of the ruling as it launched extra funding for public school districts, including $2 billion for teachers' salaries.
In the aftermath of the ruling, Cauce stressed that the school has done its best to ensure accessibility and excellence since the recession a decade ago, but is unsure how long that can be maintained without changes in funding from the state government.
"It's less about you –– you're gonna graduate from a great university. It's about whether it's gonna be here for your children," Cauce said.
While state funding has continued to rise steadily since since 2013, when it hit a low of $215 million, investment has never returned to pre-2008 recession levels. In 2009, tuition revenue as a section of the general operating fund, which, combined with state funding, is used primarily for paying faculty and staff, was $340 million, less than half of the fund. Ten years later, it is set to be over $658 million, approximately two-thirds of the fund.
The looming threat of another recession or worsening economy stresses the importance of securing greater investment this session.
"We can't just say, 'Next time,' because next time may not be a good time," Cauce said.
The UW's 2019 state legislative agenda's priorities include a four percent compensation increase for UW faculty and professional staff in fiscal years 2020 and 2021, and "that collective bargaining agreements with our valued represented UW workforce be approved and appropriately funded."
Other requests from the UW for the capital budget include $70 million to construct a new health sciences education building for the Seattle campus, $35 million to construct a new STEM education facility at the UW Bothell, and $4 million to design a new academic innovation building at the UW Tacoma, among other investments.
Additional priorities for the university include further support for UW Medicine and the UW School of Dentistry, $4 million for teaching data science to non-STEM students, and $375,000 to help fund the UW Center for Human Rights.
A top concern for the Washington State Legislature this session is fully funding the State Need Grant. Cauce praised the state for this and its other programs to assist low income students. This change will free the university from backpaying with tuition and fundraising dollars to keep its Husky Promise.
Increasing investment in other support services, such as mental health services, is essential to students' success and making the UW accessible to more people, Cauce explained. Support services is the area that student groups most often ask her for more funding for, she said.
"Access is not just about who gets in but who graduates," Cauce said.
A growing concern for the UW is recruitment of faculty, and their ability to offer competitive rates to new professors under current salaries.
Today, Seattle's cost of living has risen substantially and is no longer the attractive tool in recruitment it once was. Now it may be a drag on luring new hires if the UW cannot match the offers of its peers.
Cauce remembers her decision from 30 years ago, between an offer at the UW and an offer at UCLA for more money. Cauce decided on the UW though after considering cost of living –– that, and the clear, crisp winter day when she first visited and fell in love that she still remembers, drawing the mountains with her fingers as she describes them.
"We've been able to stretch and make it through, we will not be able to do that as the faculty that came here to a different priced Seattle retire and we have to replace them," Cauce said.
The UW's ability to remain a flagship university is under threat if investment needs are not met, Cauce warned:
"Universities can leave, one faculty member at a time."
Reach reporter Jake Goldstein-Street and News Editor Devon McBride at news@dailyuw.com. Twitter: @GoldsteinStreet @DevonM98
Like what you're reading? Support high-quality student journalism by donating here.