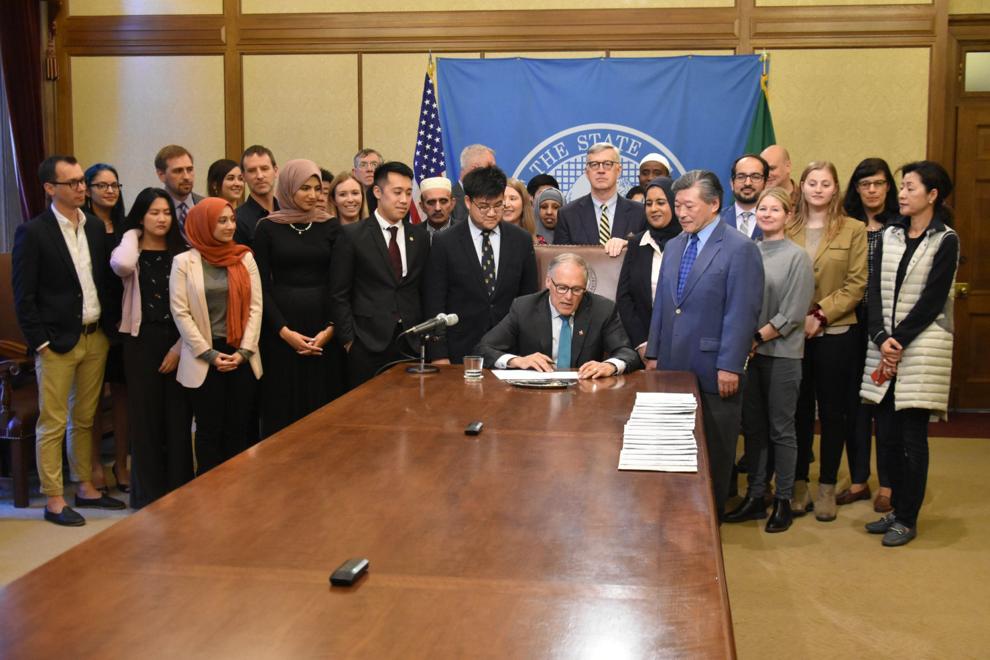 What began as a "pipe dream" became reality two weeks ago as community leaders and UW students gathered in Gov. Jay Inslee's office on the eve of Ramadan to celebrate the signing of a bill providing accommodations for religious students in higher education.
Washington state Senate Bill 5166 establishes a procedure for university students to request reasonable religious accommodations, such as rescheduling exams and excusing absences, that faculty must observe.
The law, the first of its kind to be adopted in a U.S. state, is based on a similar bill passed through the ASUW Student Senate a year ago.
UW junior Byron Dondoyano Jr. was inspired to write the original bill after hearing about two UW Bothell professors who offered night exams to Muslim students during Ramadan while lacking institutional support. Though he is not religious, Dondoyano also sought inspiration from his own experiences fasting in solidarity with his Muslim peers. Dondoyano teamed up with Mennah El-Gammal, then-director of the ASUW Middle Eastern Student Commission, to take action.
"It was a two-part process," El-Gammal said. "Half of it was in … student senate, on the university level, but the other half was at the state level. And that was kind of a pipe dream at the time."
While El-Gammal took charge of on-campus outreach, Dondoyano focused on the statewide effort. After participating in Huskies on the Hill in 2018, Dondoyano worked with Sen. Robert Hasegawa (D-Beacon Hill) to produce a version of the bill for the state legislature. By the time the bill reached Olympia, it had the support of multiple faith groups including the Jewish Federation of Seattle and the Council for American-Islamic Relations.
"This bill was really well researched and well thought out," Dondoyano said. "We had a really strong coalition … we had a really strong team going at this." 
The final version of the bill passed out of the House by a 64-28 margin and out of the Senate by a 32-14 margin. This support, according to Dondoyano, was largely bipartisan.
"During our testimon[ies] we got questions from both sides," Dondoyano said. "At the end of the day, I'm very proud to say that we got a lot of bipartisan support … The issue we're working on isn't a partisan issue. The free exercise of religion is an American value."
However, the bill has received Islamophobic backlash.
"There has been some backlash," El-Gammal said. "On the comments on some of the sites, like Religious News Service … some of the comments [said] 'these accommodations don't fit into the secular society we live in.'"
When asked about this backlash, Sahra Ibrahim, newly elected ASUW Director of Diversity Efforts for the 2019-2020 school year, argued that it was hypocritical.
"It's unfair," Ibrahim said. "Are we just going to act like we don't take Christmas off right now? You guys close down malls for these days [you] celebrate … let's be fair about it."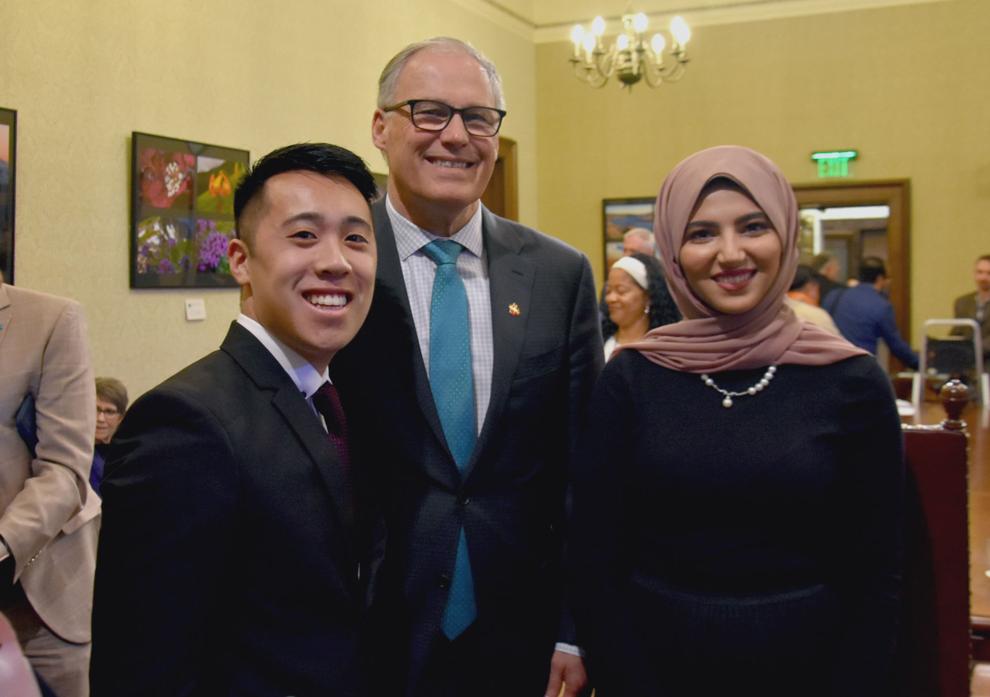 El-Gammal also pointed out that the bill was not just for Muslim students, and that it benefited all faith groups, bringing up the example of some Orthodox and Coptic Christians who celebrate Christmas on Jan. 7.
Arwa Mokdad, lead intern at the ASUW Middle Eastern Student Commission, described the bill as a "security blanket" for Muslims and other religious students. Similarly, referencing increasing Islamophobic sentiment in mainstream discourse, El-Gammal said the bill was an important step in creating a safe and welcoming environment for Muslim students.
"[It is] important to recognize that a lot of students of faith feel a silent pressure on campus to not further alienate themselves, particularly Muslims because they are so visible," El-Gammal said. "Prior to the law, students didn't have that sort of safety net … and it was really up to a professor's discretion on whether or not they were going to provide that accommodation."
Ibrahim described this challenge that Muslim students face particularly during Ramadan.
"It's just hard to explain," Ibrahim said. "Because this is my religion, I love it, I'm going to do it. I don't care what I'm suffering through during the day."  
Going forward, both Dondoyano and El-Gammal said they were looking to bring the bill to other state legislatures as well as to the federal level, while El-Gammal underlined the importance of making sure that the law is implemented smoothly on campuses and that students know their rights. Dondoyano also mentioned that a member of Washington state's congressional delegation has reached out with interest in potentially introducing similar legislation federally.
Rania Hussein, a UW Seattle electrical engineering professor, was one of the original professors at the Bothell campus that offered the night exam option in 2017. She plans to continue advocating on behalf of K-12 students who she said need similar protections under the law. Hussein emphasized the importance of the bill in affirming the rights of religious students to be themselves.
"Now students do not have to choose between their religious obligations and their academics," Hussein said. "We as educators and as educational institutions will support them being who they are, which, in my opinion, is what diversity and inclusion are all about."
Reach contributing writer Collin Chung at development@dailyuw.com. Twitter: @collinchung
Like what you're reading? Support high-quality student journalism by donating here.