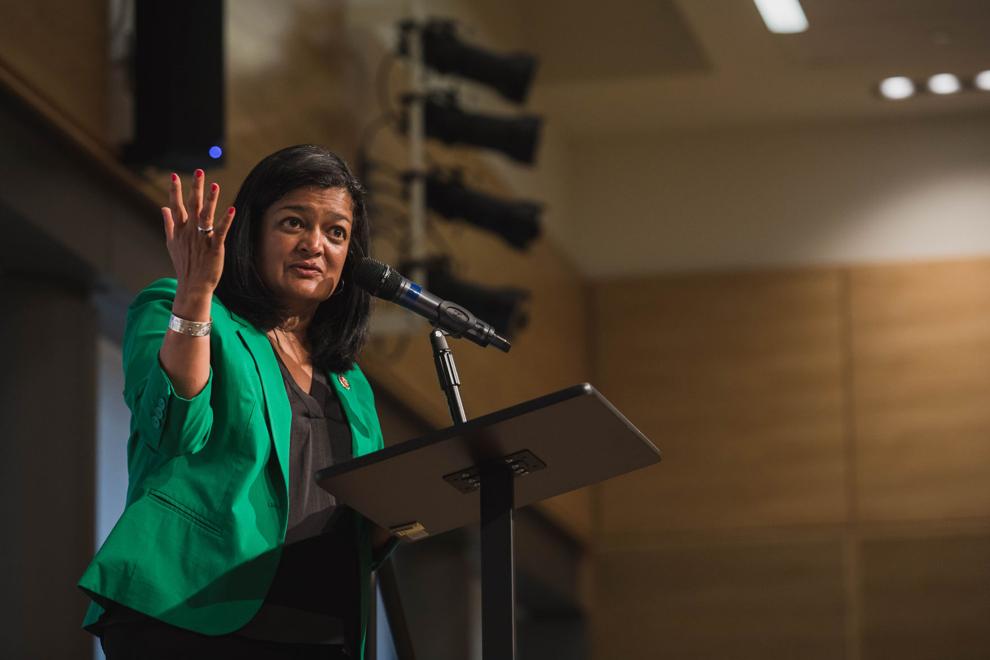 The effort to impeach President Donald Trump, supported by Washington state Rep. Pramila Jayapal, passed in the House of Representatives last week. But even if it passes in the Senate, the consequences for Trump may not be immediate. 
The Senate impeachment trial, if there is one, would not begin until the Senate reconvenes Tuesday — just one day before Trump is set to leave office.
And if Trump's term ends without an impeachment conviction, he will still have access to benefits under the Former Presidents Act, including a yearly pension and travel fund.
Despite this, Victor Menaldo, a UW political science professor, says the impeachment of Trump could help in other ways — particularly with restoring order to the White House.  
"It might deter current and future officeholders from abusing their office," Menaldo said in an email. "It sends a message to the rest of the world that we are a nation governed first and foremost by the rule of law." 
Although an impeachment conviction would not immediately bar Trump from running for office in 2024, the Senate could decide whether or not to disqualify Trump from running based on his conviction. 
Rebecca Thorpe, an associate professor of political science, suggested that Trump's impeachment could also help protect democracy from decay. 
"Impeachment sends a message that he is accountable for his actions," Thorpe said in an email. "It helps to enforce core tenets of American government."
Impeaching Trump after he leaves office carries risks, Menaldo said. Without enough bipartisan support, the process could be divisive and distract President-elect Joe Biden and his administration from focusing on transition of power and accomplishing their legislative goals. 
Thorpe noted that Congress will have cabinet appointments and COVID-19 relief legislation to focus on. 
The House of Representatives already impeached Trump once before, in December of 2019. Trump was later acquitted by the Senate. 
But the impeachment effort this year is different, Menaldo noted, with 10 Republicans in the House voting to impeach Trump this time around, as opposed to none in 2019. 
A few Republican senators have also criticized Trump's incitement of the Jan. 6 riots and peddling election fraud rumors, including Lisa Murkowski of Alaska and Pat Toomey of Pennsylvania. 
"That means that the second impeachment of President Trump is already much more bipartisan than the first one, and may garner yet more support from Republicans going forward," Menaldo said.
After the two new Democratic senators from Georgia are sworn in, Democrats and Republicans will each have 50 seats in the Senate — where a two-thirds supermajority is required to convict. 
Menaldo said if Congress fails to hold Trump accountable, there could be a rise in politically motivated violence. 
"If Trump is not punished, it may embolden further escalations of rhetoric and political action that runs against the Constitution and is a threat to the rule of law, free and fair elections, and the institutions and values of liberal democracy," Menaldo said. 
Thorpe added that while holding Trump accountable is important, Congress should also focus on monitoring misinformation in the media and prosecuting people involved with the Jan. 6 siege. 
"These are large agenda items with a long-term focus," Thorpe said. "But they are crucial to a functional democracy."
Reach reporter Elliot Raven at news@dailyuw.com. Twitter: @relliotg
Like what you're reading? Support high-quality student journalism by donating here.