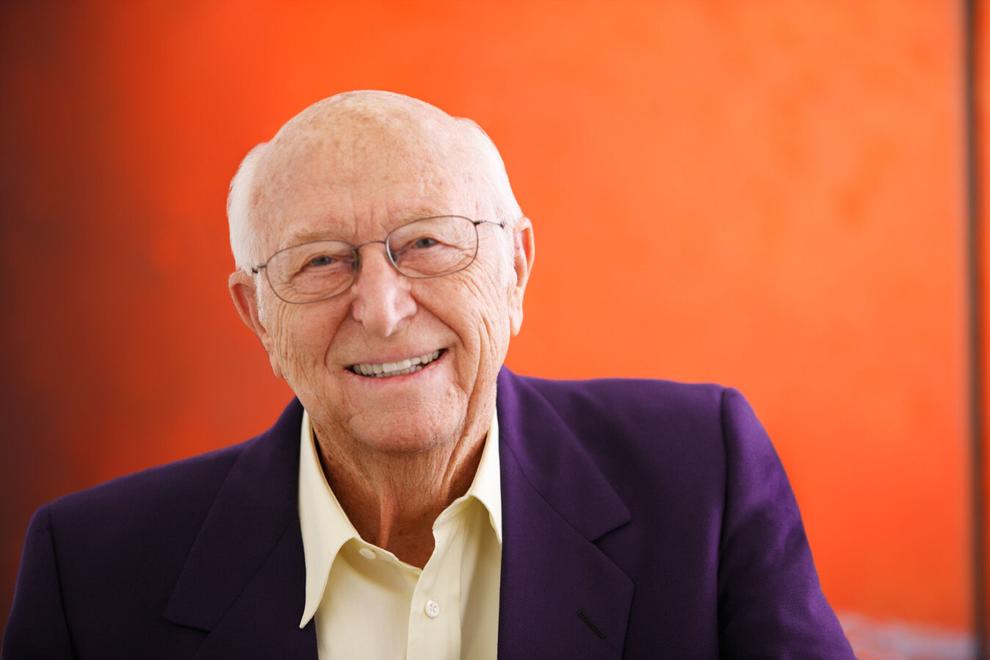 Bill Gates Sr. was always looking for ways to make the UW an outstanding university. When he served on the Board of Regents in 1997, he led numerous campaigns, scholarships, and programs to advocate for equitable education. 
He was also a proud Husky who cheered the football team from Row K, Seat 32, according to University of Washington Magazine. He knew every word to the fight song, singing on Game Days and fundraising events. 
Gates died Sept. 14, at the age of 94. 
"Bill [Gates Sr.] was one of the strongest advocates for the University of Washington that I can possibly think of," UW President Ana Mari Cauce said. 
Born in Bremerton , Gates was the son of furniture store owner William H. Gates and Lillian (Rice) Gates. He joined the U.S. Army during World War II after completing a year at the UW. When the war ended, he finished his bachelor's degree in 1949, earned a law degree in 1950, and met his first wife, Mary Maxwell, also a UW alum and three-term regent.
Today, an endowment and UW building carry her name: Mary Gates.
Gates had a successful career as the co-founder of the law firm Preston Gates & Ellis and served for multiple organizations, including Planned Parenthood and the King County United Way. 
Near his retirement, he returned to the UW to serve on the Board of Regents for 15 years; was a recipient of the UW School of Law Distinguished Alumnus in 1991; chaired Campaign UW: Creating Futures, which raised over $2.5 billion for students and faculty in 2008; and earned UW Alumni Association's Alumnus Summa Laude Dignatus Award in 2013. 
A "big believer" in civic engagement, Gates founded scholarships supporting students who aspire to work in public service: the William H. Gates Public Service Law Program, the Achievement Scholars Endowed Fund, and the Mary Gates Endowment which has awarded over 5,000 scholarships totaling over $20 million. At least 25% of those were gifted to first-generation students according to Cauce.
"He cared deeply about the fact that we have so many first-generation students," Cauce said. "When a student goes to college and they're the first in their family, it changes the trajectory of the whole student's life."
Those who knew Gates are touched by his integrity and humor. 
Computer science professor Ed Lazowska recounted a time when he was in a meeting with Gates and the team at Technology Alliance. When they were asked to move to a smaller conference room that couldn't fit everyone around the table, Gates noticed that all the men took the table seats, leaving the women to the back benches.
Gates said, "Before we get started, can I ask all the women to move back to the seats at the edge of the room so all the men could have the seats at the table?" 
It was all humor, of course, but it was his way of bringing attention to something that some people would not consciously think of, according to Lazowska. 
"He did it in a way that was not accusatory at all," Lazowska said. "It just caused each of us quietly to look around and thought, 'Oh my God, look at what I've done!'" 
Cauce described Gates as funny, encouraging, and passionate about the things he cared about. On the morning she testified before a legislative committee in 2005, she saw Gates, who advocated on behalf of the university for funding, leaving the Capitol as she arrived. 
"He had already gotten there even earlier," Cauce said. "That's the type of commitment that he had."
Gates fought for the UW until his last term on the Board of Regents in 2012, the same year he was awarded regent emeritus. His Husky spirit, however, lived until his final days. 
"Even in the later stages of Alzheimer's, Bill could sing the lyrics to 'Bow Down to Washington,'" his son Bill Gates wrote. 
Reach reporter Anh Nguyen at news@dailyuw.com. Twitter: @thedailyanh
Like what you're reading? Support high-quality student journalism by donating here.