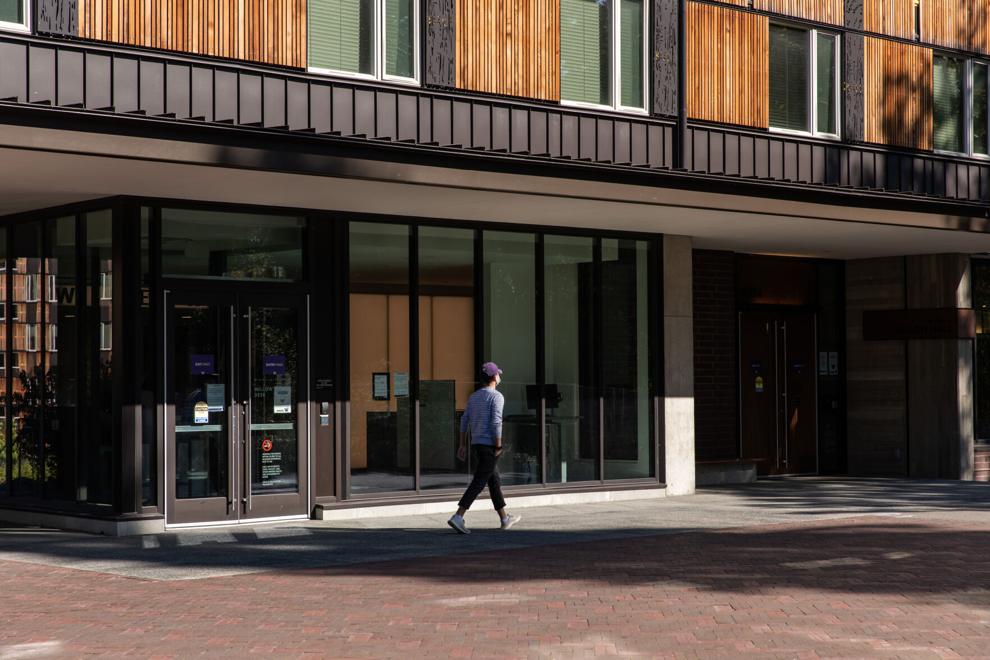 With a surge in statewide coronavirus cases expected as winter approaches, many UW students are choosing to remain on campus for winter break. Housing & Food Services (HFS) will keep residence halls open throughout the break to accommodate the unusually high number of students refraining from traveling in December.
Spurred by the statewide restrictions on gatherings and services recently presented by Gov. Jay Inslee, the UW issued an update to the UW community on Nov. 17 advising against nonessential travel for the break.
Still, the possibility remains that a number of students may be traveling during the height of the pandemic, leading many to wonder how people can safely return to the dorms as they run the risk of having contracted COVID-19 while off-campus.
"I don't know how it's gonna play out when they move new people in," Anusha Saha, a first-year student staying on campus for the break, said.
To ensure that students do not carry the virus into their halls upon return, HFS has urged students to observe current COVID-19 safety guidelines when traveling.
Predictably, the plan for operating the residence halls in the coming weeks looks vastly different from previous years, in which nearly all halls were temporarily closed for winter break.
"This year, we anticipate a greater number of students will remain on-campus during the break due to pandemic conditions and travel advisories,"  HFS associate director for facilities, operations, and special projects Josh Gana said. "So we decided to keep all of our buildings open to provide that as an option." 
Gana added that students should enroll in the Husky Coronavirus Testing program, conducted by the Seattle Flu Study, for possible testing if they have not already, and emphasized the importance of following the three W's: wash your hands, wear a mask, watch your distance.
"If somebody does need to travel, or leave campus and return, the encouragement is to essentially stay home and away from other people for two weeks following that travel to minimize contact," Gana said.
As concerns continue to arise regarding a potential spike in COVID-19 cases making its way onto college campuses during the winter, Gana highlighted the capabilities of HFS in responding to outbreaks in the dorms. 
"We have a robust isolation and quarantine housing program, if needed, that will be ready to work with students as we find cases that may emerge in winter," Gana said. "We have the capacity to deal with that, and the plans to back it up if there needs to be surge efforts."
Though it is possible that students may be traveling home for the winter break, the extraordinary circumstances brought on by the pandemic have caused many to reconsider their plans and opt to keep living in their dorms during this period. 
"I live in California, and I think they're gonna reinstate lockdown there, as well as in Washington," Saha said. "So I feel like it would just cause a little trouble, and it's probably better not to relocate as much as possible." 
Having the option to stay in the dorms during the break proved a relief to many students without homes to return to at this time. 
"The only place I can stay, technically, is here," Amelia Nguyen, a first-year student living on West Campus, said. "So, I just chose to stay on campus to actually have a roof over my head, but also to meet new people."
Though fewer students will occupy the residence halls during the break, HFS urges those who will remain on campus to continue following the set social distancing guidelines. Gana noted that these measures seem to be making a considerable difference, as the on-campus transmission of the virus is at a noticeably lower rate than in the outside community.
"I think everybody in our community has a responsibility to follow public health guidance and make decisions that minimize risk of COVID transmission," Gana said.
Reach contributing writer Max Keystone at news@dailyuw.com. Twitter: @KeystoneMax
Like what you're reading? Support high-quality student journalism by donating here.