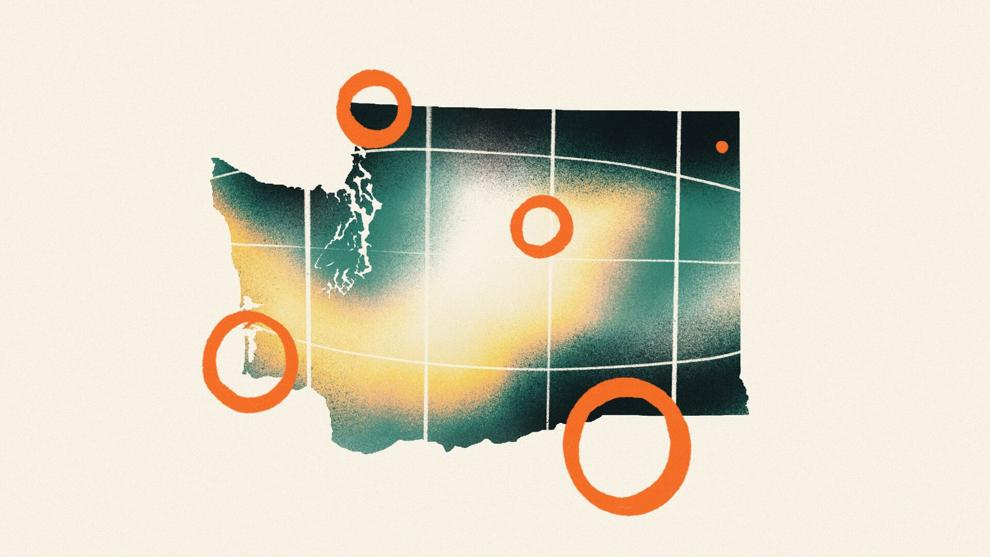 Washington was one of the states hit hardest by wildfires in 2020, showcasing the devastating effects of climate change. These climate crises are rising to the top of public conversations as they affect local communities more frequently. However, recent work at the UW shows that they're affecting some communities more than others. 
UW Ph.D. student Esther Min has helped to create maps to visualize which areas and communities are the most vulnerable to climate change effects. 
These maps were created about two years ago through a collaboration between UW students and government entities such as the Department of Health and the Department of Ecology. The maps show where wildfire, flood, and heat vulnerability is most prevalent throughout different communities in Washington. 
"Communities are experiencing multiple different disparities at once, so thinking about air particulate matter or hazardous wastes, and all of these are really compounding on one another," Min said.
One of the communities in Washington that's been hit the hardest is Grand Coulee, a community that faced five large wildfires in 2020, according to Crosscut. 
A town of just 1,000 people, Grand Coulee sticks out not just because it deals with climate change effects, but because it is one of the communities struggling the most to recover, due to factors like housing and high repair costs.   
The map is part of an effort to start a discussion about the disparities between the impact of climate change effects — fires, floods, and heat waves — on more affluent communities, and those that are more impoverished, racially diverse, and/or Indigenous. 
"Who are the voices that are often unheard or often ignored, and how do we make an intentional effort to listen to them and intentional efforts to elevate them?" Min said.
These maps are part of a larger project called "Getting to Zero: Decarbonizing Cascadia." This project is led by InvestigateWest, a nonprofit investigative journalism newsroom in Seattle. 
InvestigateWestdiscusses how effects such as floods, fires, and heat waves disproportionately affect low-income and racially diverse communities.
"It's not just one isolated issue; it's because of a lot of the drivers of these disparities, which are policy and institutionalized racism," Min said.
InvestigateWestnotes that these structural factors influence where communities are located geographically, and what resources for climate-related recovery they have access to: "Poverty and systemic racism such as redlining practices trap families in low-lying areas."
"It's a lot of socioeconomic factors that contribute to these disparities," Min said, offering examples such as unemployment and prohibitive housing and transportation costs.
Megan Lawson, an economist with Headwaters Economics, noted in a discussion with InvestigateWest that "recovering can be more difficult because communities with low property values are less likely to qualify for federal grants."
Climate disparities have disproportionately impacted Indigenous communities as well, but reaching out to the tribes for comments has been difficult, according to Min.
"Tribal groups, as much as we tried, weren't as integrated into the process itself, and so we are hoping that people will talk to tribes because they are especially on the forefront of climate impacts and climate adaptation — they're really the leaders of it all," Min said.
Many Indigenous communities have worked on their own guidelines for environmental health and educated environmental decision making. 
"Our health comes from our culture and our culture comes from our lands, our waters. To make good decisions, these connections must be respected," Swinomish Elder Larry Campbell, wanaseah, community environmental health specialist, is quoted saying on the Swinomish Climate Change Initiative website.
Min is just one of the many UW researchers who have been working to create awareness about these climate change impacts, whether that be through a class on climate change or through something like this digital map.
"As individuals we really need to be thinking about what our actions are, intentional or not, because a lot of times we don't realize what the flip side of the coin is, and this map helps us think about that," Min said.
Reach contributing writer Mary Murphy at news@dailyuw.com. Twitter: @marymurphy301
Like what you're reading? Support high-quality student journalism by donating here.