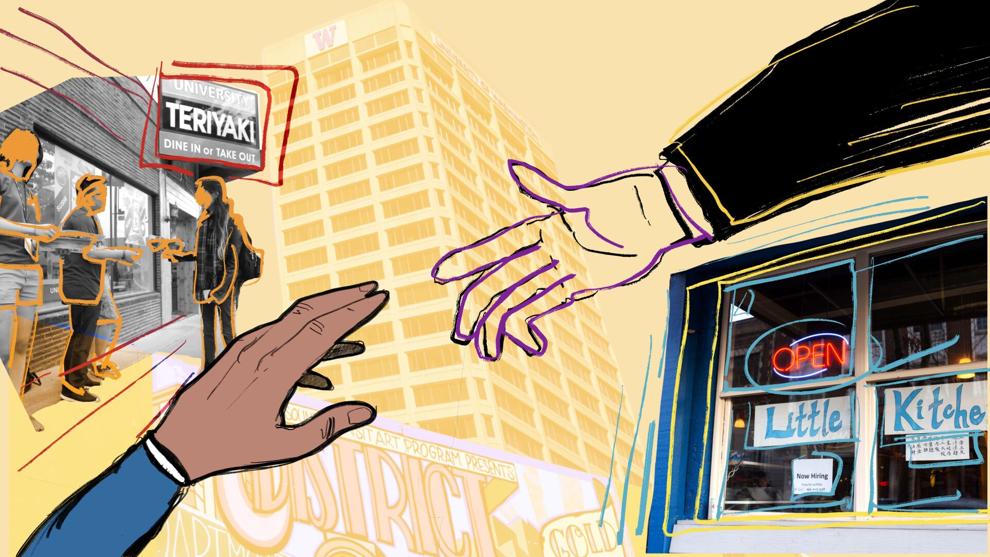 Assistant law professor Jennifer Fan and management professor Elizabeth Umphress secured a Population Health Initiative grant to support minority-owned small businesses amid the COVID-19 pandemic in June 2020. The project, "Helping Minority-Owned Small Businesses Survive and Thrive Post-COVID-19," follows a three-pronged approach: providing businesses with a multilingual resource list, negotiation training and office hours with Umphress, and pro bono legal consultation. 
The collaboration was made possible with support from the Seattle Public Library's Library to Business team; the UW Entrepreneurial Law Clinic, where Fan serves as the clinic director; the Washington Pro Bono Patent Network; and the Foster School of Business Consulting and Business Center. 
The project gave minority-owned businesses access to resources from the law and business communities to help them navigate federal grants, loans, and other government programs. Because many federal relief programs only insure businesses for employee paycheck protection, many BIPoC-owned businesses have struggled to pay rent, their greatest overhead cost, during the pandemic. 
"Already, the community has been devastated by the pandemic, and many places went out of business," Fan said, noting many of the businesses that permanently closed were BIPoC-owned. 
The joint project provided counseling sessions to business owners to discuss topics from hiring a lawyer and corporate basics to ensuring minority-owned businesses have access to critical support through and beyond the pandemic. 
"The question then becomes, can they recover from …  [the pandemic], or are BIPoC businesses going to pop up in areas they were before?" Fan said. 
After participating in Umphress's negotiation trainings, one small business owner informed her that the training empowered them to create a proposal that will save them, according to an email by Umphress, "$46,000 in back and future rent." 
Despite various success stories from the interdisciplinary project, Umphress emphasized that "the work isn't over." 
"The long-term goals need to be, how can we better support these businesses and minority- and women-owned businesses moving forward, such that they are able to continue to succeed for the next 10, 20 years," Umphress said.
Although this initiative does not focus on businesses specifically in the U-District, visiting minority-owned businesses on the Ave helps ensure those businesses outlast the pandemic. 
Umphress stressed that students and the wider community can support these businesses by "contributing your money where your values are."
Having your next meal at a minority-owned restaurant like Sip House, Samir's, and Sizzle & Crunch helps ensure these locations remain a mainstay of the U-District for years to come, serving as an anchor of the UW community at large. 
Reach contributing writer Julie Emory at news@dailyuw.com. Twitter: @JulieEmory2
Like what you're reading? Support high-quality student journalism by donating here.