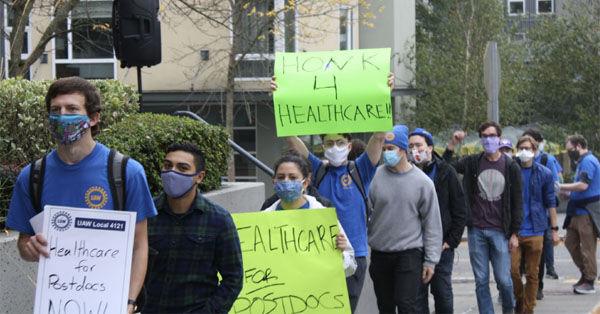 Tanya Brown, a postdoc in the UW biology department, spent her first month as a postdoctoral researcher reading and writing a fellowship application for the National Science Foundation's Postdoctoral Research Fellowships in Biology. 
This March, she received the fellowship. Then she found out her benefits would be stripped away.
"It feels as though you're being punished for getting your own funding," Brown said. "The lack of communication was frustrating."
Under current university policy, postdocs who receive funding from external paid-direct mechanisms are ineligible for university health insurance through the Public Employee Benefits Board (PEBB). Every year, 40 to 60 postdocs — most of them international — at the UW are denied PEBB coverage.
Many fellowships require applicants to be U.S. citizens, limiting available funding for international postdocs. In countries with more comprehensive national health insurance than the United States, fellowships often don't provide funding for healthcare.
Some postdocs are working without basic insurance coverage, having only emergency travel insurance plans that cover travel to their home country in case of illness.
Brown is not an international scholar and is able to get health insurance coverage through other avenues, but she hopes to see systemic change at the UW. 
"Diversity is so important for driving science forward," Brown said. "It's a huge problem that this is disproportionately affecting international postdocs, especially in the middle of a pandemic."
According to the university, state policies prevent the human resources administration from extending PEBB coverage to paid-direct postdocs.
"A few dozen [postdocs] are paid-direct, meaning their fellowship or traineeship is paid to them directly by an external entity and not by the UW," university spokesperson Victor Balta said in an email. "For this reason, these individuals are not considered UW employees for purposes of health-care coverage and are not eligible for Public Employee Benefits Board (PEBB) coverage. Eligibility rules are set by both the state Legislature and the Healthcare Authority in the Washington Administrative Code." 
UAW 4121 union organizer Elena Pandres believes the UW has a responsibility to provide benefits for all postdocs under the union's collective bargaining agreement.
"All these postdocs …  are working full time and are subject to the same policies and are doing a lot of really important work for the university, regardless of their funding mechanism," Pandres said. "It's incredibly unfair to claim they're not employees."
Pandres said an appeal from a postdoc who lost health insurance was filed with the Washington state Healthcare Authority (HCA), and the ruling said the individual's employee status was up to the university.
"HCA said UW is in charge of determining who is an employee," Pandres said. "Based on the ruling, it should be in the [UW] administration's power to change this."
However, the postdoc who filed the appeal chose to withdraw it for personal reasons. A new appeal from a different postdoc was recently filed.
Another union organizer, Max Friedfeld, said there has been a lack of communication from the university. According to Friedfield, a petition with over 500 signatures was sent to vice president of human resources Mindy Kornberg three weeks ago, but the union has yet to receive a response.
Local political leaders have voiced support for the affected postdocs.
"[Postdocs] work on critical research for the university," State Rep. Frank Chopp said at a demonstration Oct. 2. "It's ironic that those who do research to save lives and promote health are being denied healthcare coverage of their own."
Seattle city councilmember Kshama Sawant released a statement in full support of the union.
"This attempt by [the UW] administration to evade responsibility towards basic living standards for your workers would be unacceptable at any time, but is especially outrageous in the context of the pandemic and the worst recession since the Great Depression," Sawant said in the statement to the university. 
Reach reporter Annie Denton at news@dailyuw.com. Twitter: @anniesdenton
Like what you're reading? Support high-quality student journalism by donating here.