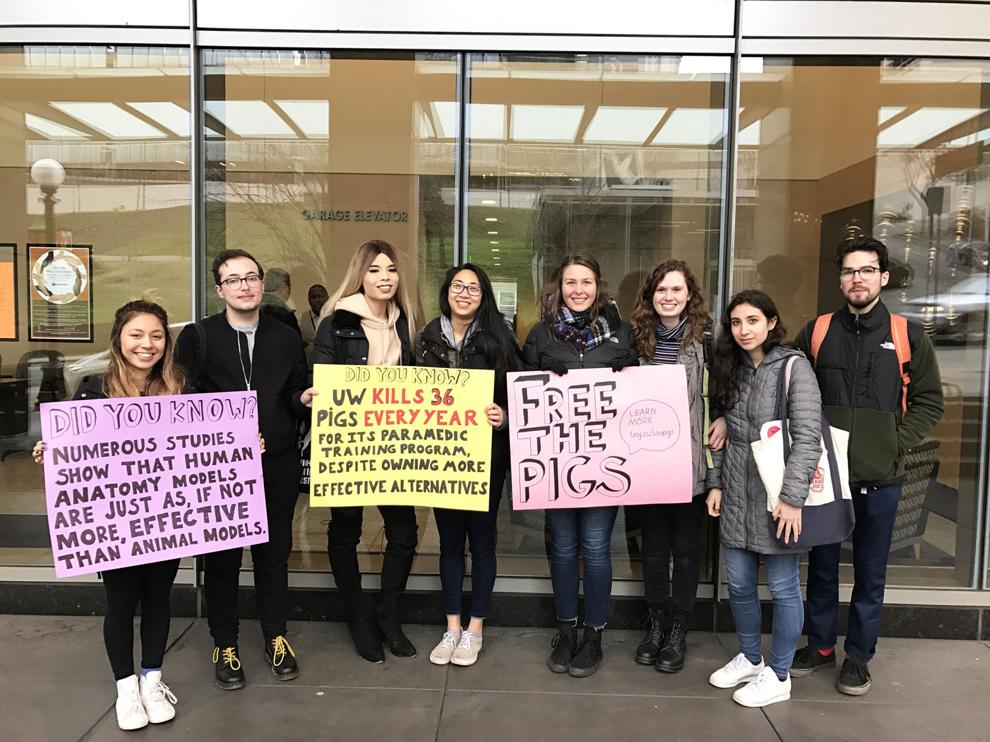 Students from the UW RSO Campus Animal Rights Educators (CARE) marched Monday from the office of UW President Ana Mari Cauce to Drumheller Fountain, protesting the UW Paramedic Training Program's usage of live pigs.
The students held a banner that read "UW kills 36 pigs every year for its Paramedic Training Program despite owning more effective alternatives." 
Chants like "Ana Mari be progressive, animal cruelty is oppressive," attracted the attention of passersbys, who stopped to take photos or videos of the protest. Afterward, CARE hung the banner off the side of the Link light rail station's walkway. It was a part of their Free the Pigs campaign, an effort to get the UW Paramedic Training Program to stop using live pigs. 
The UW Paramedic Training Program is a requirement for all King County Medic One Paramedics and is considered one of the reasons that King County has exceptional heart attack survival rates. As part of their curriculum, anesthetized pigs are used to practice a procedure known as a cricothyrotomy, where medical professionals surgically create an airway. This practice has received previous criticism from the Physicians Committee for Responsible Medicine (PCRM), an animal rights organization. 
PCRM published a report in May of 2016, citing multiple studies, that indicated that simulator models are just as effective as live animal models. 
In January, eight members of the Washington State House of Representatives wrote a letter to President Cauce mentioning PCRM's work, containing specific questions about the UW paramedic training program's use of pigs.
King County Executive Dow Constantine and King County Councilmember David Upthegrove reached out directly to the Paramedic Training Program about phasing out live pigs for the surgical airway. In response, the Paramedic Training Program proposed developing their own simulator model to replace live pigs by 2020, as they don't think any currently available simulator models are sufficient for their training standards.
CARE isn't satisfied with this timeline.
"We're demanding that they replace them now," Victoria Cummins, a lead officer of CARE, said. "They shouldn't have to make their own, they should be using current simulator models."
CARE's actions Monday also included delivering letters and a petition to Executive Constantine, President Cauce, and the chief medical officer of UW Medicine, Carlos Pellegrini. 
"With Cauce, it's important to note that she's known about this for a long time and has continued to stay silent," Cummins said. "And it's time for her to get involved."
The petition has 1,125 signatures, from UW students, staff, faculty, and alumni. It specifically calls on Executive Constantine to end the use of pigs for practicing surgical airways.
"It's not just PCRM, it's not just the general public, it's the UW community that doesn't support this," Cummins said.
Although it could not be confirmed for confidentiality reasons, CARE members say that signees included one person who went through the program and thought that the procedure was stressful and unnecessary, as well as another person whose wife was going through the program and was horrified by the procedure.
The UW Paramedic Training Program has previously argued that using live pigs for practicing the surgical airway procedure is necessary because the properties of the live tissue as well as the stress of a live animal are uniquely modeled with pigs. 
"It seems like such a front to me, the stress argument," Tuesday Villa, a lead officer and graphic designer for CARE, said. "Because it's relatable because you can be like 'Oh it's scary to operate on a real live pig,' but … [the pigs are] put under a lot of anesthesia."
PCRM's report also included an example of one specific study that showed some simulator models can successfully simulate the stress of treating patients in life or death situations.
"We continue to seek inanimate simulation models that satisfy the high training requirements we have for this special procedure that is only done by very few paramedics in the country," director of the training program David Carlbom wrote in an email. "We train Intensive Care Paramedics to a higher standard than most communities." 
CARE has a meeting scheduled Dec. 12 with Executive Constantine's staff to discuss the UW Paramedic Training Program's use of pigs. 
Reach contributing writer Paige Bartlett at development@dailyuw.com. Twitter: @PaigeMBartlett
This article was updated on Wednesday, Dec. 6. to clarify that the Physicians Committee for Responsible Medicine (PCRM) is an animal rights organization.