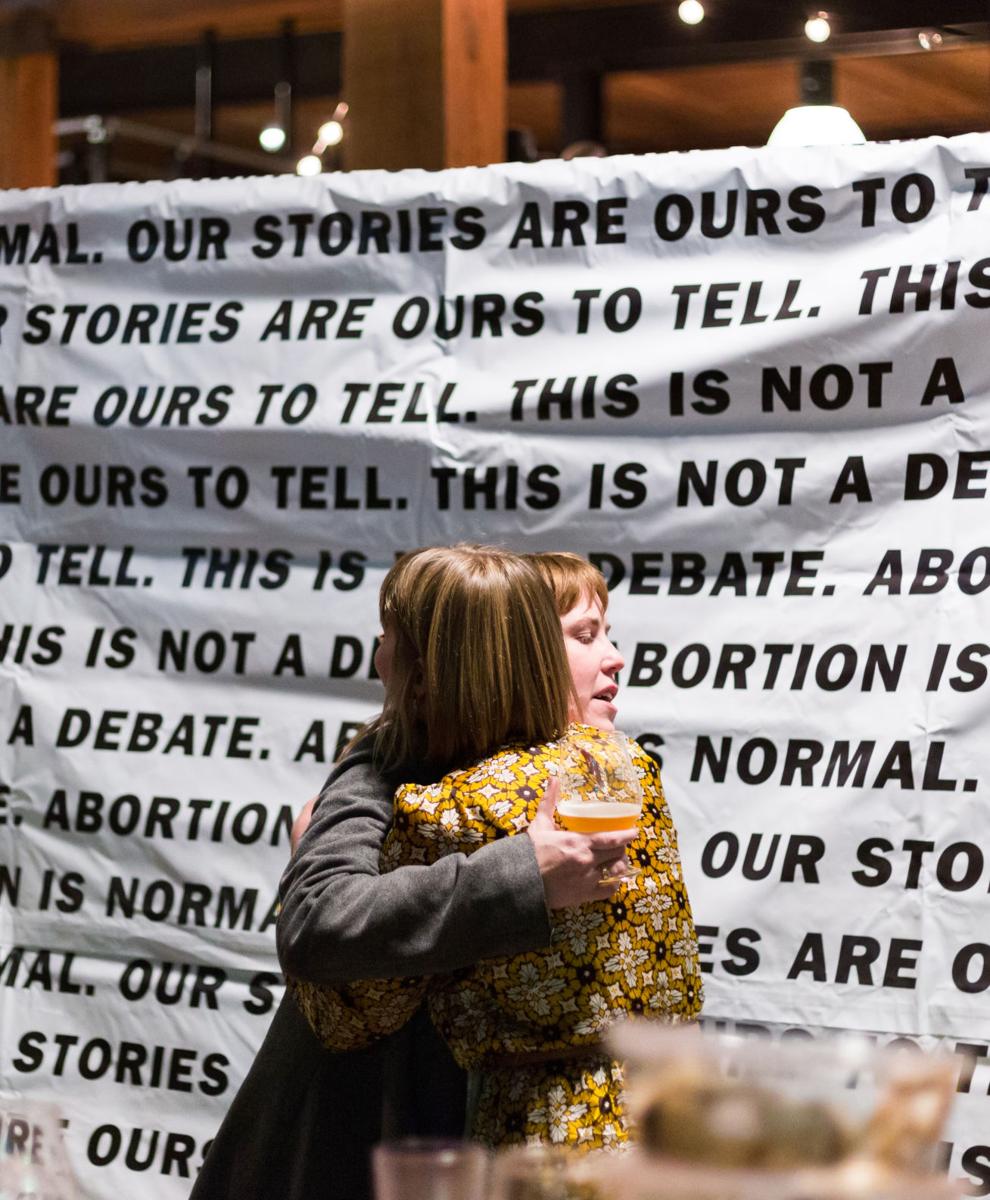 Washington-based CAIR Project and Oregon-based Network for Reproductive Options (NRO) recently merged to form the Northwest Abortion Access Fund (NWAAF), which had its Seattle Launch Party on Tuesday night at Optimism Brewing Company in Capitol Hill. This occurred simultaneously with a launch party in Portland at Killingsworth Dynasty. 
The event was all-ages. Attendees hailed from all walks of life, and many organizations were present. Upbeat music played in the background while people sat and stood, sipping the many beers Optimism has to offer. A feeling of warmth filled the room despite the chilly, crisp December evening. 
Refreshments, from baked goods to fruit, were laid out on a table, and a photo backdrop read, "Abortion is normal. Our stories are ours to tell. This is not a debate." There were also cards placed which had quotes from hotline callers.
"Thank you so much for your help, I don't know what I would have done without your kindness and generosity," one read, quoting a caller from March 2017. 
The room bustled with chatter. Everyone seemed excited and energized, united under a common cause: ensuring people have access to abortions. The event had a sense of community, and the attendees connected to each other, even if they weren't were making connections at the event itself. Children also enjoyed themselves amongst the adults in the room. 
The two organizations merged for many reasons. The most important was that the two organizations had an overlap in coverage. Anita Yandle, UW/ASUW alum, current board member of the NWAAF, and former board member of CAIR Project, spoke about this issue and explained that callers needing help had to call two hotlines. 
"It's already ridiculous, honestly, that someone has to call strangers on the phone for funding for their healthcare, when their healthcare should be funded by their insurance and medicaid," Yandle said. 
The Portland Mercury highlighted this issue in their article, chronicling a typical week for this organization. They stated, "The newly formed Northwest Abortion Access Fund (NWAAF) provides abortion funding to the largest service area in the nation, one that spans Oregon, Washington, Idaho, and Alaska, effectively making it the biggest such fund in the country."
Patricia Atwater, CAIR practical support manager, spoke to the importance of the merger. Not only does it increase access for those seeking abortion care, but it also unifies the region into a single, stronger abortion fund. 
"It feels like a shining light, this merger." Atwater said. "It represents a lot of work, and it represents the recognition that when we work together, and when we cooperate we amplify our power and our voices."
While Yandle and Atwater highlighted the fear in today's political climate, the event was a celebration of the work that has been accomplished and will continue in the future.
Annika Brauer, a CAIR abortion access network coordinator, spoke to her experiences working as a volunteer on the ground. She described her work as doing everything from talking on the phone with people to understand their needs to arranging transportation, lodging, and food. 
"We've driven meals down to people," Brauer said. "We have amazing volunteers who have cooked home-cooked meals for people who have just gone through a procedure so they can come back to their hotel room and have a connection to home and food to eat." 
Yandle summed up the evening and NWAAF's goals when she said, "We truly believe a right without access is no right at all and we will be there for everyone who calls us."
To learn more about NWAAF, visit https://nwaafund.org.
Reach reporter Ananya Garg at news@dailyuw.com. Twitter: @originalananya