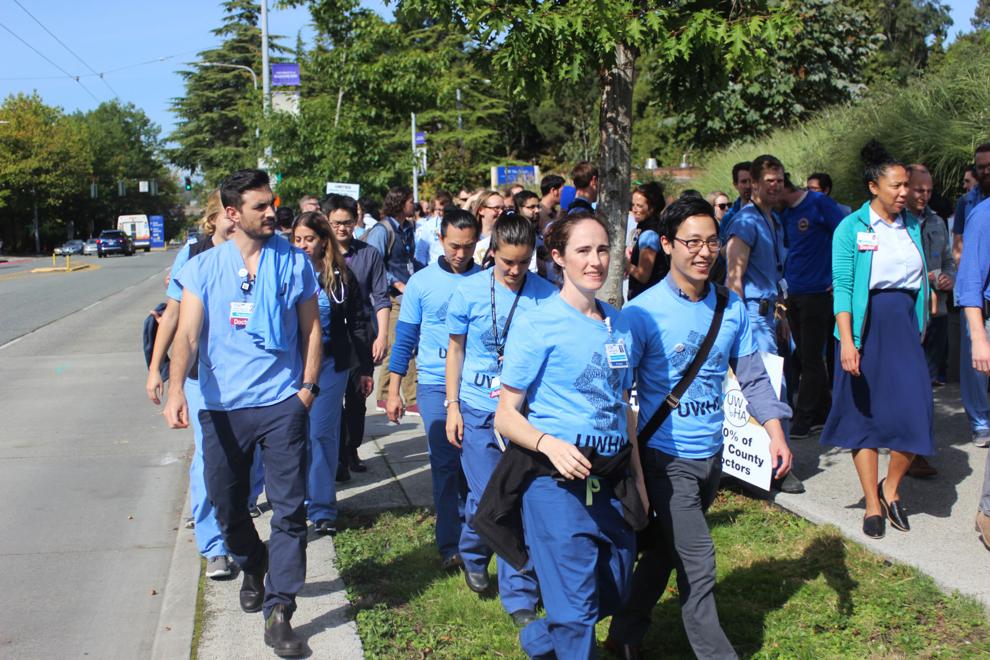 In blue scrubs and white lab coats, around 450 medical residents and fellows congregated outside the UW Medical Center and affiliated hospitals at noon Wednesday, Sept. 25, demanding that the UW meet national standards.
Residents and fellows left their posts for 15 minutes during a scheduled "Unity Break" walkout amid stalled negotiations between the UW and the UW Housestaff Association (UWHA) — the union for UW residents and fellows which was established to ensure adequate compensation and benefits. Residents of the UW Medical Center staff a number of hospitals and clinics around King County, making up 20% of doctors.
The union renegotiates terms with the UW every three years. This round of negotiations union members are pushing for benefits and pay that would bring them closer to what residents at other hospitals around the nation are receiving. UWHA is also asking for improvements to the safe-ride-home program and an increase to the child care fund.
"We've done a lot of data and research and when we look at our peer institutions across the country, UW residents are among the very worst paid residents in the country," Dr. Brandon Peplinski, one of the organizers of the walkout, said.
Dr. Peplinski noted that improved compensation would allow doctors to worry about their patients rather than worrying about being able to pay bills.
"Seattle has such a high cost of living in the city, that has been difficult for those of us to come out of medical school with typically six-figure debt to then be young adults and young professionals and establish ourselves," Sarah Kolnik, a resident from the Department of Surgery, said. 
Getting to the negotiation table in the first place was a struggle. Earlier this year, the university scheduled negotiations during regular patient care hours, meaning that patient care could be affected by doctors having to hand off their patients to other doctors who might not know their file as well. This differed from past negotiations, which were scheduled outside of business hours.
A compromise was made early this year, and negotiations were held from 3-7 p.m., meaning only part of the negotiations are during business hours.
Since then, the union and the university have sat down at the bargaining table ten times so far, their latest bargaining being Thursday, Sept. 26, the day after the Unity Break. Despite the attention garnered by Wednesday's walkout, the UW had no further changes to benefits to offer on Thursday, only offering minor changes to language.
"We had a good showing with a lot of residents who came to be at negotiations — I'd say 30 to 50 people came — and unfortunately, we still have not received any meaningful additional proposals from UW," Dr. Kisha Clune, the lead negotiator for the UWHA, said.
The proposals that the UW has given for things, such as compensation and leave, are either at or below the level of their previous contract, Dr. Clune said.
Clune noted that their lack of adequate compensation not only affects the doctors themselves, but also the public.
According to Dr. Clune citing UWHA research, resident doctors make about $12,000 less per year than residents at peer institutions when accounting for cost of living, making UW residents some of the lowest paid in the nation.
"We currently have an annual raise of 3% per year, and their proposal is to cut that down to 1% for two years, followed by 0%," Dr. Clune said. "Not only is that a cut from our current contracts, but it also doesn't keep up with inflation."
Dr. Clune noted that Seattle's high cost of living means the UW attracts people who can afford to live and work in the city. 
"That's not a very diverse population," Dr. Clune said. "We're worried about how that impacts patient care because the data shows — there's been research on this for decades now — that a more diverse medical provider population delivers better care."
The union is also working on a safety issue that impacts doctors, patients, and the general public. When a doctor has worked for over 16 hours, they are entitled to take part in the safe-ride-home program, which gives the doctor the option to find alternative transportation through a cab service or ride-share service such as Uber or Lyft.
"The purpose of it is that when you're scheduled every fourth night in the hospital to work a 28-hour shift, and some people, if issues arise with their patients, they're there a lot longer," Dr.
Clune said. "You don't have any breaks or sleep time guaranteed there, so you might have just worked 30 plus hours straight and you're not safe to drive home anymore."
Dr. Clune noted that many other medical centers have similar programs, where employees can have their cab or uber fare reimbursed with no questions asked. The UW, Clune stated, has been denying claims made by doctors if the ride was taken during the time that public transportation runs.
Another big issue UWHA would like addressed in increases to the child care fund. Currently, the university offers a $50,000 child care fund pool to residents. This fund is intended to offset the cost of child care, with approved parents receiving a portion of the fund.
"What that calculates out to is about two days a year of daycare [per applicant]," Dr. Clune said. "We calculated this based on data about average daycare costs in Seattle — or it pays for about 14 hours of nanny care."
The UW Medical Relations Director, Susan Gregg declined to be interviewed by The Daily. She instead referred to the negotiations recap page on the University of Washington's Human resources page. A recap from the most recent negotiation meeting has yet to be posted.
Reach reporter Jessica Strand at news@dailyuw.com. Twitter: @jessicastrand
Like what you're reading? Support high-quality student journalism by donating here.