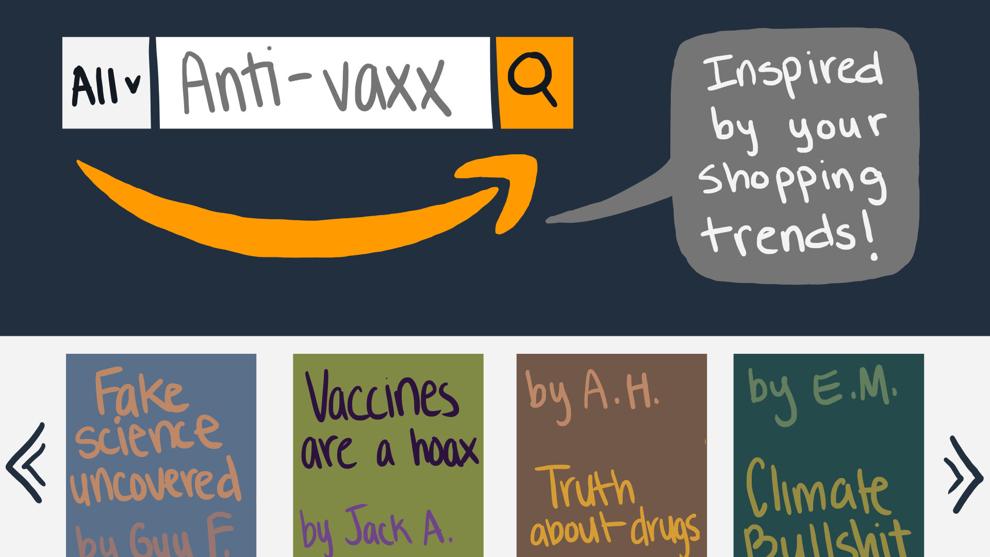 Since the onset of COVID-19, online health misinformation has multiplied; renewed attention on the anti-vaccine movement is causing health experts to worry that vaccine misinformation will lead people to refuse vaccination for the coronavirus and will ultimately undermine efforts to end the pandemic.
Amazon, the world's leading online retailer, is a "marketplace of multifaceted health misinformation" contributing to this ongoing crisis, according to a new study by assistant professor Tanushree Mitra and Ph.D. candidate Prerna Juneja, both from the UW Information School.
Amazon has faced previous criticism for failing to regulate health products on its platforms. Media outlets like NPR have reported on anti-vaccination content sold on Amazon, but researchers say this study is the first to empirically examine the prevalence of misinformation on the e-commerce platform.
Mitra and Juneja found that more than 10% of search results "promote misinformative health products." They also found evidence of ranking-bias, wherein the algorithm ranked misinformative search results higher than results that debunk myths.
"We found out that once users start engaging with misinformation on the platform, they are presented with more misinformation at various points in their Amazon navigation route," Juneja said. 
This is known as the filter bubble effect. Users are driven into a digital echo chamber, where they are primarily shown content that reinforces what they believe, because the algorithm is recommending content based on their past history. 
When users interact with a misinformative product but don't show any intention to purchase it, their homepage becomes more contaminated than that of users who show an intention to purchase the product by adding it to their cart.
Researchers also found that Amazon is sponsoring health misinformation products. One of the most recommended sponsored books, for example, is a misinformative paperback book titled "Vaccine Epidemic: How Corporate Greed, Biased Science, and Coercive Government Threaten Our Human Rights, Our Health, and Our Children."
These findings become even more concerning when considering that search engines are one of the most trusted sources of information, yet "the algorithm doesn't have any notion of veracity," Mitra said.
A banner advertising the Centers for Disease Control and Prevention's COVID-19 vaccination fact page was recently added above Amazon search results containing the word "vaccine," according to The Seattle Times. Juneja noted that the banner only links to information specific to the COVID-19 vaccine, yet conspiracies exist around vaccines in general. She said this change could be effective in the short term, but the long-term goal would be to break the echo chamber.
"We provide our customers with access to a variety of viewpoints," an Amazon spokesperson said in a statement emailed to The Daily. "Our shopping and discovery tools are not designed to generate results oriented to a specific point of view."
Diverse points of view are valuable for matters of opinion, according to Mitra, but not when there is science behind what is and isn't accurate. 
"If you're feeding people incorrect information through your product searches ... there are no two sides to that point of view," Mitra said.
On the same day the report was published, Amazon announced a partnership with Virginia Mason Medical Center to host a pop-up COVID-19 vaccine clinic on Seventh Avenue, joining several other local corporations that plan to assist with local vaccine distribution. As of Feb. 4, Amazon has taken no additional actions to prevent the spread of health misinformation on its platform. 
Reach reporter Isabella Brown at news@dailyuw.com. Twitter: @isabellagbrown
Like what you're reading? Support high-quality student journalism by donating here.