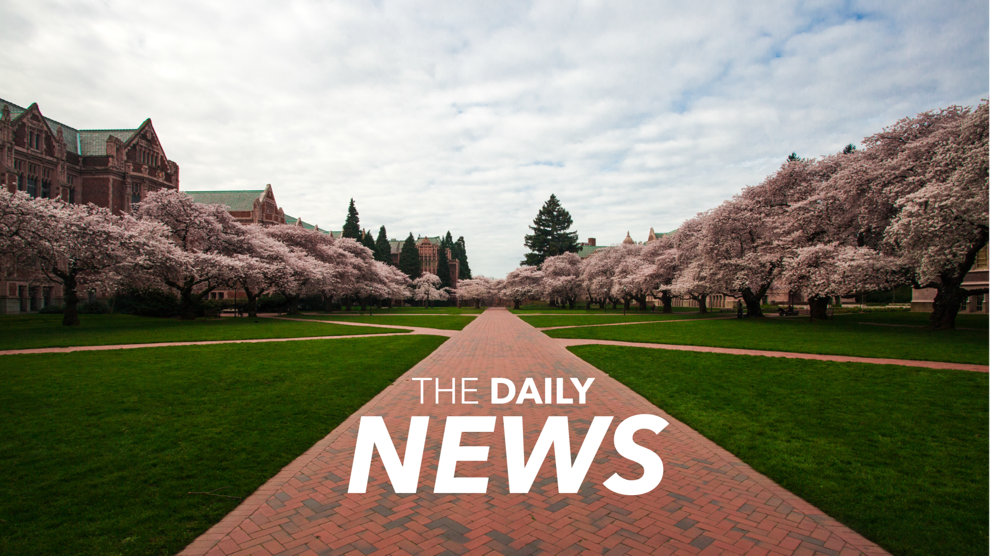 Due to the novel coronavirus outbreak, classes at the UW starting on Monday, March, 9, will no longer be held in person for the remainder of winter quarter, the university announced Friday morning.
Finals will also not be held in person as a "precautionary health measure," according to the message.
"Our campuses will remain open to serve all those who rely on our services, including hospitals and clinics, dining services, residence halls, and recreation and athletic facilities," the announcement from President Ana Mari Cauce reads.
Athletic events will proceed as scheduled.
This makes the UW and its 50,000 students across three campuses the first large university to move to online classes out of anxiety over the coronavirus.
At the same time, a staff member in Roosevelt Commons East became the first UW community member to receive a presumptive positive test for COVID-19, the disease the coronavirus causes, the university announced separately. Four others were screened weeks ago but tested negative.
Cauce said at a press conference Friday that the decision to end in-person classes was made before the university knew about this case.
The building, an office space located in the 4300 block of 11th Ave, has been closed until further notice for cleaning. People who were in close contact with the ill employee are being asked to stay home for two weeks since their last close contact with the staff member.
"Because of the circumstances, the risk to the broader Seattle campus community from this case is believed to be low," a Friday morning message from the university's Advisory Committee on Communicable Diseases (ACCD) reads.
The staff member, who was last in the building Feb. 24, 27, and 28, is self-isolating at home. Dr. Geoffrey Gottlieb, who has helped lead the UW's response to the coronavirus as the interim chair of the ACCD, said at the press conference he doesn't think any students had "direct, significant contact" with the ill employee.
The presumptive positive test was made using the UW Medicine's virus screening that started this week and has the capacity for about 1,000 tests a day, a marked increase in the state's ability to find coronavirus patients. Health officials will confirm the test.
The school plans to resume normal class operations on March 30, the day spring quarter begins. This is subject to change depending on guidance from health officials.
History professor Margaret O'Mara video recorded her Thursday afternoon lecture as she had a lingering cough and felt like she was freaking people out teaching earlier this week. She planned to return to in-person classes next week, but that's no longer an option. Online resources, such as Canvas, Panopto, and Zoom, will likely blunt the effects of the transition to fully online classes.
"You didn't know you're going to an online school, but you are," O'Mara said. "Out of necessity, it's great we have this to fall back on."
O'Mara called the move to stop in-person classes a "wise decision given the evolving situation."
"This is one moment when our quarter system really is fortuitous, given that much of March will be taken over by finals and spring break, giving us time to prepare for either a resumption of regular classes—or a new online reality—in Spring Quarter," O'Mara said in an email.
Senior Taylor Evans said Thursday evening that moving to online classes for the last couple weeks would be smart.
"It'd be a way to encourage self-isolation which could protect a lot of students and faculty," Evans said.
Part of the concern over moving fully online, however, was for classes in which assignments and tests can't be done remotely, like a performance or lab session in STEM classes.
"In some cases, when the nature of the class is not suited for remote delivery, other options, including submitting grades based on work conducted to this point, may be used," Cauce said in the announcement. "Our goal is to make sure that your academic work is fairly recognized and that any disruption does not present any disadvantage to your future academic progress, including admission to your preferred major in the months or years to come."
The decision comes amid pressure from students and others at the university to either suspend classes or give campus-wide guidance to faculty on how to move forward with their courses. An online petition to close campus started Sunday night has now drawn over 26,000 signatures.
The university has been making changes as the outbreak has spread across the globe. After an increase in cases in Italy last weekend, for example, UW Study Abroad suspended all programming there on Monday. And many classes have been moving online already, with the help of a new $200,000 license the university got with Zoom for video conferencing on Wednesday.
Many university-related events have also been cancelled in the past few days. The Gaming Association at the UW cancelled HuskyX, an expo set for Saturday that the group expected would have more than 1,500 attendees. A string of nighttime lectures across campus were also cancelled or postponed.
Washington has quickly become the epicenter for the virus in the United States, with The Seattle Times reporting 15 deaths statewide.
Reach News Editor Jake Goldstein-Street at news@dailyuw.com. Twitter: @GoldsteinStreet
Like what you're reading? Support high-quality student journalism by donating here.