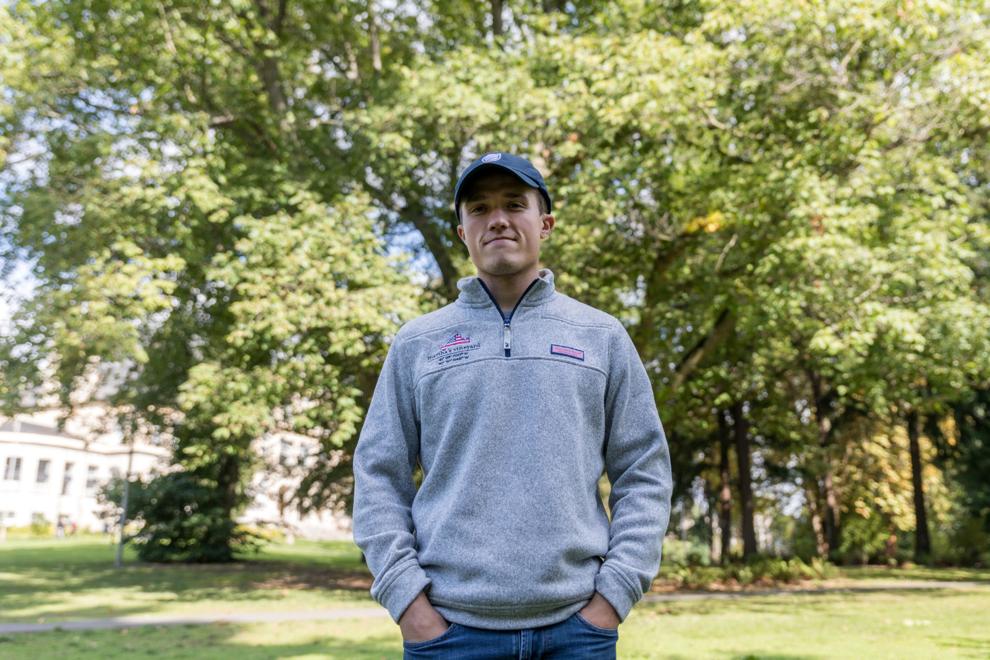 In September, senior Benji Backer testified before the U.S. House of Representatives alongside climate activists Greta Thunberg, Vic Barrett, and Seattle native Jamie Margolin. Congress invited Backer to testify on behalf of the American Conservation Coalition (ACC), an organization that he founded and is currently the president of. And while he shares the distinction of being a young environmental activist with Thunberg and the other witnesses, he was unique in being the only young conservative to testify.
Active on over 180 college campuses nationwide, the ACC is a national nonprofit organization focused on engaging conservatives on environmental issues and pushing for bipartisan action. 
"I think what a lot of college students don't understand about the political realm is that there is actually way more agreement among people who are Democrat and Republican than they think," Backer said. "You know, most Republicans and Democrats care about the environment." 
In his testimony, Backer emphasized the need for American leadership to combat climate change and advocated for increasing funding for research. He pushed for clean energy solutions and diversified domestic energy production. Additionally, he urged Congress to consider exporting American clean energy technology to developing nations to help them transition away from fossil fuels.
The roots of Backer's political activism stem from the 2008 presidential race. At the age of 10, Backer decided he was a conservative while watching the then-Senators Barack Obama and John McCain debate. By the age of 14, Backer was deeply involved in the politics of his home state, Wisconsin. During the 2012 election, he made 22,000 phone calls as a volunteer. According to Backer, that was the most of any volunteer statewide.
He rose to national prominence, appearing on Fox News and speaking at the Conservative Political Action Conference in Washington D.C. in 2014. Despite this rise, Backer decided to take a break from politics his senior year of high school and eventually re-engaged in college with an eye on having a more positive impact.
"I was a part of a very divisive political culture," Backer said. "Hammering on Obama, hammering on, you know, whatever. I looked back on that and that's not productive."
During Backer's freshman year at the UW, he took an environmental entrepreneurship course that inspired the pairing of his political acumen and a lifelong love for the environment. Less than a year later in 2017, Backer founded the ACC with a focus on free-market environmental solutions. 
"If you searched 'conservative Republican environmental' on Google in 2015 or 2016 there was nothing," Backer said, emphasizing the importance of the ACC as an outlet to engage young conservatives who care about the environment. 
Since its creation two years ago, the ACC has found a foothold on the center-right. The organization has been active in endorsing candidates, lobbying for various policies, and attracting young conservatives on college campuses around the country. 
"It's important for us to become a part of this national conversation in order to truly protect our environment and our natural resources for our children, our grandchildren, and our great-grandchildren," Jack Pickett, the executive vice-chair of the Washington College Republican Federation, who works alongside the ACC, said. 
"If you want to find someone who is passionate and wants to be active and really wants to make a difference, there's no better place to look than for young people on college campuses." 
While the UW is technically not an official ACC campus, the ACC has worked with Pickett and other organizations on campus. According to Backer, the ACC has spoken with several green groups on campus, partnered with both the College Democrats and the College Republicans for events, and worked in other official capacities with the university. 
One major initiative the ACC helped spearhead at the UW was the #HuskiesforSalmon petition drive in May 2018. The petition was in support of national legislation to promote the protection of salmon in the Pacific Northwest.
In the one-day petition drive, the ACC collected over 630 signatures on the UW campus. The petition was sent to every member of the Washington, Oregon, and Idaho congressional delegation, as well every member of the Washington state legislature. According to Backer, the ACC received a lot of positive feedback and support from both Democrats and Republicans. 
In December of 2018, S.3119 - Endangered Salmon Predation Prevention Act was passed into law with the support of every member of the Washington, Oregon, and Idaho House delegations.
Backer and the ACC push for more incremental legislation that garners bipartisan support. Rather than fighting for the Green New Deal, Backer believes that advocating for policy changes piece by piece can significantly curb the effects of climate change and protect the environment.
"There's too much division in this country to pass one massive piece of legislation, and I think you have seen that time after time after time," Backer said, expanding on his congressional testimony. "The last big piece of legislation was Obamacare [in 2010]." 
Backer believes that the rhetoric around climate change must be transformed. He argues that the conversation cannot declare that something like the Green New Deal is the only solution, as he believes it is too partisan, too difficult to implement, and too large of a government policy.
"You have got to start with these small scale wins," Backer said. "For a long time we have heard 'X bill' doesn't do enough for climate change and it doesn't get passed because it doesn't do enough, but then we're stuck with nothing."
Backer sees the challenge of climate change as an opportunity to bring people across partisan and generational lines to support step-by-step policy solutions that protect the environment.
"Every time we have had a problem in world history that has been solved, we came together as people," Backer said.
Reach reporter Thomas Newman at news@dailyuw.com. Twitter: @thomasn456
Like what you're reading? Support high-quality student journalism by donating here.