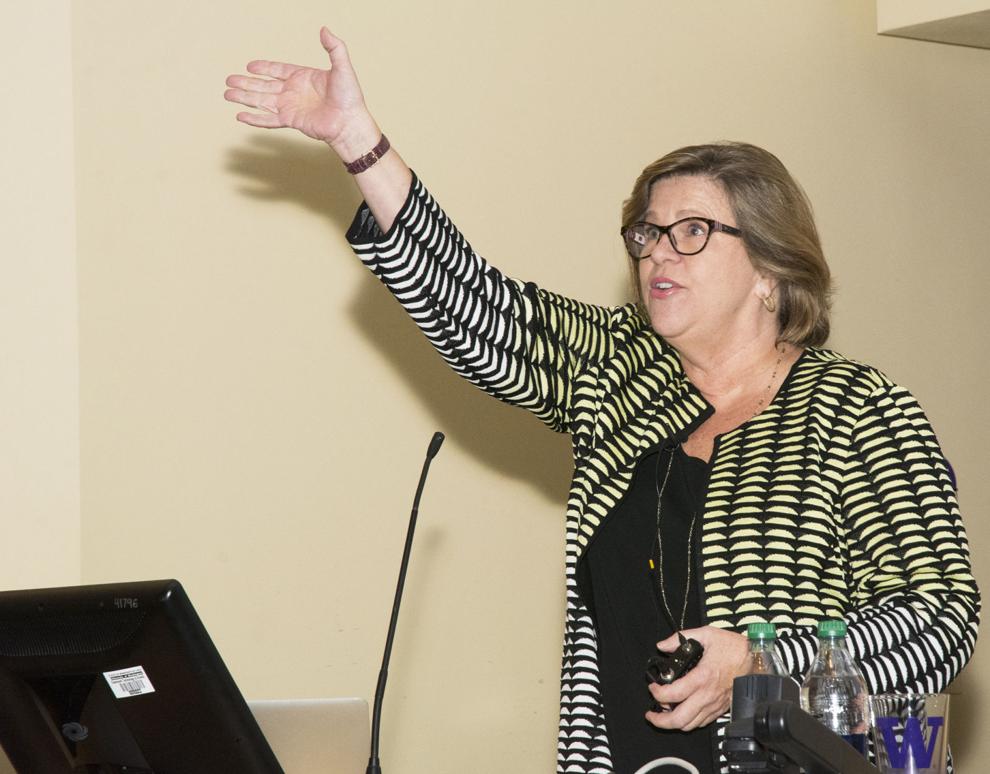 "Substantive, engaging, provocative." That is how professor Patricia Moy, the assistant vice provost for Academic Student Affairs, predicted how professor Renee Hobbs' lecture would be. Moy, who nominated Hobbs for the lecture position, was right on target.
Hobbs spoke at the UW on Nov. 28 to close the Graduate School's autumn lecture series. The eight-week series, called BUNK: The Information Series, was the outcome of an initiative on fake news, originally architected by former UW Provost Jerry Baldasty. The lecture series discussed questions around what it means to be "informed" in the current age of misinformation and ever-changing news. The series also featured big names like Ronan Farrow and Kevin Young, yielding sold-out lectures and rave reviews.   
Hobbs is a leading expert on media and digital literacy, the founding director of the Harrington School of Communication and Media at the University of Rhode Island and founder of the Media Education Lab, an organization that aims to improve media literacy and promote discourse about propaganda.  
Hobbs' lecture, titled "Mind over Media: Teaching About Propaganda," focused on how to better identify, analyze, and teach about propaganda. She believes students are often poorly taught that propaganda is an easy-to-identify, often historical occurrence when in reality, the relationship between propaganda and information is "fluid," and propaganda surrounds us today.
"[There is a] false idea that if you can spot propaganda, you are immunized from its pernicious effects," Hobbs said.
In an era with both an abundance of different information outlets and increasing misinformation, Hobbs argued that it is especially important to realize this falsity.
"Messages are always selective and incomplete," Hobbs said in an interview after the lecture. She explained that biases are unavoidable across all arenas of communication.
According to Hobbs, the way such biases are recognized (or not recognized) is dependent on the consumer and interpreter of the media. While one person might consider it propaganda, another might consider it entertainment or information. This, she argued, is why propaganda is so confusing and has the power to be so harmful.
Hobbs gave examples of propaganda in a variety of forms: advertisements, entertainment, and creative content. Propaganda is hidden everywhere, she said, and we are often blind to it if we believe in its mission.
Even in journalism, Hobbs believes, propaganda is present. "Media amplifies propaganda rather than transmitting it," she said.
The lecture was dynamic and interactive, consistent with Hobbs' efforts to model media literacy practices and promote dialogue about media. Hobbs included many memes and short video clips as examples of propaganda in her presentation and asked audience members to discuss such examples with one another. She also brought an iPhone-shaped handout which elaborated on ways to analyze propaganda and helped audience members think more about where propaganda might hide in their own media consumption.
"I need to ask who told the story, what was the purpose, and what information is missing," Amrei Mandel, an attendee and researcher at Seattle Children's Research Institute, said.
After discussing the many ways that propaganda is constantly present and can be potentially harmful, Hobbs closed her lecture with the counterargument that propaganda can, in fact, be beneficial. She gave an example: A heart-warming advertisement produced by a Danish television network that aimed to stop judgement and help people realize their similarities.
Hobbs believes that in the current moment of tension and division, propaganda, more specifically, discussing and analyzing it at an early age in school, has immense power. It can bring us into "depolarizing conversations about controversial topics." It can lead us to be more culturally curious and globally aware.
"Propaganda is the cause and the cure for our polarized and fearful world," Hobbs said.
Reach contributing writer Clara Yardley at development@dailyuw.com. Twitter: @clara_yardley
Like what you're reading? Support high-quality student journalism by donating here.