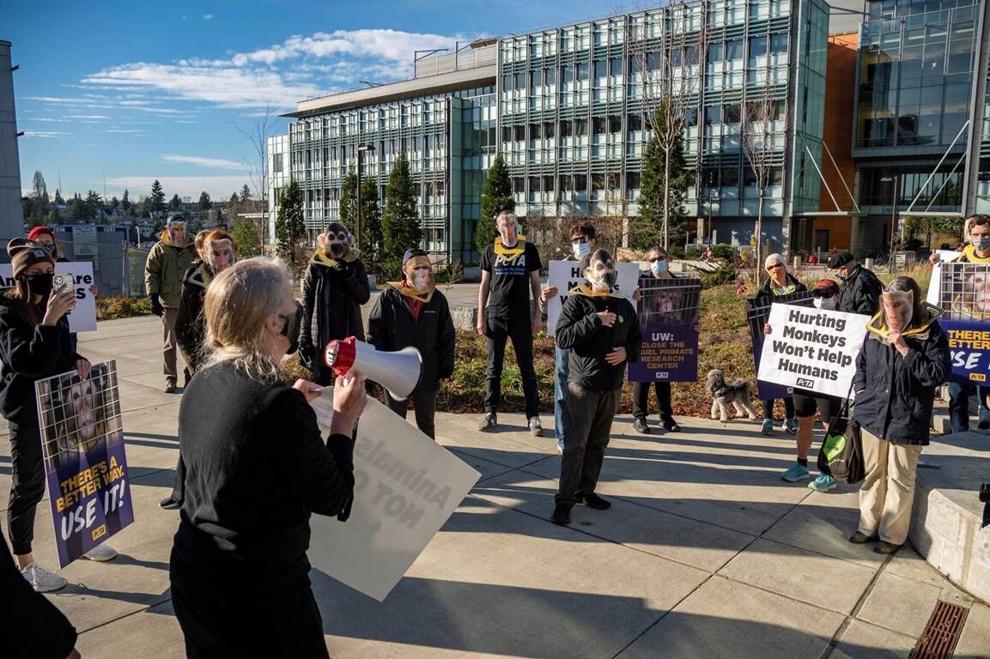 The People for the Ethical Treatment of Animals (PETA) nonprofit filed a lawsuit against the UW last month in an effort to compel the university to turn over records as required by Washington's Public Records Act. 
PETA's lawsuit claims that the UW has refused to hand over records and documents associated with the experimental use and breeding of primates at its Washington National Primate Research Center (WaNPRC). The lawsuit is also pursuing documents about the membership of the university's animal experimentation oversight committee. 
"UW's course of conduct of disregarding PETA's requests and in willfully depriving PETA of records responsive to its Requests was without justification and in bad faith," the lawsuit claims.
In a statement, a spokesperson for the UW said the university strives to comply and respond to record requests in a timely manner, but depending on the length of the request, it takes longer to reply to. 
"As a large organization who receives a high volume of public records requests, gathering pertinent information can be complex. Depending on the complexity of a request, we may release all documents at once or provide partial releases over time," the spokesperson said in a statement. "PETA's requests for public records have been handled consistently with the university's longstanding practices." 
As part of the request, PETA is looking for documents that detail the UW's decision to purchase a "rundown, contaminated facility in the Arizona desert, where the WaNPRC has been breeding an endangered species of macaque" for use in research, a PETA press release alleges.
The request for documents detailing the WaNPRC's financial, leadership, and veterinary crises are an effort to demonstrate how these failings led the National Institutes of Health to restrict the WaNPRC's funding, the press release says. 
According to the lawsuit, PETA is pursuing these documents in an effort to "educate the public and to hold UW accountable for its cruel and abusive conduct toward animals."
In a letter to PETA senior vice president Kathy Guillermo, UW President Ana Marie Cauce said that the university research teams utilize non-animal testing first, but in some cases, animal testing is vital, such as in vaccine trials. 
Cauce also noted respect for PETA's position on animal testing in the letter but condemned their aggressive tactics. 
"PETA has a right to their position, and I respect that. What I do not respect are PETA's tactics. PETA fundamentally misrepresents our research and animal care and ignores that this research is transparent and heavily regulated," Cauce said in the letter. "PETA also routinely resorts to harassment of University staff and faculty who have dedicated their lives and careers to improving [the] health of our communities while upholding our high ethical standards and animal welfare."
The lawsuit comes after several other complaints from animal rights watchdog groups, most notably Stop Animal Exploitation NOW!, which also attempted to compel the university to release documents surrounding the use of animals in experimentation. 
UW labs have been accused several times of wrongdoing. Prominent claims include the mistreatment of rats and mice in euthanasia practices, bashing a ferret's head, and the death of a monkey from asphyxiation. 
"UW has no problem using public funding but balks at telling taxpayers exactly what they're paying for," Guillermo said in the aforementioned press release. "PETA is demanding the legally required release of these records, and we'll see the university in court."
The university says it has received PETA's lawsuit and is developing a response. 
Reach reporter McKenna Zacher at news@dailyuw.com. Twitter: @mckennazacher
Like what you're reading? Support high-quality student journalism by donating here.