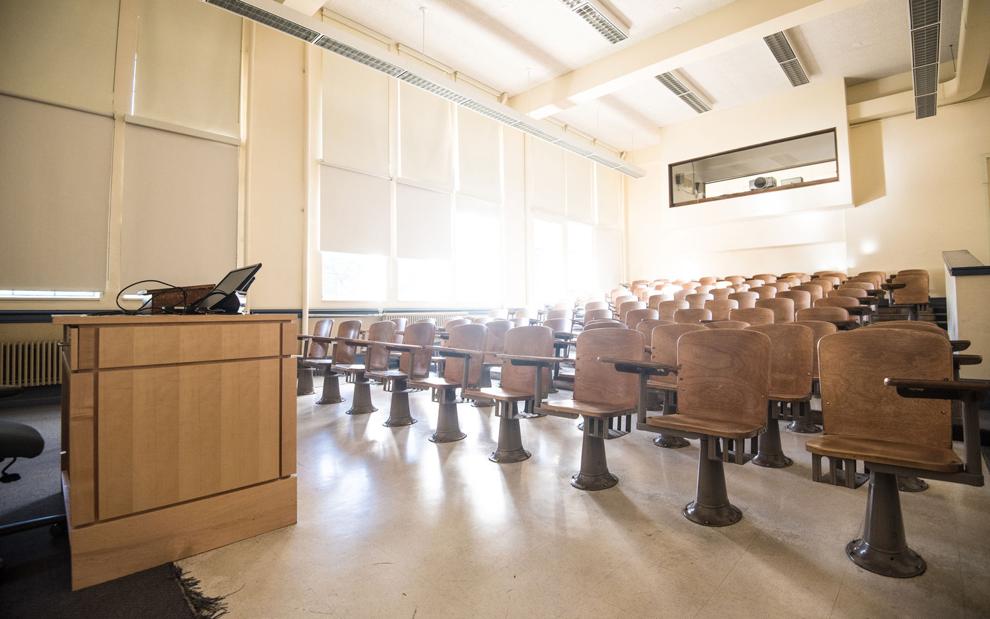 Dr. Jeff Duchin, health officer for Public Health — Seattle & King County, joked at a 17-person panel at the UW on Feb. 19 that "we have more experts here tonight than we have cases of coronavirus in the U.S."
Novel coronavirus had, perhaps understandably, seemed like a far-away problem for weeks. There were tens of thousands of cases in China, just one in Snohomish County, and the few UW students feared to have the virus tested negative. It wasn't the top issue on every student's mind in late February.
Until it was.
It was a little after 9 p.m. Sunday, March 1, and The Daily was just finishing production on its paper that hit stands across campus the following day when a student sent an email alerting the newsroom of an online petition to close the UW's campus amid fears of coronavirus. Within an hour, it had 2,000 signees; 5,000 in three hours. 
By Wednesday afternoon, more than 21,000 people had signed the petition which seemed at that point to some more like a bunch of students trying to get out of going to class than something borne out of legitimate anxiety to a virus that could essentially shut down our state, not to mention our university.
But by the end of that whirlwind week, the students' call would be heeded as President Ana Mari Cauce moved classes online for the last couple weeks of the quarter with the plan of coming back to in-person instruction come spring quarter. At the same time, the university community also had its first positive test for the virus in an employee at a nearby office space.
To begin the month, there were just a dozen or so cases and the country was just starting to learn of community transmission of a virus officials previously believed could be blunted simply through minimizing travel from China. Phrases like "social distancing" and "flatten the curve" had not yet entered the lexicon.
In the following four weeks, which have felt more like months to some, we would see essentially every sporting event in America canceled, classes moved online for months, dozens of cases of the virus on our campus, the economy in intense turmoil, and broad swaths of the country under lockdown.
"This has been a transformative month, hasn't it?" history professor Margaret O'Mara said in an email. "So many lives disrupted." 
'The hair on the back of my neck was sticking up'
Steven Charvat, the university's longtime emergency management director, was responsible for coordinating all anti-terrorism planning for the District of Columbia Emergency Management Agency in the nation's capital during the Sept. 11, 2001, attacks and their aftermath.
He came to the UW in May 2003 fresh off that work to lead the school's emergency management operations and has been doing so ever since.
Charvat was in Japan in February to give a speech on earthquakes as a cruise ship ravaged by the virus that hadn't yet shown its full self in the United States made its way to the coast. 
"The hair on the back of my neck was sticking up," he said.
Two days before Cauce made her announcement to move classes online for the remainder of winter quarter, the university's Emergency Operations Center (EOC), led by Charvat, was virtually activated at 3 p.m., according to UW spokesperson Victor Balta.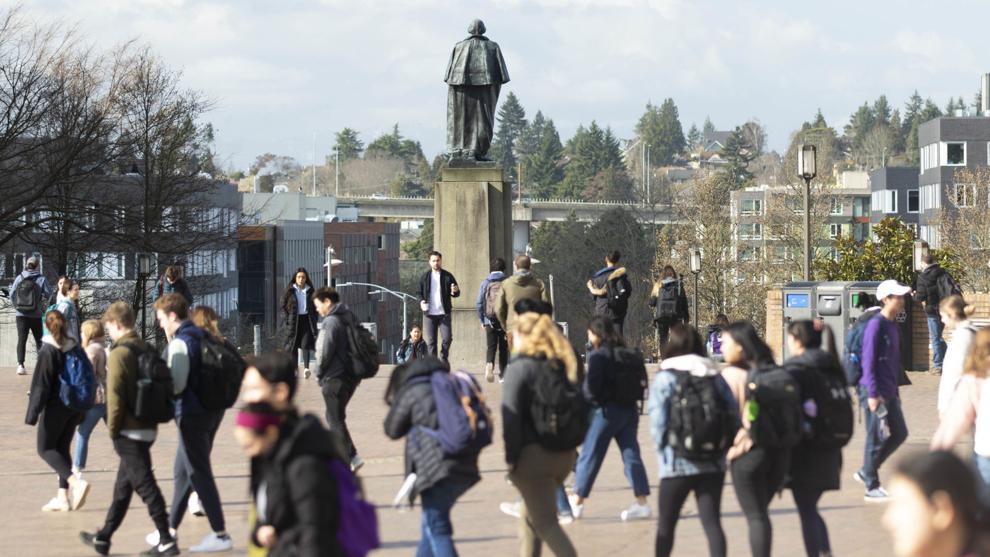 "This new operating model is intended to be a gathering point for information across the university and a resource for coordinating logistics and support assets that can be made available to the UW in the wake of a situation such as this one," Balta said. 
The EOC, which serves as a gathering point for about 120 department representatives from across the university, ranging from UW Medicine to the UWPD and building inspectors, also helps the university coordinate with agencies around the region to address the outbreak, Balta said. It produces a daily situation report that gets sent out by 11 p.m. each night. 
Charvat says he's been working until midnight or 1 a.m. every night only to be back on the job, remotely or in the office, at 8 a.m. the next morning. Still, he says this central coordination point isn't meeting its full potential as many of those representatives haven't been participating.
"We have a big jigsaw puzzle here with corona, but we're missing half the pieces," he said. "We're connecting dots but it's not being done in the way that was planned."
The EOC is often activated for winter storms, protests, and every home football game, but at a scaled down level. Two years ago, it was activated 13 times, according to Charvat, and 11 times last year.
Part of the problem now, Charvat said, is that there are nearly 30 new representatives unfamiliar with the system: "It's like getting a brand new car and not knowing how to drive it."
'A profound sense of loss' 
In the days leading up to the university's announcement to move online March 6, the UW's administration was in constant communication with health officials as they debated whether to continue in-person learning amid increasingly stringent social distancing guidelines.
Public health experts told the university it would be "nearly impossible" to get to the end of winter quarter without a positive test from a community member, according to Denzil Suite, vice president for student life. They were eventually told that the best course of action would be to reduce in-person meetings that could foster the spread of the virus.
"We were then presented with two choices, action or inaction. We clearly chose action," Suite said in an email. "I would say that it was certainly not an easy decision, but it felt like it was the right one."
The UW was quickly followed by hundreds of schools across the country that fell like dominoes in favor of remote instruction as the virus was starting to rear its head, which Suite took as confirmation that they made the correct move.
That's not to say it wasn't a bumpy transition. Given little time to prepare for the switch, professors and departments across campus quickly moved class meetings online and reworked final exams, set to be held just over a week later, for an online format.
Class was put in flux and with it our day-to-day socializing with classmates.
At the beginning of this month, we were sitting side by side in lecture halls. Now, those buildings are shuttered and we isolate in our dorms, apartments, and houses. Refrains about Seattle becoming a "ghost town" quickly turned true, especially on the UW's campus where the Quad was scarcely populated despite the bloom of the famous cherry blossoms. Face-to-face interactions have been substituted for video conferencing.
Suite says that while the Student Life office is still in touch with students, "it is not the same."
"It is hard to describe my feelings when the decision was made to go to remote learning," Suite said. "I would say that it was a mix of feeling a profound sense of loss for the traditional campus experience, while simultaneously knowing that we were doing the right thing for the UW."
'Light at the end of the tunnel'
Dr. Judith Wasserheit, an infectious disease specialist who worked for 10 years at the Centers for Disease Control and Prevention on sexually transmitted diseases, said she had expected coronavirus to emerge in the United States ever since early reports of the virus in China in January. So it really hit home when the first confirmed case of COVID-19 in the country was found just north of Seattle that month.
"The eagle has landed," Wasserheit, who chairs the UW's global health department, said. "It's here and it's probably already been spreading."
Just a week or so later, a trio of students were being tested for the virus, the first sign that it may have infiltrated university community. Suite said in an email that was the moment, even though they all tested negative for the virus, "we knew that it would just be a matter of time before we would have a confirmed case on campus."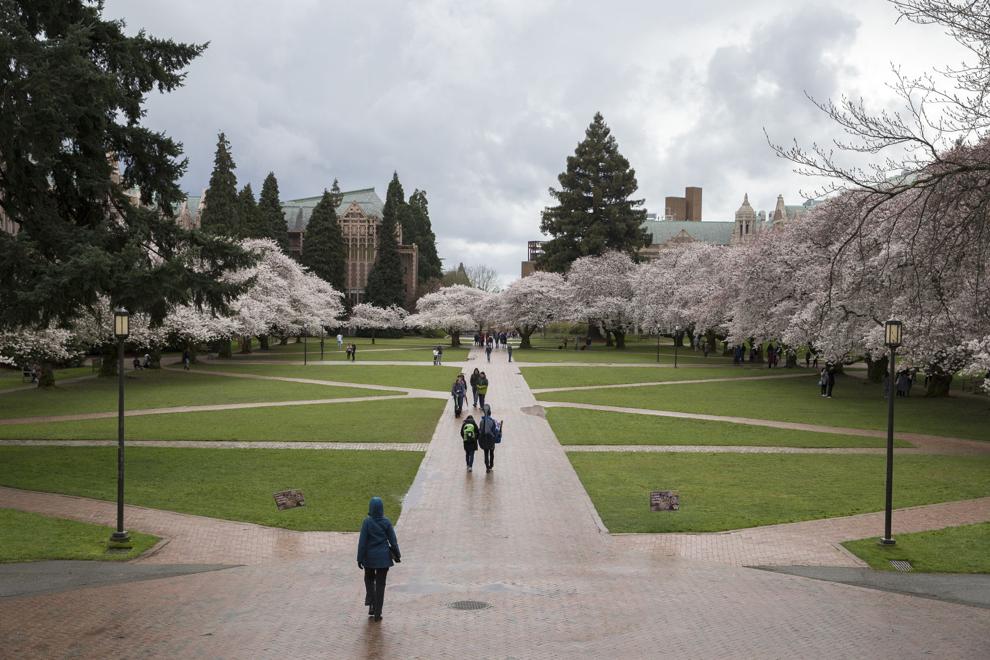 That moment came March 6 when the UW, just after moving online for the rest of winter quarter, also announced one employee had tested positive. The next few cases trickled in — a graduate student living in Mercer Court apartments, a Lander Hall resident, a student employee and their roommate — before new cases would be announced almost everyday by the UW's environmental health & safety department. Then in a six-day stretch in mid-March, 17 people affiliated with the university received positive tests.
Many of the case descriptions have read similarly: the person is self-isolating and recovering at home, a sign the virus wasn't necessarily life threatening. But that changed when a longtime pathology department faculty member, Dr. Stephen Schwartz, died on March 17 after being hospitalized with COVID-19. A giant in his field had been claimed by the virus.
As of Sunday, there were 37 cases in the UW community, all but one of which is on the Seattle campus.
Meanwhile, there was a glimmer of hope last week that social distancing efforts county and statewide looked like they may be paying off as daily case counts weren't rising in the exponential way some had worried. Modeling by the UW's Institute for Health Metrics and Evaluation projects a mid-April peak for deaths per day and resources used, but Wasserheit says if the state pulls back on restrictions, there could be a second wave in the fall or winter.
"The good news, I think, is that there is light at the end of the tunnel," she said, noting treatment trials already underway. Suite said a possible resurgence of cases without as much social distancing was behind the decision to also move all of spring quarter online.
Americans and Seattleites are going to get through this, Wasserheit notes, but long term action — months rather than weeks — is needed to blunt the health catastrophe. President Donald Trump, on the other hand, had hinted at getting the country back up and running by mid-April before extending social distancing guidelines through the end of the month. 
"The notion that this is going to be over by Easter, you gotta be smoking something to believe that," she said, adding she would need a "crystal ball" to say when life might again look normal, whatever that means.
'This is going to change our world'
The virus has quickly touched all of us, from parents desperate for child care and researchers pushing back vital work to students losing jobs and community members losing loved ones.
"We all find ourselves in an unprecedented situation," Joy Williamson-Lott, dean of the Graduate School, wrote in a March 18 message to postdocs and graduate students.
It can be easy to forget how quickly things have progressed. Within about four days in the middle of the month, Washington went from K-12 school closures in three populous counties, to closures across the entire state, before then shutting down all restaurants and bars. Lives were turned upside down and jobs were quickly lost. 
A week later, the governor ordered everyone to stay at home.
It's shaping up to be this generation's 9/11, says Charvat, the emergency management director.
"This is going to change our world," he said. "We're in the midst of it now but every citizen will come out of this with a new normal."
Wasserheit, who called it the "COVID-19 pandemic earthquake," says her 26-year-old son has been doing her grocery shopping, but he's really worried about his friends who have asthma, diabetes, or other underlying health conditions that put them more at risk of serious complications from the virus. People will increasingly know someone affected by the virus, she notes, whether it be an infected relative or a friend, as in her son's nightmares. 
By Sunday, Washington's coronavirus caseload alone was more than 280 times the number of panelists on that February night in Kane Hall when experts tried to assuage fears of the virus. 
What about the entire country's confirmed cases? Over 8,000 times.
Reach News Editor Jake Goldstein-Street at news@dailyuw.com. Twitter: @GoldsteinStreet
Like what you're reading? Support high-quality student journalism by donating here.