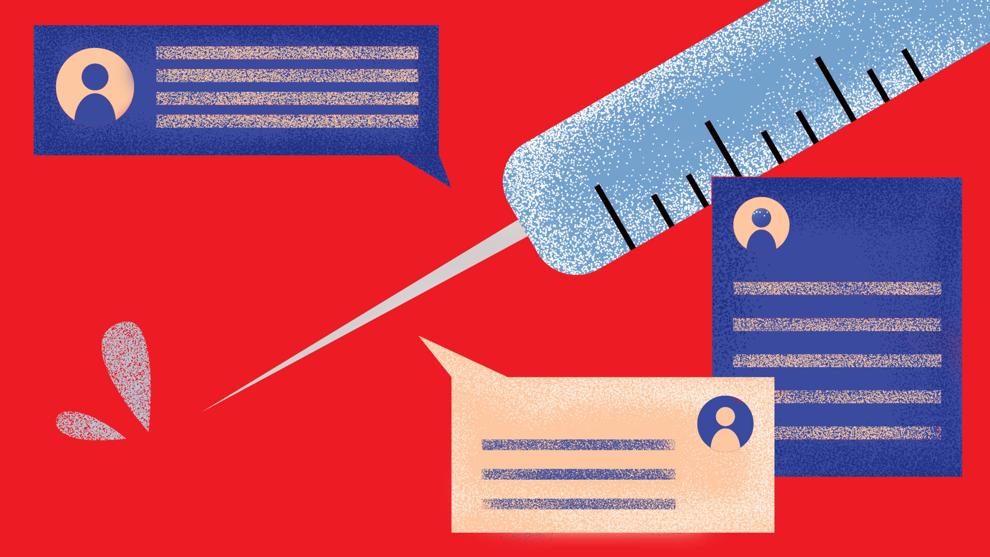 From cute baby photos, holistic treatments, and parenting tips, to articles from notorious anti-vax organizations, there are a variety of posts that circulate through anti-vaccine social media groups. 
Kolina Koltai, a postdoctoral scholar at the iSchool's Center for an Informed Public, conducts research with a focus on the social media anti-vaccine movement and the role online communities play in facilitating these conversations. 
According to Koltai, since the introduction of various COVID-19 vaccines, there has been an increase in activity in anti-vax communities, as well as the emergence of a new vaccine hesitancy in the general population.
"The anti-vaccine movement isn't anything that's new," Koltai said. "As long as there's been vaccines, there's been people who didn't want to take them."
While it isn't new, the combination of major social media platforms and dedicated anti-vaxxer activists have allowed for the movement to grow even larger than before, according to Koltai. 
In terms of the COVID-19 pandemic, people are becoming more exposed to anti-vaxxer content and becoming vaccine-hesitant. Koltai noted that, at the same time, some of the past anti-vaccine narratives are being repackaged to be specific to COVID-19. 
Koltai had access to some of these groups, each with hundreds of thousands of active members. Among their posts related to the efficacy of the COVID-19 vaccine were claims that it can cause miscarriages or give people Bell's palsy, which, Koltai stated, is not true. 
Most of these "credible" articles or sources that come up multiple times in the online communities come from notorious anti-vaxxer organizations like America's Frontline Doctors, The Truth About Vaccines, and Informed Choice WA, which conducted a study about vaccinated and unvaccinated children that Koltai says is misinformative due to skewing of numbers between the two groups.  
Koltai said that the main reason people join these anti-vax groups is to find information. Vaccine-hesitant people find it hard to acquire information through normal internet search engines and may experience shunning from people for questioning vaccine efficacy altogether. 
"I often tell people, 'You come for the information, but you stay for the people,'" Koltai said. "You find this whole community in which you're able to share concerns, share sources. You have the same sort of values and worries about wanting to make sure your kids are healthy and safe." 
While Koltai's primary source of research is Facebook, she says that there is anti-vax content on every social media site. 
Even people who considered themselves to be pro-vaccine before the pandemic are now experiencing hesitancy. An AP-NORC poll found that one in three adults in the United States expresses hesitancy to take the coronavirus vaccine. 
"There's a lot of people that have the potential to be anti-vax or vaccine-hesitant," Koltai stated. "They just have never been exposed to that content before." 
So, how dangerous are anti-vax online communities to the general public? Wariness of the COVID-19 vaccine can cause adverse effects, potentially reducing net vaccine efficacy by preventing herd immunity from occurring.
Koltai expressed that these sentiments can be explained by how quickly the vaccine was produced, which people tend to associate with being poorly made. Past vaccines also had years of research to reassure people of their efficacy, which the COVID-19 vaccine currently lacks. 
The COVID-19 vaccine has, however, been clinically tested and approved by the Centers for Disease Control and the Food and Drug Administration. 
"If anything, it's one of the more well-tested vaccines before it goes out to the market," Koltai said. 
Reach contributing writer Jadenne Radoc Cabahug at news@dailyuw.com. Twitter: @jadennecabahug
Like what you're reading? Support high-quality student journalism by donating here.