The University of Washington College Republicans were expecting protests at Milo Yiannopoulos' speech to be hectic.
The controversial Breitbart News Network editor, whose offensive remarks have been called sexist and racist and have gotten him suspended from Twitter, was scheduled to speak to a group of 700 in Kane Hall on Friday night. It would have been one of the larger audiences on his "Dangerous F-----" college speaking tour.
Friday's Protests
Instead, clashes erupted between police, self-proclaimed Anti-Fascism (Antifa) group members, and others at the protest in Red Square. In addition to one man being shot, protesters threw bricks, shards of rocks, fireworks, and a paint filled balloon into the crowd and at police, and small fights broke out sporadically as the night went on. Most of those violent protesters did not appear to be students or have any UW affiliation whatsoever, and many of those attacked appeared to be President Donald Trump and Yiannopoulos supporters, one of whom was a high school senior.
Tension surrounding the event had been slowly building all day, due in part to earlier protests of Trump's inauguration that morning. However, until later in the afternoon the protests had been almost entirely peaceful, as anti-Yiannopoulos and anti-Trump protesters chanted and waved signs from behind the lines of people waiting to get in to Kane.
Students who lined up to see Yiannopoulos speak expressed a desire to hear an alternate viewpoint, while protestors expressed a desire to unite against hateful speech.
Lucy Kruesel, a graduate student in the College of Education, held a sign that read "Milo: let's talk!" She, like many other protestors that afternoon, wanted Yiannopoulos to explain his arguments without relying on characterizing "the left" or "the right."
"I want to have a dialogue with him without risking misinterpretation," Kruesel said. "To be progressive is to have dialogue."
Mara Kage, a student majoring in sociology, attended the protest with her son James, who held a handmade sign reading "Respect for everyone."
"I didn't grow up knowing I had a voice," Kage said. "Our new president has spoken against many groups of people. Hopefully, we can create change against that."
Nathan, a senior in applied physics who wished to be identified by only his first name, was one of the students waiting in line to hear Yiannopoulos speak. Nathan said the political environment at the UW feels "insulated." 
"It's not a place for me," he said. "Diversity of viewpoints is so vilified. The perception around Milo is so one-sided."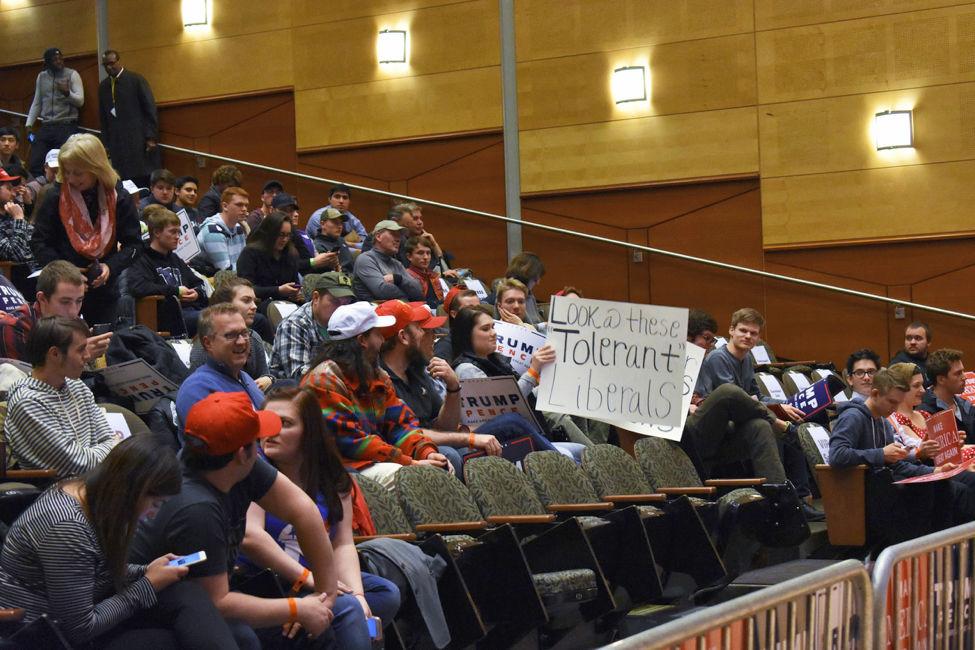 Throughout the night, some protesters used a projector to beam messages reading "Injury to one is injury to all" and "Hate harms everyone" on the sides of Kane Hall and Odegaard Undergraduate Library.
"We're bringing a message of solidarity against hate speech," they said anonymously. "The way [Yiannopoulos] treats people is inappropriate and dangerous."
A large group of protesters, wearing all black clothes and holding banners that read "Antifa International," stood near Odegaard Library during the protests. It wasn't until about 5:30 p.m. that the group rushed to block the entrance to Kane Hall, pushing past police and those in line to form a barrier around the building's entrance.
The protesters wearing black held a standoff with police for the next two hours. Scheduled to start at 7:30 p.m., Yiannopoulos' event was delayed to start half an hour later as police fought for control of the entrance. Police managed to corral the group off to the side of Kane Hall during this time, and began slowly letting ticket holders in to see Yiannopoulos. 
While protesters continued to chant and shout at each other, there was little violence initially, aside from several one-on-one fights that broke out in the crowd and were quickly resolved. Police did not intervene in these altercations for the most part, holding their formation around the entrance to Kane. 
Despite the chaos outside, Yiannopoulos began speaking to the several hundred people who had already made their way into Kane. For a brief period, it appeared as if the event would go on as planned.
However, the protests quickly spiraled out of control just before the event was rescheduled to start. People started throwing what appeared to be chunks of brick and rock at police and into the crowd, and the lines of those still waiting to see Yiannopoulos disintegrated into the throng of people. 
Some of those from the line, chanting "let us in," began trying to push their way into the building past police and protesters. Minutes later, at around 8:30 p.m., hundreds of protesters from downtown flooded into Red Square, surrounding the other protestors and chanting "Shut it down." 
Just after those protestors arrived, a man was shot near the center of the crowd. The 34-year-old victim, who was taken to Harborview in critical condition, has improved since Friday and is now breathing on his own. The shooter, who turned himself in and claimed self-defense in the shooting, was released by police Saturday.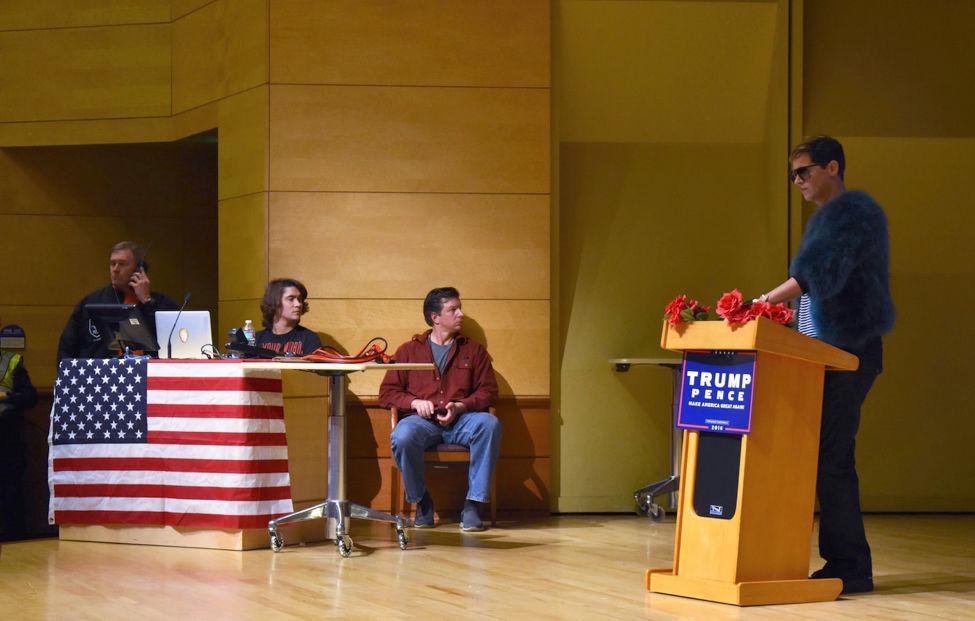 As a public university, the UW is a gun-free zone; it is illegal to carry a firearm on campus. The shooter told investigators that he feared the other man was a white supremacist, although friends of the victim dispute this claim.
Yiannopoulos chose to continue the event after the shooting. He and the attendees inside were snuck out of campus through the underground parking garage by police after finishing his speech at 9:20 p.m., while other officers continued to hold protestors at bay near Kane.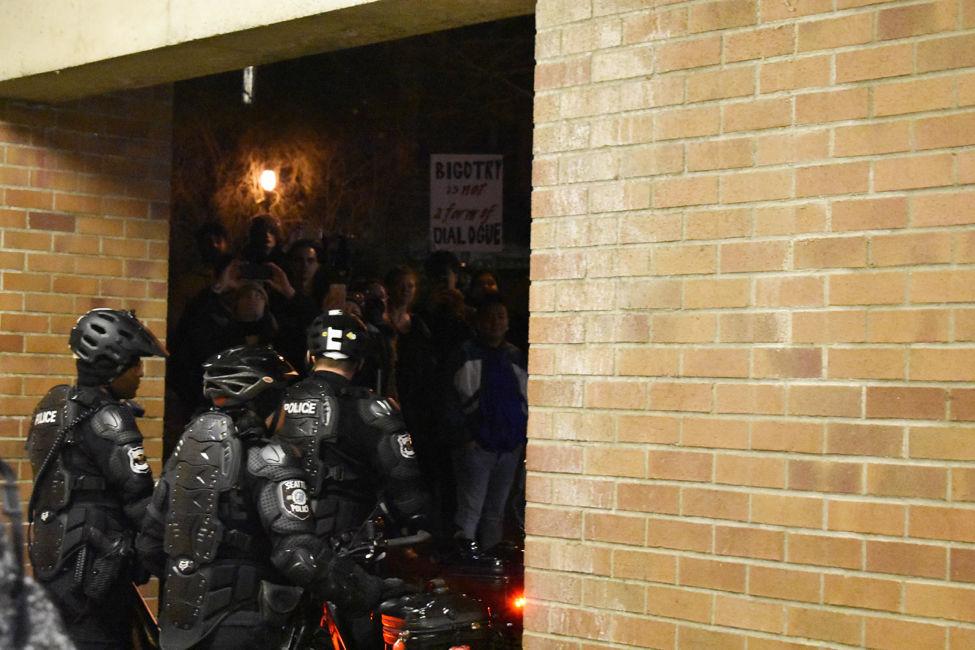 Protesters slowly left Red Square over the next two hours and were mostly gone by 11 p.m. At 1:10 a.m., police announced that the suspected shooter had turned himself in. Despite the chaos of the protests, no other arrests were made that night.
The run up to Friday
A polarizing figure, the choice of Yiannopoulos to speak at the UW was contentiously debated in the run-up to the speech.
Jessie Gamble, president of the UW College Republicans, said that Yiannopoulos wasn't the group's first choice for a speaker. Gamble said the group chose him because Yiannopoulos does not charge a speaking fee. Organizers of the event paid $7,000 in security fees alone, most of which was for additional police officers.
"Ben Shapiro was more moderate and in line with our club, but he was $10,000," Gamble said. "A lot of our club members liked [Yiannopoulos'] notions on safe space culture. The biggest thing is starting a conversation about free speech on campus."
UW administration upheld the decision to allow Yiannopoulos to speak, working with the College Republicans to plan security for the event. Gamble said that administration and the Student Activities Office had been helpful in planning the event.
"They don't treat us any different because of who our guest is," Gamble said several days before the speech. "Of course there's more precautions we have to take, but they haven't been discouraging [us]."
While a Change.org petition to ban Yiannopoulos from campus recieved more than 4,000 signatures prior to the event, UW President Ana Mari Cauce announced Dec. 19 that the UW would still allow him to come.
In the statement, Cauce said that while "...[Yiannopoulos] is not someone I would ever invite to speak here ... the right to free speech and expression is broad and allows for speech that is offensive and that most of us would consider disrespectful, and even sexist or racist." 
Yiannopoulos' speech at the University of Wisconsin renewed fears that the speaker might present a danger to students during his visit to the Wisconsin after he showed an image of a transgender student to the attendees and proceeded to name and verbally harass the student.
Yiannopoulos used an anti-transgender slur and intentionally misgendered the student in his statements, saying at one point that "the way you know he's failed is that I'd still bang him."
Gamble called the statements "disheartening" and said she wished he would have attacked the student's ideas rather than their person.
"To my knowledge, the person kind of became a public figure [at the University of Wisconsin] — not that that makes it OK … and [Yiannopoulos] took that and ran with it," Gamble said of the trans student. "That was kind of ripe for the picking for him — not that, again, it's not the right thing to do — but the stars happened to align. We're hoping he doesn't target any students. Of course, anyone that puts themselves out on a limb to test something, that takes a whole lot of courage. We're talking to his team and hoping it doesn't happen."
While Yiannopoulos did not make a similar attack while at the UW, Gamble said the group would have condemned him if he did, but it would not necessarily have been enough to cancel the speech altogether.
Gamble, who last month had been the target of an anonymously published flyer calling her a white supremacist and a racist, said that between everything she and the College Republicans were dealing with, they were trying to take things "one day at a time" leading up to the Yiannopoulos event. 
The group received criticism, however, after the event as students took to Twitter to respond to a post from the College Republicans celebrating the success of the event despite the violence surrounding it. 
"We should be deeply grateful to everyone who practiced nonviolence and to all those who worked so hard to maintain the safety of our community and campus," Cauce wrote in an email to the university Saturday. "And there were many events throughout the day in many corners of our University that created spaces for speakers to engage our community in discourse on a range of topics — from health care, to diversity, to the power of resistance. This night did not define our day or our community."
Reach Podcast Editor Alex Bruell at news@dailyuw.com. Twitter: @BruellAlex