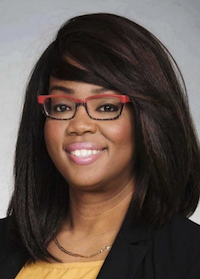 Dr. Tam'ra-Kay Francis, a postdoctoral fellow in the UW's chemistry department, was recently named to Cell Mentor's list of 1,000 inspiring Black scientists. Francis has been working on diversity and inclusion within the university's STEM departments for the past few years, launching educational development initiative PR2ISM in summer 2020 and a new mentoring program in the department of chemistry.
Francis attended Fisk University, a historically Black university known for producing STEM graduates, and earned an undergraduate degree in chemistry.
"Seeing scientists and engineers who looked like me played an important role in my identity development," Francis said. "I could because they did." 
Francis became interested in education when she was considering Ph.D. programs. She started with a focus on K-12 education. 
"My burning question was: What makes a student pursue science and what keeps them there?" Francis said. "In previous summers, I worked as an assistant director and instructor at a STEM program geared towards girls from historically under-represented groups and underserved schools. So at that time, I wanted to examine the factors that contributed to their interest in STEM and identity development.
"See, very often we put students in boxes and we end up turning many young talented people away. I know firsthand that with the right support mechanisms, they could become scientists and engineers if they wanted to."
Francis later shifted her focus to post-secondary STEM education.
"I wanted to understand faculty's role in constructing these identities for underrepresented students," Francis said. "After completing my Ph.D., the opportunity to explore some of my questions arose at the UW."
As a member of the UW's chemistry department, Francis joined the Chemistry Education Group. At the time, the group was working on interventions in general chemistry (the first course most STEM students take) to create a more active learning environment and decrease the achievement gap experienced by underrepresented groups. Francis also serves as a member of the chemistry department's Diversity Committee and sits on the university-wide UW Diversity Council as a representative of the UW Postdoc Diversity Alliance, which she co-founded.
"I was looking for opportunities to create spaces for students to remind them that they, too, can be a scientist," Francis said.
While at the UW, Francis recognized a need for a space for Black UW students to connect with scientists, doctors, and engineers who inspired them. She created a proposal and went to the deans of the various STEM schools within UW to ask if they would like to be a part of an initiative, eventually reaching institutions all over the country. PR2ISM is "an educational development initiative designed to foster diverse careers in STEM," according to the organization's website.
After the harrowing murder of George Floyd dramatically increased the conversation around the Black Lives Matter movement and protests surged all over the United States, Francis recognized that Black students at the UW were going through something traumatic. Although PR2ISM was initially built for the summer, it continued into the fall and will continue to host events and workshops throughout the year due to high interest level.
"People just engaged, it was amazing," Francis said. "My goal was to connect student life and academic affairs … to bring everyone, at every level, together, to have a conversation now, and building that community for the students during that time."
Francis is currently working on a mentoring program that focuses on cultural responsiveness and centering the mentee. The program's curriculum is currently being tested. It takes a more holistic approach, allowing mentees to have multiple mentors and build a larger network, and will be implemented in multiple departments.
"My biggest inspiration is seeing my students persist and do the things they love," Francis said. "Many of them are the first in their families to graduate. I do this work because I want every student to know that they are 'beyond category' and the possibilities are endless."
Francis was recently honored by the American College Personnel Association (ACPA) for her leadership in Innovative Response and Social Justice.
Reach contributing writer Kalina Mladenova at news@dailyuw.com. Twitter: @kalinamm_
Like what you're reading? Support high-quality student journalism by donating here.